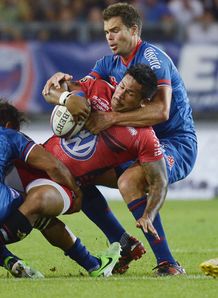 Jonny Wilkinson missed a conversion after the final hooter as European champions Toulon became the latest heavyweight club to fall in Grenoble, losing 28-21 at the Stade des Alpes on Saturday.
Racing Métro were forced to overturn a half-time deficit as they battled past Top 14 newcomers Oyonnax while champions Castres lost narrowly to Bordeaux-Bègles.
There were yellow cards aplenty across France and Perpignan's poor discipline saw them go down to Bayonne.
Montpellier scored their first win of the season at home to Brive after Toulouse ran out of steam earlier in the day on the road to Clermont.
Stade Français, who thrashed Biarritz on Friday, lead the standings after three rounds.
Results:
Stade Français 28-3 Biarritz
Clermont 38-19 Toulouse
Racing Métro 22-9 Oyonnax
Montpellier 33-24 Brive
Bordeaux-Bègles 21-20 Castres
Bayonne 31-20 Perpignan
Grenoble 28-26 Toulon
---
Racing Métro 22-9 Oyonnax
Stade Yves Du Manoir
After shocking Clermont last week, newboys Oyonnax were hunting another big scalp and were looking good as they held a 9-6 lead at half time thanks to three penalties from fly-half Conrad Barnard.
The hosts had to wait until the 62nd minute to move ahead for the first time as Jonathan Sexton landed his fourth penalty of the evening before a 77th-minute try from replacement hooker Virgile Lacombe sealed victory for the Parisians.
Three yellow cards ultimately proved the undoing of Oyonnax, who look set to ruffle a few feathers this season.
The scorers:
For Racing Métro:
Try: Lacombe
Con: Sexton
Pens: Sexton 5
For Oyonnax:
Pens: Barnard 3
Yellow cards: Tian, Slade, Rapant
Racing Métro: 15 Benjamin Lapeyre, 14 Adrien Plante, 13 Fabrice Estebanez, 12 Jamie Roberts, 11 Benjamin Fall, 10 Jonathan Sexton, 9 Sebastien Descons, 8 Masinivanua Matadigo, 7 Bernard Le Roux, 6 Dan Lydiate, 5 Juandre Kruger, 4 Francois Van der merwe, 3 Brian Mujati, 2 Dimitri Szarzewski, 1 Eddy Ben Arous.
Replacements: 16 Virgile Lacombe, 17 Julien Brugnaut, 18 Fabrice Metz, 19 Wenceslas Lauret, 20 Laurent Magnaval, 21 Jonathan Wisniewski, 22 Henry Chavancy, 23 Soane Tonga uiha,
Oyonnax: 15 Silvere Tian, 14 Jonathan Bousquet, 13 Jonathan Traini, 12 Pierre Aguillon, 11 Tikiko Koroivoutu, 10 Conrad Barnard, 9 Fabien Cibray, 8 Fred sioa chad Slade, 7 Christophe Andre, 6 Mahamadou Diaby, 5 Damian Browne, 4 Miroslav Nemecek, 3 Marc Clerc, 2 Neil Clark, 1 Lukas Rapant.
Replacements: 16 Salim Tebani, 17 Clement Baiocco, 18 Thibault Lassalle, 19 Scott Newlands, 20 Johann Authier, 21 Nicolas Vuillemin, 22 Roimata Hansell pune, 23 Erwan Iapteff.
---
Montpellier 33-24 Brive
Stade Yves Du Manoir
How do you loose a game? Conceding four yellow cards - as Brive did - is a good start. How do you throw a game away, as Montpellier almost did? You switch off before the final whistle.
An important home win for Montpellier sees Fabien Galthié's team climb off the foot of the table, but there will be some stern words after Brive scored three unanswered tries in the final quarter to deny Montpellier a bonus point.
The hosts were 12-3 ahead at the interval thanks to three penalties from scrum-half Benoit Paillaugue and a drop from François Trinh-Duc.
The start of the second half was a nightmare for Brive, especially at scrum-time, as their front row buckled and Montpellier cruised to a 33-3 lead.
The final 15 minutes however belonged to the visitors, who came roaring back but fell just short of a losing bonus point.
The scorers:
For Montpellier:
Tries: Nagusa, Penalty try, Sicart
Cons: Paillaugue 3
Pens: Paillaugue 3
Drops: Trinh-Duc
Yellow cards: Privat, Fa'Amausili
For Brive:
Tries: Ferreres, Asieshvili, Germain
Cons: Ferreres 2, Germain
Pens: Ferreres
Yellow cards: Shvelidze, Pinet, Ribes, Barnard
Montpellier: 15 Anthony Floch, 14 Timoci Nagusa, 13 Anthony Tuitavake, 12 Wynand Olivier, 11 Lucas Dupont, 10 Francois Trinh-Duc, 9 Benoit Paillaugue, 8 Alex Tulou, 7 Kelian Galletier, 6 Fulgence Ouedraogo, 5 Thibaut Privat, 4 Jim Hamilton, 3 Nicolas Mas, 2 Mickael Ivaldi, 1 Yvan Watremez.
Replacements:16 Charles Geli, 17 Mikheil Nariashvili, 18 Mickael De marco, 19 Alexandre Bias, 20 Eric Escande, 21 Hamish Gard, 22 Benoit Sicart, 23 Barry Faamausili
Brive: 15 Laurent Ferreres, 14 Guillaume Namy, 13 Arnaud Mignardi, 12 Thomas Laranjeira, 11 Elia Radikedike, 10 Riaan Swanepoel, 9 Thomas Sanchou, 8 Kieran Murphy, 7 Hugues Briatte, 6 Dominiko Waqaniburotu, 5 Arnaud Mela, 4 Simon Pinet, 3 Kevin Buys, 2 Francois Da ros, 1 Goderzi Shvelidze.
Replacements:16 Guillaume Ribes, 17 Karlen Asieshvili, 18 Julien Ledevedec, 19 Sisa Koyamaibole, 20 Jean baptiste Pejoine, 21 Romain Sola, 22 Gaetan Germain, 23 Patrick Barnard.
---
Bordeaux-Bègles 21-20 Castres
Stade Jacques Chaban-Delmas
Former Castres fly-half Pierre Bernard kicked the winning drop goal for UBB in the 77th minute of a ding-dong battle.
There was only one try, but there was no lack of intensity in an almight battle that went down to the wire.
Bordeaux-Bègles led 12-9 at the break thanks to four penalties from Bernard.
Castres wing Romain Martial touched down after the break but Bernard's late drop proved the winner as Rory Kockott was denied what would have been an heroic try by a last-gasp tackle from Metuisela Talebula in the dying seconds.
The scorers:
For Bordeaux-Bègles :
Pens: Bernard 6
Drop: Bernard
For Castres:
Try: Martial
Pens: Palis 4, Kockott
Bordeaux-Begles: 15 Bruce Reihana, 14 Metuisela Talebulamaijaina, 13 Charles Brousse, 12 Julien Rey, 11 Blair Connor, 10 Pierre Bernard, 9 Heini Adams, 8 Matthew Clarkin, 7 Poutasi Luafutu, 6 Louis benoit Madaule, 5 Jandre Marais, 4 Cameron Treloar, 3 Albert Toetu, 2 Wayne Avei, 1 Jean Batiste Poux.
Replacements:16 Clement Maynadier, 17 Laurent Delboulbes, 18 Alikisio Fakate, 19 Hugh Chalmers, 20 Emmanuel Saubusse, 21 Romain Lonca, 22 Darly Domvo, 23 Salemane Sa,
Castres: 15 Geoffrey Palis, 14 Romain Martial, 13 Romain Cabannes, 12 Seremaia Bai, 11 Max Evans, 10 Remi Tales, 9 Julien Tomas, 8 Antonie Claassen, 7 Pedrie Wannenburg, 6 Jan de bruin Bornman, 5 Rodrigo Capo ortega, 4 Richard Gray, 3 Karena Wihongi, 2 Brice Mach, 1 Yannick Forestier.
Replacements:16 Marc Rallier, 17 Michael Coetzee, 18 Christophe Samson, 19 Mathieu Babillot, 20 Rory Kockott, 21 Daniel Kirkpatrick, 22 Paul Bonnefond, 23 Anton Peikrishvili.
---
Bayonne 31-20 Perpignan
Stade Jean Dauger
It was anyone's game early in the second half with Bayonne leading 12-9. But a crazy eight-minute period saw USAP concede three yellow cards - Sebastien Vahaamahina for a side entry at a ruck before Lifeimi Mafi and Wandile Mjekevu took turns at tackling Marvin O'Connor above the shoulders.
Needless to say it was all downhill from there as Bayonne stretched their lead through two penalties and an opportunistic try from Joe Rokocoko.
Camille Lopez kept Perpignan in the game with a few penalties but Bayonne full-back Scott Spedding's 68th-minute try effectively sealed the win for the hosts, meaning James Hook's late try was scant consolation for the Catalans.
For Bayonne:
Tries: Lovobalavu, Rokocoko, Spedding
Cons: Bustos Moyano 2
Pens: Bustos Moyano 4
Yellow card: Spedding
For Perpignan:
Try: Hook
Pens: Lopez
Drops: Lopez
Yellow cards: Vahaamahina, Mafi, Mjekevu,
Bayonne: 15 Scott Spedding, 14 Martin Bustos Moyano, 13 Joe Rokocoko, 12 Gabiriele Lovobalavu, 11 Marvin O'Connor, 10 Stephen Brett, 9 Mike Phillips, 8 Opeti Fonua, 7 Dwayne Haare, 6 Jean Monribot, 5 Lisiate Faaoso, 4 Dewald Senekal, 3 Nemiah Tialata, 2 David Roumieu, 1 Aretz Iguiniz.
Replacements: 16 Gregory Arganese, 17 Jakobus Janse van Rensburg, 18 Abdellatif Boutaty, 19 Guillaume Bernad, 20 Manu Ahotaeiloa, 21 Guillaume Rouet, 22 Matthieu Ugalde, 23 Gert Muller,
Perpignan: 15 James Hook, 14 Wandile Mjekevu, 13 David Marty, 12 Lifeimi Mafi, 11 Tommaso Benvenuti, 10 Camille Lopez, 9 Nicolas Durand, 8 Luke Narraway, 7 Alasdair Strokosch, 6 Bertrand Guiry, 5 Romain Taofifenua, 4 Sebastien Vahaamahina, 3 Giorge Jgenti, 2 Romain Terrain, 1 Sebastien Taofifenua.
Replacements: 16 Maxime Delonca, 17 Sona Taumalolo. 18 Daniel Leo, 19 Jean pierre Perez, 20 Dewaldt Duvenage, 21 Sione Piukala, 22 Sofiane Guitoune, 23 Paulica Ion.
---
Grenoble 28-26 Toulon
Stade des Alpes
A more dramatic finish you could not ask for as Matt Giteau's 85th-minute try went unconverted to leave Toulon to digest their first defeat of the season.
With Springbok wing Byran Habana watching from the bench, Toulon trailed 15-12 at the end of a try-less first period highlighted by Julien Caminati's 55 metre penalty kick on the stroke of half-time to put Grenoble ahead.
Valentin Courrent's conversion Grenoble flank Roland Bernard's try just after the hour mark set up a grandstand finish as Toulon threw the kitchen sink at the home defence.
Habana made his entrance in the 70th minute but it would be Giteau who finally got over the line in the corner after Grenoble avoided a penalty try following a series of scrums in the dying minutes.
Wilkinson sent his conversion effort wide though, handing Grenoble victory and leaving Stade Français at the top of the standings.
For Grenoble:
Try: Bernard
Con: Courrent
Pens: Courrent 5, Caminati 2
Yellow cards: Nicolas, Hegarty
For Toulon:
Try: Giteau
Pens: Wilkinson 7
Grenoble: 15 Benjamin Thiery, 14 Matthieu Nicolas, 13 Rudolf Coetzee, 12 Nigel Hunt, 11 Julien Caminati, 10 Blair Stewart, 9 Valentin Courrent, 8 Florian Faure, 7 Jonathan Best, 6 Roland Bernard, 5 Benjamin Hand, 4 Naude Beukes, 3 Dayna Edwards, 2 Vincent Campo castillo, 1 Albertus Buckle.
Replacements: 16 Kenan Mutapcic, 17 Anthony Hegarty, 18 Andrew Farley, 19 Cedric Beal, 20 Jordan Michallet, 21 Olly Barkley, 22 James Hart, 23 Romain David,
Toulon: 15 Delon Armitage, 14 Josua Tuisova, 13 Mathieu Bastareaud, 12 Matt Giteau, 11 David Smith, 10 Jonny Wilkinson, 9 Michael Claassens, 8 Chris Masoe, 7 Pierrick Gunther, 6 Virgile Bruni, 5 Daniel Rossouw, 4 Bakkies Botha, 3 Carl Hayman, 2 Benjamin Noirot, 1 Andrew Sheridan,
Replacements: 16 Jean charles Orioli, 17 Xavier Chiocci, 18 Jocelino Suta, 19 Steffon Armitage, 20 Bryan Habana, 21 Maxime Mermoz, 22 Sebastien Tillous Borde, 23 Levan Chilachava.