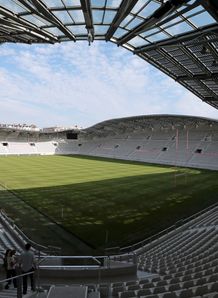 Stade Franšais are set to inaugurate a refurbished Jean-Bouin Stadium when they take on Biarritz on Friday.
Stade president Thomas Savare called the home stadium in west Paris a "fundamental element" for the club, which has played at the cross-city Charlety Stadium during the reconstruction.
"Without Jean-Bouin, I would absolutely not have taken over Stade Franšais," said Savare.
"It's impossible to envisage having a club in the Top 14 without a modern working arena, especially in Paris."
The re-jigged stadium will be able to seat 20,000, with Savare aiming for an average gate of 13,500.
The president also hopes that on-field performances will improve, with his target a spot in the end-of-season play-offs.
"It's tough, probably even more than last year, because it's a very competitive championships, but possible," Savare said.
"We've had a more ambitious recruitment than in recent seasons and the goal is to stabilise the squad."