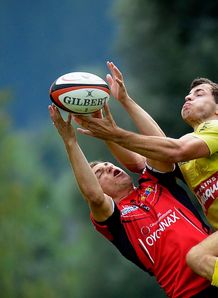 Related links
Also see
Last weekend's action from the Top 14 produced one huge surprise as newly-promoted Oyonnax took down Clermont at home.
It was landmark moment for last season's ProD2 champions - mainly because their result was no fluke - but a comprehensive, three-try win by 30 points to 19.
Toulon, the Kings of big-spending, offered Racing Métro a reminder that money might not instantly bring you success with a 41-14 hammering at home, whilst Toulouse rediscovered their bite by downing Bayonne 40-3.
Elsewhere, Jules Plisson ensured that he received plenty of drinks last Saturday night with a match-winning drop goal against Perpignan, his third of the match, for Stade Français to win 28-27.
Fixtures:
Friday, August 23:
Stade Français v Biarritz (20:50, 19:50 GMT)
Saturday, August 24 - Kick-offs at 18:30 (17:30 GMT) unless stated otherwise:
Clermont v Toulouse (15:00, 14:00 GMT)
Racing Métro v Oyonnax
Montpellier v Brive
Bordeaux v Castres
Bayonne v Perpignan (20:30, 19:30 GMT)
Grenoble v Toulon (20:35, 19:35 GMT)
Previews:
Stade Français v Biarritz
Stade Jean Bouin
Stade winning anything away from home over the last few years in the Top 14 has become somewhat of an enigma, so it's fair to say the efforts of Plisson were a surprise.
The young fly-half will spend the season competing with Morné Steyn and is likely to find his game-time limited as a result, but he has laid down an early marker. Three drops goals against Perpignan show a high level of execution.
Consistency is obviously Stade's main requirement given it has proven to be a nightmare in the past, so taking on Biarritz at home is a good next step.
The Basque side downed Montpellier last weekend in a boosting victory, but have to consider themselves a touch lucky considering Fabien Galthié's visiting side had four tries disallowed.
The glory days of Stade and Biarritz feel a long way behind them, but perhaps the 2013-2014 campaign might not be as bleak for either side as many are predicting. Biarritz certainly have the talent out wide, if they can win enough ball, to cause some trouble.
Previous result: Biarritz won 52-17
Prediction: Home win. Stade by three.
Kick-off: 20.50 (19.50 GMT)
Referee: P. Gauzère
---
Clermont v Toulouse
Parc des Sports Marcel Michelin
Backing Oyonnax to defeat Clermont last weekend would be foolish we said - but the joke was very much on us.
Losing to a side who possess a fraction of the talent in your entire squad is completely unacceptable, and head coach Vern Cotter will have told Clermont as such throughout this week.
To make matters worse, they have to bounce back against Toulouse, who went through a similar process after Round One following their loss to Bordeaux.
Bayonne asked little of the five-time European champions last weekend, but Toulouse were still merciless. A bonus-point win and 40 points on the board, with only three conceded, was a pretty perfect response.
Clermont might have wished for anybody else to take out their frustration on, Toulon aside, but Toulouse is who they have to face.
It is a fixture more befitting of a Heineken Cup knockout clash and Clermont would do well to treat it as such. Big names will return including to the starting XV, but Luke McAlister's form was so hot last week that Toulouse might have the edge for this one. Tight call.
Previous result: Clermont won 39-17
Prediction: Away win. Toulouse by five.
Kick-off: 15.00 (14.00 GMT)
Referee: A. Ruiz
---
Racing Métro v Oyonnax
Stade Yves Du Manoir
Reeling from last weekend's lesson down in Toulon, it will be interesting to see what Racing are made off this weekend.
The new recruits are now in place as Jamie Roberts started outside Jonathan Sexton last weekend, but despite their time together with the Lions back in June and July, there were questions over the connection between the two internationals.
Racing want that winning formula and it will come eventually, but perhaps a spiky Oyonnax outfit are not the side against who progress will become easily apparent.
The promoted side needed a scalp to show they can compete in this league; that objective can now be thickly ticked off after defeating Clermont. In many ways Benson Stanley's late score for Clermont was unfair, as it took the gloss off an already impressive victory.
Winning away though is a whole new challenge and based on their first match when they were thrashed by Bayonne, the omens for Oyonnax are not good.
Still, nobody expected any miracles last weekend. Racing will have their work cut out.
Previous result: -
Prediction: Home win Racing by 10.
Kick-off: 18.30 (17.30 GMT)
Referee: C. Marchat
---
Montpellier v Brive
Stade Yves Du Manoir
A mixed bag so far for Montpellier this season. Their best efforts against Toulon were undone by a Maxime Mermoz interception try to draw 22-22, before last weekend against Biarritz saw all forms of luck desert them as they had four tries disallowed, and lost.
This was not the expectation for a squad that have recruited an exciting array of talent and already possessed a strong squad from their last two seasons in the Top 14.
The sense about Montpellier is that this is there time, but they need to start winning - after all, everybody else in the league has won a match after the first two rounds, hence why Montpellier currently sit bottom.
Brive therefore represent Montpellier's first chance to start their run to the top. The other promoted side from the Pro D2 picked up their first win last weekend against Bordeaux, largely down to the boot of Gaetan Germain who racked up 20 points.
They will need him to be at his most accurate against a spurned Montpellier, who should get their season back on track.
Previous result: -
Prediction: Home win. Montpellier by 12.
Kick-off: 18.30 (17.30 GMT)
Referee: R. Poitevin
---
Bordeaux v Castres
Stade Jacques Chaban-Delmas
Bordeaux already seem like a side that might well pull off some impressive wins this season, such as their opening day success over Toulouse, and then frustrate us.
Backing up a win over Toulouse with a loss to Brive is scattish form but perhaps their best rugby takes place at home.
It will certainly need to be on display against the champions, Castres.
The opening weekend shock of losing to Perpignan was nullified with a handsome 34-6 win over Grenoble last weekend, with Rory Kockott in fine form off the tee and the hosts running in five tries, including a brace for former Worcester winger Marcel Garvey.
Between the two likelihoods of Bordeaux having another surprise in the locker and Castres building a winning streak, the latter seems more plausible.
Previous result: Draw - 23-23
Prediction: Away win. Castres by 10.
Kick-off: 18.30 (17.30 GMT)
Referee: C. Berdos
---
Bayonne v Perpignan
Stade Jean Dauger
You may not see a more disinterested performance than the one Bayonne rolled out last weeked at the Stade Ernest-Wallon.
Beaten by 37 points and with Jean Joseph Marmouyet sent off for a straight red card, there have been better nights for Bayonne in recent years.
They do have talent; of that there is no question. Flecks of grey are creeping into the beard of Mike Phillips but he still has class. Stephen Brett is finding his feet in the league, whilst Joe Rokocoko looks hungrier than in recent seasons. They also have a throughly adept kicker in Martin Bustos Moyano.
Perpignan were triumphant thanks to some late points in Week One and then undone by a late drop goal in Week Two; sending them through the full rollercoaster of emotions already this season.
Their squad though is strong enough to give the top six a push. They are also scoring tries, with three racked up last weekend.
After being pipped by Stade in Round Two the Catalan side, lead by James Hook, have enough in their locker to take this one.
Previous result: Bayonne won 13-10.
Prediction: Away win. Perpignan by 7.
Kick-off: 20.30 (19.30 GMT)
Referee: S. Minery
---
Grenoble v Toulon
Stade des Alpes
Ill-discipline really didn't help Grenoble last weekend against Castres, as first Florian Ninard was sin-binned before replacement prop Hendrik Roodt was sent off.
On top of that they were thumped, 34-6, to undo the good work from their home win on the opening day against Stade Français.
With Grenoble looking to start again, the juggernaut that is RC Toulon will roll into town on Saturday evening looking to back up their heavy win against Racing Métro last weekend.
Bryan Habana will be on display for the first time in a rouge et noir jersey, which is worth tuning in for alone.
Top of the league already with a points difference of +27, you would expect the European champions to have heavily added to that figure by Sunday.
This could get ugly, although Grenoble will pray for a repeat of last year's surprise win at home.
Previous result: Grenoble won 25-24.
Prediction: Away win. Toulon by 17.
Kick-off: 20.35 (19.35 GMT)
Referee: S. Attalah