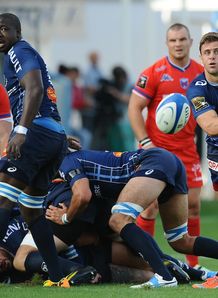 Related links
Also see
Late drama in Perpignan saw Stade Français fly-half Jules Plisson convert a match-winning drop goal in the 80th minute on Saturday.
Read on for the full round up of Saturday's fixtures:
Round Two Results:
Friday:
Saturday:
Oyonnax 30-19 Clermont
Castres 34-6 Grenoble
Perpignan 27-28 Stade Français
Toulouse 40-3 Bayonne
Biarritz 19-12 Montpellier
Brive 25-12 Bordeaux
---
Castres 34-6 Grenoble
Three tries at the beginning of the second half saw Castres romp home to a 34-6 victory over visitors Grenoble.
The champions got off to the perfect start when flanker Ibrahim Diarra scored a try in only the third-minute, Max Evans setting up inside centre Remi Lamerat to put Castres 12-3 in front after 11 minutes.
Kockott would add a further penalty but Castres were forced to see out the remainder of the first half with 14 men, after lock Rodrigo Capo Ortega was sent to the bin.
Last year's champions more or less secured their victory after the break, when number eight Antoine Claassen crashed over from the back of a maul for the hosts third try - Grenoble losing Florian Ninard to the bin.
Marcel Garvey then wrapped up the try-bonus point in the 52nd minute and racked up another try four minutes later.
Hendrik Roodt and Piula Faasalele were both sent off for fighting as the match drew to a close, but the result had been settled some time before as Castres bounced back.
Castres: 15 Romain Martial, 14 Marcel Garvey, 13 Romain Cabannes, 12 Remi Lamerat, 11 Max Evans, 10 Daniel Kirkpatrick, 9 Rory Kockott, 8 Antonie Claassen, 7 Ibrahim Diarra, 6 Yannick Caballero, 5 Rodrigo Capo Ortega, 4 Christophe Samson, 3 Karena Wihongi, 2 Brice Mach, 1 Yannick Forestier.
Replacements: 16 Marc Antoine Rallier, 17 Anton Peikrishvili, 18 Piula Faasalele, 19 Pedrie Wannenburg, 20 Julien Tomas, 21 Remi Talès, 22 Paul Bonnefond, 23 Michael Coetzee.
Grenoble: 15 Benjamin Thiery, 14 Matthieu Nicolas, 13 Geoffroy Messina, 12 Olly Barkley, 11 Florian Ninard, 10 Jordan Michallet, 9 James Hart, 8 Florian Faure, 7 Roland Bernard, 6 Cédric Beal, 5 Naude Beukes, 4 Benjamin Hand, 3 Dayna Edwards, 2 Anthony Hegarty, 1 Kenan Mutapcic.
Replacements: 16 Albertus Buckle, 17 Vincent Campo, 18 Hendrik Roodt, 19 Falvien Nouhaillaguet, 20 Jonathan Best, 21 Rudi Coetzee, 22 Mathieu Lorée, 23 Kevin Goze.
Referee: C. Lafon
---
Perpignan 27-28 Stade Francais
An 80th minute drop goal from fly-half Jules Plisson snatched victory for Stade Français against Perpignan at the Parc des Sports Aguilera.
Sione Piukala crossed for the first try after only five minutes following Plisson's opening drop goal.
Wales full-back James Hook increased Perpignan's lead with two penalties, but a try from Stade lock Alexandre Flanquart after a second drop goal from Plisson and a Jerome Porical penalty put the visitors into the lead for the first time at 13-16, despite losing lock Pascal Papé to the sin-bin.
Perpignan though did make their numerical advantage count, Italian international Tommaso Benvenuti crossing for the hosts second try with Hook converting for a 20-16 lead at half-time, as Stade were momentarily down to 13 men after Antoine Burban was sent to the bin for a trip.
A long-range penalty from Jerome Porical narrowed the gap to a single point and two more strikes from the full-back then had Stade in front, leading 20-25 as Perpignan lost Justin Purll to a yellow card midway through the second half.
Sofiane Guitoune's try put Perpignan back into the lead after Hook's conversion and set up a narrow finish, that was settled by Plisson's third and final drop goal.
Perpignan: 15 James Hook, 14 Sofiane Guitoune, 13 Lifeimi Mafi, 12 Sione Piukala, 11 Tommaso Benvenuti, 10 Camille Lopez, 9 Dewaldt Duvenage, 8 Luke Narraway, 7 Jean-Pierre Pérez, 6 Justin Purll, 5 Daniel Leo, 4 Sebastien Vahaamahina, 3 Paulica Ion, 2 Romain Terrain, 1 Sona Taumalolo.
Replacements: 16 Maxime Delonca, 17 Sebastien Taofifenua, 18 Bertrand Guiry, 19 Alasdair Strokosch, 20 Tom Ecochard, 21 David Marty, 22 Wandile Mjekevu, 23 Kisi Pulu.
Stade Francais: 15 Jerome Porical, 14 Waisea Vuidravuwalu, 13 Paul Williams, 12 Meyer Bosman, 11 Djibril Camara, 10 Jules Plisson, 9 Jerome Fillol, 8 Sergio Parisse (c), 7 Pierre Rabadan, 6 Antoine Burban, 5 Pascal Pape, 4 Alexandre Flanquart, 3 Rabah Slimani, 2 Laurent Sempere, 1 Heinke Van der Merwe.
Replacements: 16 Aled de Malmanche, 17 Romain Frou, 18 Gerhard Mostert, 19 Sylvain Nicolas, 20 Julien Dupuy, 21 Jeremy Sinzelle, 22 Hugo Bonneval, 23 Devit Kubriashvili.
Referee: A. Ruiz
---
Toulouse 40-3 Bayonne
Toulouse's second half flurry of points lead them to a handsome win over Bayonne, with Luke McAlister kicking 20 of them.
McAlister opened the scoring with a penalty after 15 minutes and kicks at goal played a central role in the opening half.
The former All Black slotted three more kicks at goal, with Martin Bustos Moyano responding for Bayonne just before half-time, his first of the night after missing three earlier kicks.
Two quick-fire tries from Christopher Tolofua and Maxime Médard then opened up a sizeable gap on the scoreboard for Toulouse; McAlister adding both conversions to put them 26-3 ahead.
With Bayonne despondent, Toulouse wrapped up the try bonus point thanks to a penalty try earned by their forward pack through a rolling maul, before Louis Picamoles dotted down for the crucial fourth score - McAlister's conversion bringing up the 40-point mark.
Bayonne's miserable night was then capped off by having a red card shown to replacement Jean Joseph Marmouyet for striking an opponent with the knee.
Toulouse: 15 Yoann Huget, 14 Maxime Médard, 13 Yann David, 12 Florian Fritz, 11 Hosea Gear, 10 Luke McAlister, 9 Jean-Marc Doussain, 8 Louis Picamoles, 7 Thierry Dusautoir, 6 Gregory Lamboley, 5 Joe Tekori, 4 Romain Millo Chluski, 3 Antoine Guillamon, 2 Christopher Tolofua, 1 Vasil Kakovin.
Replacements: 16 Jaba Bregvadze, 17 Cyril Baille, 18 Yoann Maestri, 19 Yannick Nyanga, 20 Sebastien Bézy, 21 Jean-Pascal Barraque, 22 Gael Fickou, 23 Census Johnston.
Bayonne: 15 Scott Spedding, 14 Martin Bustos Moyano, 13 Joe Rokocoko, 12 Gabiriele Lovobalavu, 11 Bastien Fuster, 10 Stephen Brett, 9 Guillaume Rouet, 8 Opeti Fonua, 7 Julien Puricelli, 6 Jean Monribot, 5 Lisiate Fa'aoso, 4 Abdellatif Boutaty, 3 Neemia Tialata, 2 David Roumieu, 1 Aretz Iguiniz.
Replacements: 16 Anthony Etrillard, 17 JC Janse van Rensburg, 18 Gert Muller, 19 Dwayne Haare, 20 Jean Joseph Marmouyet, 21 Mike Phillips, 22 Matthieu Ugalde, 23 Manu Ahotaeiloa.
Referee: S. Attalah
---
Biarritz 19-12 Montpellier
Biarritz talisman Dimitri Yachvili kicked 14 points to lead his side to a 19-12 victory over Montpellier.
Scrum-half Jonathan Pélissié had kicked the opening points with a penalty in the 6th minute for the visitors in a low-scoring first half.
Yachvili struck a penalty for the hosts but a second effort from Pélissié kept Montpellier out in front coming up to the half-hour mark.
There was little action of note in the remainder of the half, although Montpellier lock Robins Tchale-Watchou was sent to the bin just before the break - the visitors left frustrated after having two tries disallowed.
A try from centre Charles Gimenez transferred momentum back in favour of the visitors, Yachvili adding two further penalties to put Biarritz 16-9 ahead going into the final quarter.
Benedict Paillaugue's penalty closed the gap to just four, but the visitors unbelievably had a third and fourth try ruled out by the TMO as they chased the lead.
Yachvili's final penalty in the 79th minute ultimately settled the result, Biarritz grinding out the win as Montpellier were left cursing their luck.
Biarritz: 15 Paul Couet-Lannes, 14 Julen Goia Iriberri, 13 Charles Gimenez, 12 Damien Traille, 11 Teddy Thomas, 10 Daniel Waenga, 9 Dimitri Yachvili, 8 Raphael Lakafia, 7 Benoit Guyot, 6 Joshua Furno, 5 Thibault Dubarry, 4 Erik Lund, 3 Francisco Gomez Kodela, 2 Jean Philippe Genevois, 1 Fabien Barcella.
Replacements: 16 Arnaud Heguy, 17 Alexandre Menini, 18 Pelu Taele, 19 Ueleni Fono, 20 Yann Lesgourgues, 21 Julien Peyrelongue, 22 Seremaia Nakala Burotu, 23 Ben Broster.
Montpellier: 15 Anthony Floch, 14 Lucas Dupont, 13 Anthony Tuitavake, 12 Wynand Olivier, 11 Yohann Artru, 10 Francois Trinh-Duc, 9 Jonathan Pélissié, 8 Alex Tulou, 7 Alexandre Bias, 6 Fulgence Ouedraogo, 5 Robins Tchale-Watchou, 4 Jim Hamilton, 3 Maximiliano Bustos, 2 Charles Geli, 1 Mikheil Nariashvili.
Replacements: 16 Mickael Ivaldi, 17 Yvan Watremez, 18 Thibaut Privat, 19 Kélian Galletier, 20 Benedict Paillaugue, 21 Hamish Gard, 22 Benedict Sicart, 23 Nicolas Mas.
Referee: J. Garces
---
Brive 25-12 Bordeaux
Brive number eight Sisaro Koyamaibole scored the only try of the game as the hosts picked up their first win on their return to the Top 14 against Bordeaux.
In a match that effectively concluded as a penalty shootout, Brive full-back Gaetan Germain landed six penalties and a conversion to finish with 20 points, whilst Bordeaux's Pierre Bernard struck four penalties himself.
Five of Germain's penalties came in the first half as Bordeaux were reduced to 14 men on two occasions - Rafael Carballo and Jefferson Poirot sent to the bin with Brive ahead 15-6 at half-time.
Two strikes from Bernard after the break kept the match finely poised at 18-12 going into the final quarter, before Koyamaibole crossed after bursting through two tackles to extend Brive's lead and secure the win.
Brive: 15 Gaetan Germain, 14 Guillaume Namy, 13 Arnaud Mignardi, 12 Andrew Mailei, 11 Malakai Bakaniceva, 10 Romain Sola, 9 Jean Baptiste Pejoine, 8 Sisaro Koyamaibole, 7 Dominiko Waqaniburotu, 6 Petrus Hauman, 5 Arnaud Mela, 4 Julien Ledevedec, 3 Patrick Barnard, 2 Guillaume Ribes, 1 Goderzi Shvelidze.
Replacements: 16 Francois Da Ros, 17 Kevin Buys, 18 Simon Pinet, 19 Hugues Briatte, 20 Damien Neveu, 21 Riaan Swanepoel, 22 Laurent Ferreres, 23 Tamato Leupolu.
Bordeaux: 15 Bruce Reihana, 14 Rafael Carballo, 13 Charles Brousse, 12 Thibault Lacroix, 11 Blair Connor, 10 Pierre Bernard, 9 Heini Adams, 8 Matthew Clarkin, 7 Hugh Chalmers, 6 Poutasi Luafutu, 5 Adam Jaulhac, 4 Jandre Marais, 3 Salemane Sa, 2 Wayne Avei, 1 Jefferson Poirot.
Replacements: 16 Clement Maynadier, 17 Jean-Baptiste Poux, 18 Matt Graham, 19 Taiasina Tuifua, 20 Emmanuel Saubusse, 21 Romain Lonca, 22 Darly Domvo, 23 Albert Toetu.
Referee: S. Minery