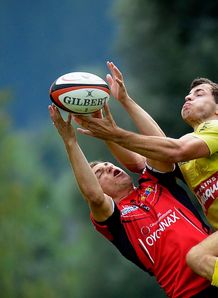 New Top 14 side Oyonnax pulled off a shock victory over last season's Heineken Cup finalists Clermont with a 30-19 win on Saturday.
The hosts ran in three tries thanks to hooker Jody Jenneker, full-back Florian Denos and openside Valentin Ursache in a stunning victory for last season's Pro D2 champions.
Argentinian fly-half Benjamin Urdapilleta, who has not been required by the national side for The Rugby Championship, kicked 15 points for the hosts including a drop goal at the end of the first half as Oyonnax scorched into a 20-0 lead.
Clermont could only produce a single try from flanker Gerhard Vosloo, the new France international crashing over after half-time to give the visitors a glimmer of hope.
A further penalty from Urdapilleta gave the hosts some breathing space at 23-8, but two further James penalties kept the pressure on as the second half continued.
Ursache's try in the 66th minute then put the champagne on ice as Oyonnax dreamt of a first-ever win in the Top 14.
Benson Stanley did snatch a try back for Clermont in the 78th minute but it was all too late - with Oyonnax set to celebrate their maiden victory long into the night.
The scorers:
For Oyonnax:
Tries: Jenneker, Denos, Ursache
Cons: Urdapilleta 3
Pens: Urdapilleta 2
Drop Goal: Urdapilleta
Yellow Card: Jenneker
For Clermont:
Tries: Vosloo, Stanley
Pens: James 3
Oyannax: 15 Florian Denos, 14 Silvere Tian, 13 Guillaume Bousses, 12 Roimata Hansell Pune, 11 Jean Francois Coux, 10 Benjamin Urdapilleta, 9 Agustin Figuerola, 8 Viliami Suaesi Ma'afu, 7 Valentin Ursache, 6 Scott Newlands, 5 Damien Lagrange, 4 Thibault Lassalle, 3 Clement Baiocco, 2 Jody Jenneker, 1 Antoine Tichit.
Replacements: 16 Neil Clark, 17 Marc Clerc, 18 Miroslav Nemecek, 19 Christophe Andre, 20 Fabien Cibray, 21 Conrad Barnard, 22 Pierre Aguillon, 23 Lukas Rapant.
Clermont: 15 Jean Marcellin Buttin, 14 Sitiveni Sivivatu, 13 Gavin Hume, 12 Benson Stanley, 11 Noa Nakaitaci, 10 Brock James, 9 Ludovic Radosavljevic, 8 Elvis Vermeulen, 7 Alexandre Lapandry, 6 Gerhard Vosloo, 5 Nathan Hines 4 Julien Pierre, 3 Davit Zirakashvili, 2 Ti'i Paulo, 1 Thomas Domingo.
Replacements: 16 Benoît Cabello, 17 Raphael Chaume, 18 Clément Ric, 19 Loic Jacquet, 20 Damien Chouly, 21 Moran Parra, 22 Napolioni Nalaga, 23 Lee Byrne.
Referee: L. Cardona