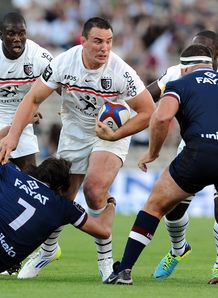 Related links
Also see
With France's biggest and best clubs back in action last weekend, Bordeaux's shock win over Toulouse stole the show.
Despite Toulouse having a starting XV packed full of Test experience, Bordeaux's home form shone through and will have left other sides wary of the threat they pose when playing at the Stade Jacques Chaban-Delmas.
Grenoble can similarly receive plenty of praise for their victory over Stade Français - another impressive performance as they look to replicate their early season form of last year that saw them sitting in the top six. Perpignan's upset of champions Castres, sealed by a jubilant Camille Lopez, was another result worthy of note.
Montpellier's 22-22 draw with Toulon has given Clermont and Racing Métro some early breathing space at the top, but those two title contenders face contrasting trips in difficulty in Round Two - with one heading to Oyonnax and the other to Toulon. Let's look at the weekend ahead.
Fixtures:
Friday, August 23:
Toulon v Racing Métro (20:50, 19:50 GMT)
Saturday, August 24 - Kick-offs at 18:30 (17:30 GMT) unless stated otherwise:
Oyonnax v Clermont (15:00, 14:00 GMT)
Toulouse v Bayonne
Perpignan v Stade
Castres v Grenoble
Biarritz v Montpellier
Brive v Bordeaux-Begles (20:00, 19:00 GMT)
Previews:
Toulon v Racing Métro
Stade Felix Mayol
Mouthwatering.
Plenty of attention will be on the clash between two British and Irish Lions in the 10 jerseys, with Toulon captain Jonny Wilkinson up against Ireland fly-half Jonathan Sexton.
Wilkinson has set the benchmark in the Top 14 over the last few seasons and his success is perhaps a reason why Sexton was lured to Paris to try his hand in the French league.
Toulon and Racing however are not just about individual talents - more a boatload of them on either side.
Racing's whole squad has undertaken a significant upgrade, with Wales centre Jamie Roberts in line to make his debut after being named in Racing's 26-man squad ahead of Friday's game. Plenty rests on Sexton's shoulders but if his pack can compete, the former Leinsterman has enough talent outside to be unleashed. Laurent Magnaval is expected to start alongside Sexton after scrum-half Maxime Machenaud underwent knee surgery on Tuesday.
One concern last week for the Heineken Cup champions was their set-piece, with Montpellier's prop causing first Carl Hayman and then Martin Castrogiovanni some concern.
Toulon were lucky last week when Maxime Mermoz's interception try spared their blushes, but at home they are a different beast and should be expected to come through.
Previous result: Racing won 19-15
Prediction: Home win. Toulon by eight.
Kick-off: 20.50 (19.50 GMT)
Referee: R. Poite
---
Oyonnax v Clermont
Stade Charles Mathon
Oyonnax marked their return to the Top 14 in less than ideal circumstances with a 39-11 loss to Bayonne.
It feels like a worrying sign of things to come as the new-boys suffered the biggest defeat of the opening weekend, conceding four tries and left already at the bottom of the table as the only team without a point.
A quick glance at the team sheet from last weekend indicates that Oyonnax currently lack that edge of star quality needed to really challenge the top teams - something that doesn't make the visit of Clermont on Saturday afternoon a promising encounter.
Last season's Heineken Cup finalists survived a late scare against Biarrtiz to get off to a winning start, thanks to a Regan King try but largely due to the boot of Brock James, who kicked six penalties and was selected to kick despite Morgan Parra partnering him at half-back.
Given the depth of their squad, expecting anything but a significant Clermont win seems foolish.
Previous result: -
Prediction: Heavy away win. Clermont by 20.
Kick-off: 15.00 (14.00 GMT)
Referee: L. Cardona
---
Biarritz v Montpellier
Parc des Sports Aguilera
Few gave Biarritz any hope last weekend against Clermont, but they silenced some critics by picking up a losing bonus point and outscoring their visitors by two tries to one thanks to efforts from Dimitri Yachvili and Teddy Thomas.
Yachvili had a penalty and conversion also to his name, and you just sense that if Biarritz are to accomplish anything this season it will be down to keeping their talisman fit and on the field.
Montpellier are the visitors this weekend and Fabien Galthié's side will be seething that they failed to take an enormous chance after drawing with Toulon last Friday.
Title contenders for a reason, Montpellier await the arrival of Rene Ranger and Robert Ebersohn but fielded several new signings last weekend including Jim Hamilton, Wynand Olivier and Robin Tchale Watchou.
It was a taste of things to come for Montpellier fans and after missing their chance last weekend, they should take this fixture with both hands.
Previous result: -
Prediction: Away win Montpellier by 7.
Kick-off: 18.30 (17.30 GMT)
Referee: J. Garces
---
Castres v Grenoble
Stade Pierre Antoine
Not the start the champions would have wanted by any stretch. Castres crashed to a 26-23 defeat against Perpignan following Camille Lopez's 77th minute try last weekend.
After the shock of their Top 14 title success last season, few have backed Castres to repeat that accomplishment and an opening day loss has done little to persuade them otherwise.
A strong start in Perpignan gradually unravelled, but returning home to the Stade Pierre Antoine to celebrate winning last year's Bouclier de Brennus will be a special moment and should spur them onto victory.
Grenoble though are tricky opponents. Built around a stubborn and competitive squad, their victory over cash-rich Stade Français last weekend was impressive.
They will certainly give Castres a run for their money, but you would expect the champions to come through and get their campaign properly started.
Previous result: Castres won 30-13.
Prediction: Home win. Castres by 10.
Kick-off: 18.30 (17.30 GMT)
Referee: C. Lafon
---
Perpignan v Stade Français
Stade Aime Giral
Maybe Perpignan aren't dead and buried after all?
The late drama of Lopez's try stunned champions Castres last weekend and gave the Catalan outfit a huge boost.
Perpignan's spine - comprising of Sona Taumalolo, Sebastien Vahaamahina, Dewaldt Duvenage, David Marty and James Hook is a strong enough combination to see them compete this season around the fringes for a top six spot, but the key will be consistency.
Given that Stade are still awaiting the full arrival of a number of their new signings, including points-machine Morné Steyn, USAP have a golden chance to pick up a win on Saturday.
That's not to say Stade are not a threat; they kept well in touch of Grenoble last weekend with Julien Dupuy before ultimately losing out in the kicking duel with Valentin Courrent, but they do not appear to have enough right now to win tight games away from home.
Previous result: Perpignan won 32-16.
Prediction: Home win. Perpignan by 8.
Kick-off: 18.30 (17.30 GMT)
Referee: A. Ruiz
---
Toulouse v Bayonne
Stade Ernest Wallon
Seeing Toulouse sat in 13th place in the Top 14 is an oddity, and one which should be swiftly corrected this weekend when they host Bayonne.
Ill-discipline in the closing minutes eventually cost them with Bordeaux fly-half Pierre Bernard firing over three late penalties for the lead and the win, but there were positives.
Hosea Gear crossed for his try on his first league appearance after moving north from the Highlanders and Lionel Beauxis was on song with the boot.
But for all of their talent - and it is an absurd amount for one squad - Toulouse should be putting away sides like Bordeaux and now this weekend, Bayonne.
That is even despite Bayonne's mammoth win over Oyonnax last weekend.
Top of the table and with an adept kicker in Martin Moyano Bustos - who racked up 19 points - Bayonne can certainly threaten but Oyonnax are a very different proposition to Toulouse.
One would expect, after receiving a tongue-lashing from Guy Noves in midweek, that Toulouse will take this at a canter.
Previous result: Toulouse won 42-6.
Prediction: Heavy home win. Toulouse by 15.
Kick-off: 18.30 (17.30 GMT)
Referee: S. Attalah
---
Brive v Bordeaux
Stade Amedee Domenech
Brive were unable to spoil the party last weekend as Dan Lydiate, Jonathan Sexton and Soane Tonga'uiha all enjoyed a winning debut for their new side, Racing Métro.
The visitors though did score a first-half try through Malakai Bakaniceva and ran Racing closer than many would have expected before the match began, snatching an important losing bonus point.
Gaetan Germain poses an accurate threat with the boot at full-back and Bakaniceva is there to finish off any chances, but Bordeaux look the better side considering each XV.
Full of confidence after their outstanding victory over Toulouse, Raphaël Ibanez's team should go back-to-back this weekend against one of the sides promoted from Pro D2.
They have the top points-scorer in the league in Pierre Bernard, the fly-half racking up 26 points last weekend with eight penalties and a conversion, plus the threats of Blair Connor and Bruce Reihana to make Bordeaux favourites here.
Previous result: -
Prediction: Away win. Bordeaux by 7.
Kick-off: 20.00 (19.00 GMT)
Referee: S. Minery