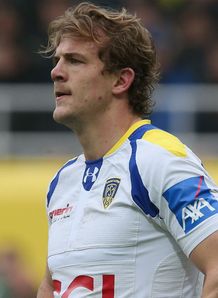 Clermomt icon Aurélien Rougerie has been persuaded to retain the captaincy of the French club despite his initial decision to step down.
After heartbreaking losses in last season's Heineken Cup Final (to Toulon) and the Top 14 semi-finals (to Castres) Rougerie told the Clermont coaching staff that he no longer felt up to the task of leading the team.
During the off season, the 32-year-old commented that he felt it was time for someone else to take over the on-field reins as he felt the messages he was delivering were not having their desired impact.
French international scrum-half Morgan Parra was widely touted as the man to take over as skipper after Rougerie suggested that the entire squad vote on who they felt should be skipper.
However, Clermont announced on Thursday that during the pre-season training camp at Falgos, the squad had unanimously called for Rougerie to remain the skipper.
"End of the season I questioned myself based on the results of our last two matches," said Rougerie.
"I wanted this important decision is collective and unanimous. In light of the discussions we have had in recent days, it is with great motivation and a willingness that I retain the captaincy for the coming season. "