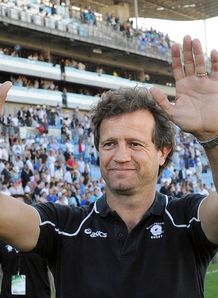 Montpellier coach Fabien Galthiť has extended his contract with the Top 14 side until 2017.
The former France international scrum-half, who was entering the final year of his contract, has now signed on for a further three seasons.
"I reached the stage where I had one season left on my contract and there are times in life where we have to make choices," said Galthiť.
"I spoke with Mohed Altrad and Denis Navizet and the staff and I decided to extend my contract until 2017.
"Montpellier is growing, this is a team that has many talented players as well as those coming into the squad, without forgetting the Academy. The President and everyone at the club has built a team that is ready to compete both in France and in Europe.
"Our recruitment ahead of this season has been ambitious and while that does not guarantee success, it does put us in a position to build on what we have done before."