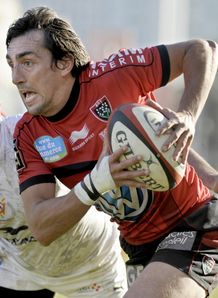 Nicolas Durand is set to return to his former club Perpignan as a medical joker on a loan agreement from Toulon.
French daily L'Indépendant reports that the deal is virtually done for 30-year-old Durand to make a short-term move back along the Mediterranean coast to the club with whom he won the Top 14 title in 2009.
The two-cap French international's career has taken a nose dive since leaving the Catalan club in 2010 for Racing-Métro, where a conflict with then-coach Pierre Berbizier saw him rarely used.
Durand then moved to Toulon but started just nine games last season as he sat behind Frédéric Michalak and Sébastien Tillous-Borde in the pecking order.
The arrival of Michael Claassens at Toulon from Bath is unlikely to help him get game time, meaning it makes perfect sense for him to return to USAP.
Perpignan are in desperate need for a quality scrum-half as Florian Cazenave is set for a long spell on the sidelines as he recovers from surgery to a serious eye injury.