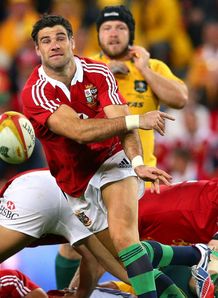 Related links
Teams
British and Irish Lions scrum-half Mike Phillips has suggested that Saturday's series clinching win over Australia may have been his last Test match.
The 30-year-old Welshman, who has 77 caps for his country and 5 for the Lions, is coming to the end of his contract with French club Bayonne next season and revealed in his column for the Daily Mail that he fears he would not be an attractive prospect for the future if he is still playing Test rugby.
"My contract is up at Bayonne at the end of this season and certain clubs aren't going to want to sign me if I'm an international player," wrote Phillips.
"I need to have a think about things.
"It may well be that if I want to play on at club level I'll have to call time on my international career at some time in the not too distant future.
"It's something I'm going to think long and hard about and I've got some decisions to make in the next year.
"If it is to be the last game of international rugby that I play, then what a way to bow out.
"People have asked me about winning the next World Cup with Wales but to be honest my main focus is just to get through the next couple of days.
"I don't know how much more my mind and body can take of this intensity. I'm relieved that we won, but also relieved that it's over, if I'm totally honest.
"I'll go for a scan on my knee on Monday and the likelihood is that I'll need a small operation to get it sorted out.
"I may need some of the bone shaving off. It has been a niggling problem all tour and I need to get it sorted."