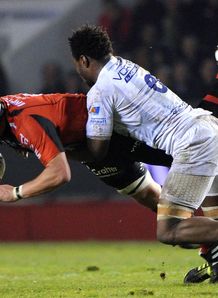 Related links
Also see
The French Rugby Federation and the National Rugby League have announced the dates for the 2013-2014 Top 14 season.
The championship will start on August 17 and will last until June 31, the day of the final at the Stade de France.
This year only three weekends will be shared between international and national fixtures: the 12th, 18th and 20th rounds. This is a one-round improvement on last season.
The Top 14 will start strongly with a clash between the two Mediterranean giants Toulon and Montpellier. Other games to watch will be Perpignan v Castres, already a battle for the playoffs, and Bordeaux v Toulouse, a confrontation that has always produced great matches in the past two years.
Newly-promoted Brive will have a very difficult time playing Racing-Metro, Montpellier and Toulon in the opening rounds.
European champions Toulon have been given a tough draw with fixtures against Clermont ane the Toulouse on successive weekends (twice).
Big rounds to follow are the 8th, the 21st (the Basque derbies, Castres v Racing, and Perpigan v Toulouse, which were screamers last year) with the 12th, and the 25th (Clermont v Racing, Montpellier v Castres and Toulon v Perpignan all huge confrontations)
Unfortunately that 12th round will be flawed by the international clashes that will strip the big clubs of their top players. Controversy is to be expected on that week-end.
Round 1: 16-17 August - Round 14: 20-21 December

Montpellier v Toulon
Bayonne v Oyonnax
Biarritz v Clermont
Bordeaux-Bègles v Toulouse
Grenoble v Stade Français
Perpignan v Castre
Racing Métro v Brive
Round 2: 23-24 August - Round 15: 29 December
Brive v Bordeaux-Bègles
Biarritz v Montpellier
Castres v Grenoble
Oyonnax v Clermont
Perpignan v Stade Français
Toulon v Racing Métro 92
Toulouse v Bayonne
Round 3: 30-31 August - Round 16: 3-4January 2014
Bayonne v Perpignan
Bordeaux-Bègles v Castres
Clermont v Toulouse
Grenoble v Toulon
Montpellier v Brive
Stade Français v Biarritz
Round 4: 4 September - Round 17: 24-25Janaury 2014
Bordeaux-Bègles v Montpellier
Castres v Stade Français
Clermont v Bayonne
Oyonnax v Biarritz
Perpignan v Grenoble
Toulon v Brive
Toulouse v Racing Métro 92
Round 5: 8 September- Round 18: 7-8 February 2014
Brive v Bayonne
Biarritz v Toulon
Grenoble v Bordeaux-Bègles
Oyonnax v Castres
Montpellier-Toulouse
Stade Français v Clermont
Racing Métro 92-Perpignan
Round 6: 13 -14 September - Round 19: 14-15 February 2014
Bayonne v Racing Métro 92
Bordeaux-Bègles v Oyonnax
Castres v Toulon
Clermont v Grenoble
Stade Français v Brive
Perpignan v Montpellier
Toulouse v Biarritz
Round 7: 20-21 September - Round 20: 21-22 February 2014
Brive v Perpignan
Biarritz v Grenoble
Oyonnax v Stade Français
Montpellier v Clermont
Racing Métro 92 v Bordeaux-Bègles
Toulon v Bayonne
Toulouse v Castres
Round 8: 27-28 September - Round 21: 28 February- 1 march 2014
Bayonne v Biarritz
Castres v Racing Métro 92
Clermont v Bordeaux-Bègles
Grenoble v Brive
Oyonnax v Toulon
Stade Français v Montpellier
Perpignan v Toulouse
Round 9: 4-5 October - Round 22: 21-22 March 2014
Brive v Castres
Biarritz v Perpignan
Bordeaux-Bègles v Bayonne
Montpellier v Oyonnax
Racing Métro 92 v Grenoble
Toulon v Clermont
Toulouse v Stade Français
Round 10: 25-26 October - Round 23: 28-29 March 2014
Bayonne v Montpellier
Castres v Biarritz
Clermont v Brive
Grenoble v Oyonnax
Perpignan v Bordeaux-Bègles
Racing Métro 92 v Stade Français
Toulouse v Toulon
Round 11: 1-2 November - Round 24: 11-12 April 2014
Brive v Toulouse
Biarritz v Racing Métro 92
Castres v Clermont
Oyonnax v Perpignan
Montpellier v Grenoble
Stade Français v Bayonne
Toulon v Bordeaux-Bègles
Round 12: 22-23 November - Round 25: 18-19 April 2014
Brive v Biarritz
Bayonne v Grenoble
Bordeaux-Bègles v Stade Français
Clermont v Racing Métro 92
Montpellier v Castres
Toulon v Perpignan
Toulouse v Oyonnax
Round 13: 29-30 November - Round 26: 3 May 2014
Biarritz v Bordeaux-Bègles
Castres v Bayonne
Grenoble v Toulouse
Oyonnax v Brive
Stade Français v Toulon
Perpignan v Clermont
Racing Métro 92 v Montpellier
Quarter-finals: 9, 10 or 11 May of 2014
Semi-finals: 16, 17 or 18 May of 2014
Final: 31 May 2014