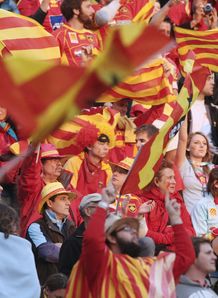 Related links
Also see
After years of economic struggle, Perpignan seem to have found a businessman ready to invest heavily in the club.
Six months after ex-club president Paul Goze left for the presidency of the Ligue Nationale de Rugby, Daniel Besson, the 'interim' president of the club, may leave his post. It seems that USAP have found their providential man.
And although Besson admitted to l'Independent that "he has heard the rumor of an investor, but it isn't for today," the president added that "if someone is ready to invest 4 or 5 million, he is of course welcome to do so".
Well it seems that François Rivière a successful businessman in the field of parking lots, is ready to come on board and bring his cheque book with him.
Rivière has revealed that he is ready to "help the club in long period."
'Help' here means "one or two million Euros per year in order to develop the club."
"Shareholders know that when I announce something I've got the means to do so. I don't want browbeat anything, but the ball is in their court," he added.
A very gentle way to announce that he has eyes the club's presidency. He has been in close negotiations with the club's shareholders for nearly two months now. The news have been warmly welcomed within the Catalan club that has been struggling these past years to find the funds for a 15 million budget and such an offer is providential.
"I've met Daniel Besson" added Rivière.
"He knows I'm interested. I'm lucky enough to be able to invest some of my personal money but also to find some shareholders in Paris. If I invest I want it to be on the long term. I don't want l'USAP to continually say: "we have to find some money to pass the checks of the DNACG (the French league's financial watchdog.)
"And if the clubs needs a little help and needs 300 000 Euros I will do it. I don't need my bankers to do so."
A generous man, Rivière was alarmed by the situation of the club he used to sponsor.
"I know that the payroll of the club is currently one of the weakest of the elite and that more money is needed for recruitment," he explained.
Some see this move as a political manoeuvre to get elected mayor of Perpignan. He had already tried in the municipal elections of 2009, presenting himself as a right-wing businessman with no associations with the big parties, and had collected a promising 7.9 percent of the votes. Under Nicolas Sarkosy's presidency he was handed a mission on the city's growth policy.
Is USAP a stepping stone to the position of mayor? Rivière strongly rejects that hypothesis.
"No, you have to know what you want. The presidency of l'USAP is not compatible with an elective office," he insisted.
Is it again another big investor for French rugby after Lorenzetti, Boudjellal, Fabre, Afflelou, Altrad...?