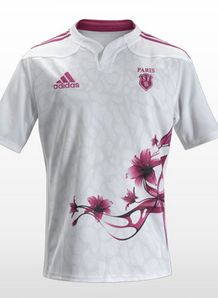 Parisian giants Stade Français have unveiled their home jersey for the 2013/2014 Top 14 season.
The most understated jersey in years from les Franciliens is a mainly white kit featuring the traditional Fleur-de-Lys.
It's far cry from the bright pink shirts of recent years or the eye-catching Andy Warhol inspired kit from 2008.
The club's kits have become progressively less outrageous since the departure of media mogul Max Guazzini, who sold his majority stake in 2011 and stepped down as president.
Under a new coach and with a largely new squad, Stade Français will start the season back at the newly rebuilt Stade Jean-Bouin after three years in exile at Stade Charléty.