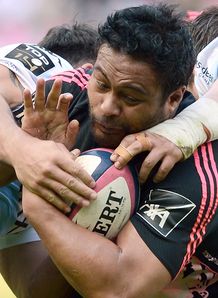 Related links
Also see
Stade Français full-back Jérôme Porical kicked fourteen points to help guide his team to a 19-16 win over Racing Metro in the Top 14 on Sunday.
With the scores tied 16-16, Porical slotted over his third and decisive penalty seven minutes from full-time that saw the hosts take the spoils in a tight Paris derby.
There was nothing seperating the two teams at half-time, as the two sides went into the break all square (10-10).
Porical and Racing Metro pivot Jonathan Wisniewski traded penalties before the latter converted his own try to take the visitors into a seven-point lead.
However, Porical leveled the scores on the after he converted Paul Williams' try on the stroke of half-time.
Porical continued where he left off after the break by adding another three-pointer, before Wisniewski raised the flags two more times with successive penalties.
However, a penalty in the 69th minute allowed Porical to draw Stade level and he repeated the trick again four minutes later for the win.
The scorers:
For Stade Français:
Try: Williams
Con: Porical
Pens: Porical
For Racing Metro:
Try: Wisniewski
Con: Wisniewski
Pens: Wisniewski 2
Stade Français: 15 Jerome Porical, 14 Francis Fainifo, 13 Gavin Williams, 12 Martin Rodriguez, 11 Djibril Camara, 10 Felipe Contepomi, 9 Nicolas Bezy, 8 Sergio Parisse , 7 Olivier Missoup, 6 Leiataua Tomiki, 5 Gerhard Mostert, 4 Alexandre Flanquart, 3 Rabah Slimani, 2 Laurent Sempere, 1 Romain Frou,
Replacements: 16 Remi Bonfils, 17 Aled De malmanche, 18 Anton van Zyl, 19 Nicolas Garrault, 20 Julien Dupuy, 21 Jules Plisson, 22 Waisea Vuidravuwalu, 23 Stanley Wright,
Racing Métro: 15 Juan Martin Hernandez, 14 Benjamin Fall, 13 Henry Chavancy, 12 Fabrice Estebanez, 11 Juan Imhoff, 10 Jonathan Wisniewski, 9 Maxime Machenaud, 8 Masinivanua Matadigo, 7 Bernard le Roux, 6 Antoine Battut, 5 Francois van der Merwe, 4 Manuel Carizza, 3 Luc Ducalcon, 2 Dimitri Szarzewski, 1 Julien Brugnaut,
Replacements: 16 Thomas Bianchin, 17 Andrea lo Cicero, 18 Fabrice Metz, 19 Jone Qovu, 20 Sebastien Descons, 21 Virimi Vakatawa, 22 Jacques Cronje, 23 Juan Pablo Orlandi.