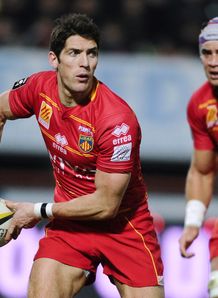 Wales fly-half James Hook racked up 23 points as Perpignan defeated Biarritz 33-28 at the Stade Aimé-Giral on Sunday.
The hosts lead 10-3 after 15 minutes following Adrien Plante's try before Biarritz wing Teddy Thomas, who grabbed two tries against Gloucester last weekend in the Challenge Cup, had his first score confirmed by the TMO.
A see-saw encounter saw Hook finish off a fine team try for Perpignan before Raphael Lakafia capitalised on a 50 metre break by Marcelo Bosch to leave Perpignan narrowly leading 20-17 at half-time.
Thomas grabbed his second try immediately from the restart to put Biarritz in front, but a yellow card for Benoit Baby after blatant obstruction lead to Perpignan registering 13 unanswered points thanks to two penalties from Hook and a converted try by Lifeimi Mafi.
Yachvili added another penalty but Biarritz were unable to get back in front during the final quarter, Perpignan holding on for the victory.
The scorers:
For Perpignan:
Tries: Plante, Hook, Mafi
Cons: Hook 3
Pens: Hook 4
For Biarritz:
Tries: Thomas 2, Lakafia
Cons: Yachvili 2
Pens: Yachvili 3
Yellow Card: Baby
Perpignan: 15 Gavin Hume, 14 Farid Sid, 13 Lifeimi Mafi, 12 Sione Piukala, 11 Adrien Plante, 10 James Hook, 9 Florian Cazenave, 8 Henry Tuilagi, 7 Alasdair Strokosch, 6 Bertrand Guiry, 5 Romain Taofifenua, 4 Sebastien Vahaamahina, 3 Kisi Pulu, 2 Guilhem Guirado, 1 Sona Taumalolo.
Replacements: 16 Romain Terrain, 17 Sebastien Taofifenua, 18 Guillaume Vilaceca, 19 Robins Tchale-Watchou, 20 David Mele, 21 David Marty, 22 Sofiane Guitoune, 23 Jerome Schuster.
Biarritz: 15 Marcelo Bosch, 14 Takudzwa Ngwenya, 13 Benoit Baby, 12 Damien Traille, 11 Teddy Thomas, 10 Jean-Pascal Barraque, 9 Dimitri Yachvili, 8 Imanol Harinordoquy, 7 Raphael Lakafia, 6 Tanguy Molcard, 5 Pelu Lan Taele, 4 Erik Lund, 3 Ben Broster, 2 Benoit AugustArnaud Heguy, 1 Thomas Synaeghel.
Replacements: 16 Eugene Van Staden, 17 Mathieu Marie, 18 Benoit Guyot, 19 Yann Lesgourgues, 20 Seremaia Burotu, 21 Aled Brew, 22 Gomez Kodela
Referee: Sébastien Clouté