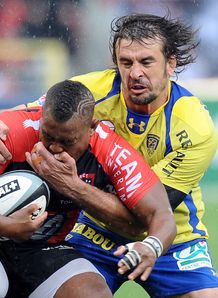 Related links
Also see
Heineken Cup semi-finalists Toulon and Clermont do battle in Marseille on Sunday for the lead in the Top 14 as the season reaches its climax.
With three rounds left to play, the leading duo are virtually assured of automatic qualification for the semi-finals but the scrap for the remaining four play-off places rages on.
Defending champions Toulouse have a difficult end to the season as they travel to Montpellier on Saturday before visiting Clermont next week.
Castres are gunning for a home play-off and will expect to get the job done when they host Bordeaux-Bègles on Friday.
Perpignan's play-off hopes depend on victory over Biarritz in their delayed clash on Sunday while Racing Métro will be aiming for a full-house against already relegated Mont-de-Marsan.
Elsewhere, Agen are clinging for survival as they welcome a Stade Français side whose focus may be elsewhere while Bayonne and Grenoble have nothing but pride left to play for.
Fixtures:
Friday, April 12
Castres v Bordeaux-Bègles
Saturday, April 13
Montpellier v Toulouse
Agen v Stade Français
Bayonne v Grenoble
Mont-de-Marsan v Racing Métro 92
Sunday, April 14
Perpignan v Biarritz
Toulon v Clermont
Standings:
1 Toulon 82
2 Clermont 80
---------------------
3 Toulouse 73
4 Castres 66
5 Racing Metro 63
6 Montpellier 63
--------------------
7 Perpignan 57
8 Biarritz 51
9 Grenoble 49
10 Stade Français 46
11 Bayonne 45
12 Bordeaux-Begles 41
-----------------------
13 Agen 27
14 Mont de Marsan 15 - relegated
---
Previews:
Castres Olympique v Union Bordeaux-Bègles
Stade Pierre Antoine, Castres
Bordeaux-Begles have never won at Stade Pierre Antoine but a losing bonus-point for UBB would be enough to ensure their place in the top division next season and relegate Agen in the process.
Castres have been virtually untouchable at home this season and are looking for their fifth straight win at their fortress. With another home fixture against Mont-de-Marsan next week, CO look set to host a play-off despite facing a trip to Racing on the last day of the regular season.
One man the Castres fans will hope finds some form is English wing Marcel Garvey, who has yet to score a try in 15 games in the Top 14.
The hosts also welcome back French international full-back Brice Dulin.
Castres: 15 Brice Dulin, 14 Marcel Garvey, 13 Romain Cabannes, 12 Seremaia Bai, 11 Marc Andreu, 10 Remi Tales, 9 Rory Kockott, 8 Antonie Claassen, 7 Yannick Caballero, 6 Piula Faasalele, 5 Christophe Samson, 4 Matthias Rolland, 3 Karena Wihongi, 2 Brice Mach, 1 Saimone Taumoepeau.
Replacements: 16 Marc Antoine Rallier, 17 Mihaita Lazar, 18 Benjamin Desroche, 19 Jan de bruin Bornman, 20 Romain Teulet, 21 Daniel Kirkpatrick, 22 Max Evans, 23 Anton Peikrishvili.
Bordeaux-Bègles: 15 Darly Domvo, 14 Rafael Carballo, 13 Charles Brousse, 12 Julien Rey, 11 Blair Connor, 10 Nicolas Sanchez, 9 Julien Seron, 8 Damien Larrieu, 7 Justin Purll, 6 Louis Benoit Madaule, 5 Francois Tisseau, 4 Cameron Treloar, 3 Tamato Leupolu, 2 Hikairo Forbes , 1 Jefferson Poirot.
Replacements: 16 Fabien Rofes, 17 Franck Labbe, 18 Adam Jaulhac, 19 Matthew Clarkin, 20 Baptiste Serin, 21 Felix Le Bourhis, 22 Thierry Brana, 23 Albert Toetu.
Previous result Castres won 16-13
Prediction: We can see this going only one way. Castres by at least ten points
Kick-off: 20:50 (18.50 GMT)
Referee: Alexandre Ruiz
---
Montpellier Hérault Rugby v Stade Toulousain
Stade Yves Du Manoir, Montpellier
Despite his club having the largest budget in Europe, Guy Novès insists on telling us all that it's impossible for Toulouse to win in Montpellier, even though they claimed a 45-25 victory there last year.
Toulouse still have a mathematical chance of direct qualification for the semi-finals, but those hopes depend on Clermont, whom they face next week, losing to Toulon on Sunday.
The defending champions have won five of their eleven games on the road this season and face a Montpellier side smarting from their loss to Clermont in the Heineken Cup quarter-finals and are fighting for a place in the play-offs.
Montpellier currently sit fifth in the table and have a six-point advantage over seventh-placed Perpignan in the race for a top six finish.
Toulouse will be without front-rowers Antoine Guillamon and Gary Botha while Novès has suggested he may rest a handful of his French internationals.
Montpellier are without France fly-half Francois Trinh-Duc, who is sidelined for three weeks. He is likely to be replaced by Argentine international centre Santiago Fernandez. Hooker Charles Geli is also serving a 10-day suspension for his fisticuffs in Mont-de-Marsan.
Remaining fixtures:
Toulouse: Clermont (Away); Grenoble (Home)
Montpellier: Bayonne (Away); Perpignan (Home)
Previous result: Toulouse won 27-9
Prediction: The hosts have everything to play for. Montpellier by less than seven points
Kick-off: 15:00 (13.00 GMT)
Referee: Jérôme Garcès
---
SU Agen v Stade Français Paris
Stade Armandie, Agen
Agen look set for the drop and once again Stade Français could be the team to push them over the edge.
Back in 2007, Agen were relegated for the first time in their illustrious history as the eight-time champions succumbed to the Parisians on the last day of the championship.
Last year Agen won this fixture 37-13, but this time even victory might not be enough for les Lots-et-Garonnais as their future is linked to Bordeaux-Bègles, whom they trail by 14 points.
Just how motivated Stade will be remains to be seen. They have nothing left to play for in the domestic league and may well keep their powder dry in preparation for their Challenge Cup semi-final against Perpignan in a fortnight.
Agen welcome back loose forward Opeti Fonua but skipper Junior Pelesasa is still injured.
Stade are without scrum-half Jerome Fillol, who has been banned for 14 weeks for spitting at Bath's Peter Stringer last week.
Previous result: Stade Français won 20-13
Prediction: The home side will fight to the end. Agen by six points
Kick-off: 18:30 (16.30 GMT)
Referee: Christophe Berdos
---
Aviron Bayonnais v FC Grenoble
Stade Jean Dauger, Bayonne
Nothing but pride to play for here as both teams are safe from relegation but out of the play-off race.
Grenoble have not won a game since mid-February and face a Bayonne team looking for a positive result in their second last home match of the season.
Bayonne prop Neemia Tialata will have to pass a fitness test on Friday with 20-year-old Anthony Etrillard waiting in the wings to take over if the former All Black can't make it.
Previous result: Grenoble won 9-6
Prediction: We'll back the Basque hosts. Bayonne by twelve points
Kick-off: 18:30 (16.30 GMT)
Referee: Cédric Marchat
---
Stade Montois v Racing-Métro 92
Stade Guy Boniface, Mont-de-Marsan
With just one home win to show all season, it's tough to see Mont-de-Marsan stopping in-form Racing's march towards the play-offs.
Indeed, even if les Montois caused one of the upsets of the season by winning in the capital earlier this term, the Parisians arrive with lofty ambitions as a bonus-point win would be a massive boost to their chances of a place in the knock-out phases.
Racing, who lost their first game since December to Toulouse last time out, face a derby with Stade Francais and tricky clash with Castres in the last fortnight, so it's vital that they get the job done.
Previous result: Mont-de-Marsan won 17-16
Prediction: The visitors should win, but will have to fight for their points. Racing by twelve points
Kick-off: 20:40 (18.40 GMT)
Referee: Sébastien Minery
---
USA Perpignan v Biarritz Olympique
Stade Aimé Giral, Perpignan
All the pressure is on Perpignan. With away games in Agen and Montpellier still on the menu, victory is non-negotiable for the Catalans if they hope to stay in the running for the play-offs.
Biarritz still have plenty to play for as they are still in the fight for a place in the Heineken Cup. Leapfrogging USAP in the run-in would leave the Basques in seventh place, which would be good enough to qualify if either Clermont or Toulon go on to win the European title.
Of course both these sides are also still in the running for the Challenge Cup crown, which is also a way back into the Heineken Cup.
USAP have a good record at home against Biarritz having won the last five games between these sides at Stade Aimé Giral.
Perpignan loose forward Dan Leo is serving a suspension after being handed a red card against Toulouse last week.
Previous result: Biarritz won 15-3
Prediction: USAP are a solid bet at home. Perpignan by eight points
Kick-off: 14:15 (12.15 GMT)
Referee: Sébastien Clouté
---
Rugby Club Toulonnais v ASM Clermont Auvergne
Stade Vélodrome, Marseille
Arguably the game of the season is a sell-out at Marseille's football stadium as France's - and perhaps Europe's - top two go head to head.
With both clubs still chasing a French-European double and the championship lead at stake, Sunday's clash on the Mediterranean coast has the potential to be a classic.
Last year, Clermont won 17-0 in Toulon but the hosts' form this season suggests a repeat of that result is highly unlikely.
Toulon have averaged 3,6 tries per match this season but are up against the second best defence in the country with Clermont conceding just one try per game on average on the road.
The game in Clermont earlier this season ended try-less and in controversial circumstances when Brock James slotted the winning penalty in the 83rd minute.
Once again Jonny Wilkinson will be at the centre of the Toulon attack. Wilko has scored 45 percent of Toulon's points this season. Alarmingly, the English fly-half has improved his points tally every year since his arrival in France.
Clermont's Heineken Cup quarter-final win over Montpellier came at a heavy cost as Julien Bonnaire (elbow), Aurelien Rougerie (hip), Napolioni Nalaga (back) and Morgan Parra (rested) have all been ruled out. James, Davit Zirakashvili and Benjamin Kayser are also doubtful. Benson Stanley and Julien Malzieu are, however, both fit again.
Former All Black fly-half Mike Delany, who only started training with Clermont on Wednesday, could start according to coach Vern Cotter after his licence arrived on Friday.
Toulon have named Danie Rossouw in their extended squad while Joe van Niekerk has been left out due to personal reasons. All the big names, including Chris Masoe, Bakkie Botha, Carl Hayman and Matt Giteau should start.
Remaining fixtures:
Toulon: Grenoble (A); Agen (H)
Clermont: Toulouse (H); Bordeaux-Begle (H)
Previous result: Clermont won 24-21
Prediction: A tough one to call, but Toulon may place greater value on finishing top. Toulon by less than five points
Kick-off: 16:10 (14.10 GMT)
Referee: Jean-Luc Rebollal