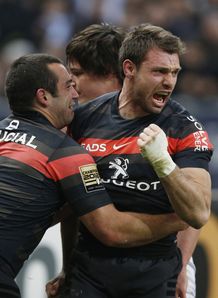 Related links
Also see
Vincent Clerc's second try in the 79th minute saw Toulouse claim a one-point win over Racing Metro and end the Parisian's nine-game winning streak.
Clermont warmed up for the Heineken Cup quarter-finals with a 10-try demolition of Agen while Castres claimed a crucial win in Perpignan.
Bordeaux-Bègles virtually assured themselves of a place in the top flight next season with a bonus-point win over Bayonne while Montpellier won but were denied a bonus point in Mont-de-Marsan.
Earlier on Saturday, Toulon thumped Stade Français in the first ever Top 14 game to be played under a close roof, in Lille.
Results:
Biarritz v Grenoble - Report here
Stade Français v Toulon - Report here
Bordeaux-Bègles 39-13 Bayonne
Clermont 66-21 Agen
Mont-de-Marsan 17-30 Montpellier
Perpignan 20-21 Castres
Racing Métro 26-27 Toulouse
---
USA Perpignan 20-21 Castres Olympique
Stade Aimé Giral, Perpignan
A huge result for Castres as a precious away victory (only Toulon have won in Perpignan this term) means they hang onto fourth place.
But it's an even more significant result for Perpignan as it leaves the Catalans six points short of the play-off zone with three rounds to play.
CO led 13-6 at the break and controlled the game. Two tries in the final ten minutes saved a losing bonus point for USAP, who will now focus on next weekend's Challenge Cup clash with Toulouse.
The scorers:
For Perpignan:
Tries: Strokosch, Taofifenua
Cons: Hook, Mélé
Pens: Hook 2
For Castres:
Tries: Evans, Kockott
Con: Teulet
Pens: Teulet 2, Kockott
Yellow card: Tales
Perpignan:15 Gavin Hume, 14 Farid Sid, 13 David Marty, 12 Sione Piukala, 11 Adrien Plante, 10 James Hook, 9 David Mele, 8 Luke Narraway, 7 Bertrand Guiry, 6 Alasdair Strokosch, 5 Romain Taofifenua, 4 Sebastien Vahaamahina, 3 Nicolas Mas, 2 Guilhem Guirado, 1 Sona Taumalolo.
Replacements: 16 Romain Terrain, 17 Sebastien Taofifenua, 18 Daniel Leo, 19 Henri Tuilagi, 20 Florian Cazenave, 21 Lifeimi Mafi, 22 Richard Haughton, 23 Kisi Pulu,
Castres: 15 Romain Teulet, 14 Romain Martial, 13 Romain Cabannes, 12 Max Evans, 11 Marc Andreu, 10 Remi Tales, 9 Thierry Lacrampe, 8 Antonie Claassen, 7 Ibrahim Diarra, 6 Jan de bruin Bornman, 5 Christophe Samson, 4 Matthias Rolland, 3 Karena Wihongi, 2 Mathieu Bonello, 1 Saimone Taumoepeau.
Replacements: 16 Brice Mach, 17 Mihaita Lazar, 18 Piula Faasalele, 19 Yannick Caballero, 20 Rory Kockott, 21 Pierre Bernard, 22 Paul Bonnefond, 23 Michael Coetzee.
---
Stade Montois 17-30 Montpellier Hérault Rugby
Stade Guy Boniface
Montpellier are still very much in the race for a home play-off but will regret not claiming a bonus point due largely to their own indiscipline.
A dust up early in the second half saw both hooker sent off.
The scorers:
For Mont-de-Marsan:
Tries: Lewaravu, Cabannes
Cons: Vignau Tuquet 2
Pens: Vignau Tuquet
Red card: Grobler
For Montpellier:
Tries: Trinh-Duc, Amorosino, Gard
Cons: Bustos Moyano 3
Pens: Bustos Moyano 3
Yellow cards: Gorgodze, Fakate
Red card: Geli
Mont-de-Marsan:15 Thibault Duvallet, 14 Martin Jagr, 13 Baptiste Chedal, 12 Daniele Baleinadogo, 11 Julien Cabannes, 10 Antoine Vignau tuquet, 9 Bernard Arrayet, 8 Haisini Taulanga, 7 Vassili Bost, 6 Johannes Britz, 5 Wame Lewaravu, 4 Philipus Liebenberg, 3 Sebastien Ormaechea, 2 Pieter Grobler, 1 Alexandre Menini.
Replacements: 16 Julien Janaudy, 17 Julian Fiorini, 18 Berend Botha, 19 Julien Tastet, 20 Jean baptiste Dubie, 21 Tamaz Mchedlidze, 22 Yohann Durquet, 23 Mathieu Giudicelli
Montpellier:15 Lucas Gonzales Amorosino, 14 Timoci Nagusa, 13 Thomas Combezou, 12 Hamish Gard, 11 Martin Bustos Moyano, 10 François Trinh-Duc, 9 Julien Tomas, 8 Alex Tulou, 7 Mamuka Gorgodze, 6 Fulgence Ouedraogo, 5 Thibaut Privat, 4 Alikisio Fakate, 3 Maximiliano Bustos, 2 Charles Geli, 1 Yvan Watremez.,
Replacements: 16 Agustin Creevy, 17 Nahuel Lobo, 18 John Beattie, 19 Alexandre Bias, 20 Benoit Paillaugue, 21 Paul Bosch, 22 Yoan Audrin, 23 Giorge Jgenti
---
ASM Clermont Auvergne 66-21 SU Agen
Parc des Sports Marcel Michelin
The scoreline says it all. Ten tries, including hat-trick for Wesley Fofana, shows that Clermont are in blistering form ahead of next week's Heineken Cup quarter-final against Montpellier.
Relegation beckons for Agen.
The scorers:
For Clermont:
Tries: Fofana 3, Nalaga 2, Nakaitaci 2, Vosloo, Floch, Buttin
Cons: Parra 7, Floch
For Agen:
Tries: Tian, Fono, Erbani
Cons: Seymour 3
Red card: Garcia (2 Yellow cards)
Clermont: 15 Lee Byrne, 14 Noa Nakaitaci, 13 Aurelien Rougerie, 12 Wesley Fofana, 11 Naipolioni Nalaga, 10 Ludovic Radosavljevic, 9 Morgan Parra, 8 Damien Chouly, 7 Gerhard Vosloo, 6 Julien Bonnaire, 5 Nathan Hines, 4 Jamie Cudmore, 3 Davit Zirakashvili, 2 Benjamin Kayser, 1 Thomas Domingo.
Replacements: 16 Ti'i Paulo, 17 Vincent Debaty, 18 Julien Pierre, 19 Julien Bardy, 20 Kevin Senio, 21 Jean marcellin Buttin, 22 Anthony Floch, 23 Daniel Kotze
Agen: 15 Silvere Tian 14 Romain Edmond samuel 13 Vincent Roux 12 Miguel Avramovic 11 Jean francois Coux 10 Ben Seymour 9 Alexi Bales 8 Ueleni Fono 7 Marc Giraud 6 Remi Vaquin 5 William Demotte 4 Lisiate Faaoso 3 Jonathan Garcia 2 Marc Barthomeuf 1 Bernard N nomo
Replacements: 16 Laurent Cabarry 17 John Schwalger 18 Leo Bastien 19 Antoine Erbani 20 Jean Monribot 21 Belisario Agulla 22 Mathieu Lamoulie 23 Viliamu Afatia
---
Union Bordeaux-Bègles 39-13 Aviron Bayonnais
Stade André Moga, Bègles
Bordeaux-Bègles are almost safe as they now have a 14-point gap on Agen.
Raphael Ibanez's team led 22-10 at the break and went on to outscore their Basque visitors by five tries to one.
The scorers:
For Bordeaux-Bègles:
Tries: Avei, Carballo, Madaule 2, Clarkin
Cons: Lopez 3, Sanchez
Pens: Lopez 2
For Bayonne:
Tries: O'Connor
Cons: Potgeiter
Pens: Potgeiter 2
Bordeaux-Bègles: 15 Metuisela Talebulamaijaina, 14 Rafael Carballo, 13 Felix Le bourhis, 12 Julien Rey, 11 Blair Connor, 10 Camille Lopez, 9 Heini Adams, 8 Matthew Clarkin, 7 Justin Purll, 6 Louis benoit Madaule, 5 Adam Jaulhac, 4 Cameron Treloar, 3 Silviu Florea, 2 Wayne Avei, 1 Laurent Delboulbes.
Replacements: 16 Hikairo Forbes, 17 Jefferson Poirot, 18 Francois Tisseau, 19 Hugh Chalmers, 20 Julien Seron, 21 Frederico nicolas Sanchez, 22 Darly Domvo, 23 Tamato Leupolu
Bayonne: 15 Scott Spedding, 14 Joe Rokocoko, 13 Thibault Lacroix, 12 Manu Ahotaeiloa, 11 Marvin O'Connor, 10 Jacques Louis Potgeiter, 9 Mike Phillips, 8 Dwayne Haare, 7 Julien Puricelli, 6 Guillaume Bernad, 5 Mark Chisholm, 4 Dewald Senekal, 3 Renaud Boyoud, 2 David Roumieu, 1 Aretz Iguiniz.
Replacements: 16 Anthony Etrillard, 17 Pierre Lafond, 18 Robin Linde, 19 Charles Ollivon, 20 Guillaume Rouet, 21 Cedric Heymans, 22 Benjamin Boyet, 23 Marc Legras
---
Racing Métro 26-27 Stade Toulousain
Stade de France, St. Denis (Paris)
Lionel Beauxis converted Vincent Clerc's second try from the touchline in the final minute as Toulouse claimed a vital victory and denied Racing a tenth straight win in the process.
Racing fly-half Jonathan Wisniewski turned from hero to villain in dramatic fashion as he was sent to the sin bin in the 71st minute for a dangerous tackle after scoring all his team's points up to that stage.
In his absence, Toulouse used their numerical advantage as Clerc collected Clement Poitrenaud's kick to score in the corner and leave the scores at 26-25 to the hosts. But Beauxis then held his nerve to add the match-winning extras.
The scorers:
For Racing Métro:
Try: Wisniewski
Pens: Wisniewski 6, Machenaud
Yellow card: Wisniewski
For Toulouse:
Tries: Clerc 2
Con: Beauxis
Pens: Doussain, Beauxis 4
Yellow card: Picamoles
Racing Métro:15 Juan martin Hernandez, 14 Juan Imhoff, 13 Henry Chavancy, 12 Fabrice Estebanez, 11 Sereli Bobo, 10 Jonathan Wisniewski, 9 Maxime Machenaud, 8 Jacques Cronje, 7 Bernard Le roux, 6 Alvaro Galindo, 5 Francois Van der merwe, 4 Manuel Carizza, 3 Luc Ducalcon, 2 Dimitri Szarzewski, 1 Julien Brugnaut.
Replacements: 16 Thomas Bianchin, 17 Eddy Ben arous, 18 Fabrice Metz, 19 Camille Gerondeau, 20 Sebastien Descons, 21 Gaetan Germain, 22 Masinivanua Matadigo, 23 Salemane Sa
Toulouse: 15 Yoann Huget, 14 Vincent Clerc, 13 Yannick Jauzion, 12 Clement Poitrenaud, 11 Maxime Medard, 10 Luke Mcalister, 9 Jean marc Doussain, 8 Louis Picamoles, 7 Thierry Dusautoir, 6 Jean Bouilhou, 5 Patricio Albacete, 4 Yoann Maestri, 3 Census Johnston, 2 William Servat, 1 Vasil Kakovin.
Replacements: 16 Jaba Bregvadze, 17 Gurthro Steenkamp, 18 Romain Millo chlusky, 19 Gregory Lamboley, 20 Luke Burgess, 21 Lionel Beauxis, 22 Gael Fickou, 23 Yohan Montes.