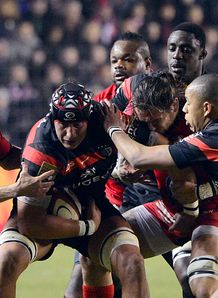 Related links
Also see
Clermont notched up a try bonus-point with their 37-10 win over Stade Français while Toulon beat Toulouse 35-16.
14th placed Bordeaux hammered 13th placed Agen 48-17 to swap places in the table, running in six tries at Stade Jacques Chaban-Delmas.
Racing Métro proved to be easy winners over Grenoble in Paris, with Juan Imhoff scoring two.
Results:
Bayonne v Biarritz - Report here
Stade Français 10-37 Clermont
Bordeaux 48-17 Agen
Racing Métro 23-3 Grenoble
Castres 26-20 Montpellier
Mont-de-Marsan 17-31 Perpignan
Toulon 35-16 Toulouse
---
Stade Français 10-37 Clermont
Saint-Denis
Clermont's victory increased their points tally to 69 and temporarily moved them above Toulon into first place in the league table.
The 2011 champions opened the scoring after just three minutes thanks to a try from captain Aurélien Rougerie, who capitalised on a fine break from Wales full-back Lee Byrne. Jamie Cudmore then increased the lead by powering over the last defender to give Clermont a 17-0 lead after 14 minutes.
Former All Black winger Sitiveni Sivivatu then got in on the action after more good work from Rougerie, with the former France international luring in Francis Fainifo for Sivivatu to finish, leaving Clermont with a healthy 24-3 lead by half-time.
Martin Rodriguez grabbed a score back for the hosts after two penalties from Morgan Parra stretched Clermont's lead, before a brilliant run from Naipolioni Nalaga through three tacklers clinched the crucial bonus point.
The scorers:
For Stade Français:
Try: Rodriguez
Con: Dupuy
Pen: Dupuy
For Clermont:
Tries: Rougerie, Cudmore, Sivivatu, Nalaga
Cons: Parra 3, James
Pens: Parra 3
Stade Francais: 15 Hugo Bonneval, 14 Waisea Vuidravuwalu, 13 Paul Williams, 12 Morgan Turinui, 11 Francis Fainifo, 10 Paul Warwick, 9 Julien Dupuy, 8 David Lyons, 7 Pierre Rabadan, 6 Scott Lavalla, 5 Anton van Zyl, 4 Alexandre Flanquart, 3 David Attoub, 2 Laurent Sempere, 1 Aled De Malmanche.
Replacements: 16 Remi Bonfils, 17 Rabah Slimani, 18 Gerhard Mostert, 19 Olivier Missoup, 20 Jerome Fillol, 21 Jules Plisson, 22 Martin Rodriguez, 23 Stan Wright.
Clermont: 15 Lee Byrne, 14 Sitiveni Sivivatu, 13 Aurelien Rougerie, 12 Regan King, 11 Naipolioni Nalaga, 10 Brock James, 9 Morgan Parra, 8 Damien Chouly, 7 Gerhard Vosloo, 6 Alexandre Lapandry, 5 Nathan Hines, 4 Jamie Cudmore, 3 Daniel Kotze, 2 Benjamin Kayser, 1 Thomas Domingo.
Replacements: 16 Ti'i Paulo, 17 Vincent Debaty, 18 Julien Pierre, 19 Elvis Vermeulen, 20 Kevin Senio, 21 David Skrela, 22 Jean Marcellin Buttin, 23 Clement Ric.
Referee: Pascal Gaüzère
---
Bordeaux 48-17 Agen
Stade Jacques Chaban-Delmas
A rampant Bordeaux crushed visitors Agen on Saturday to move above their rivals at the bottom of the Top 14 into 10th place.
The hosts ran in six tries, including two for hooker Ole Avei, and led comfortably 17-0 at the interval after a fine performance from fly-half Camille Lopez.
Lopez carried on where he left off in the second-half, adding an early drop-goal before Bordeaux ran in two tries in three minutes, including Avei's second.
Ross Skeate grabbed a consolation score for Agen shortly after but from there Bordeaux cantered home, thanks to tries from Rey and Lopez - who finished with 23 points.
The scorers:
For Bordeaux
Tries: Avei 2, Reihana, Le Bourhis, Rey, Lopez
Cons: Lopez 6
Pens: Lopez
Drop-goal: Lopez
For Agen:
Tries: Skeate, Monribot
Cons: Lagarde, Barnard
Pen: Lagarde
Yellow Card: Giraud
Bordeaux: 15 Bruce Reihana, 14 Metuisela Talebulamaijaina, 13 Felix Le Bourhis, 12 Julien Rey, 11 Blair Connor, 10 Camille Lopez, 9 Heini Adams, 8 Matthew Clarkin, 7 Justin Purll, 6 Louis Benoit Madaule, 5 Adam Jaulhac, 4 Francois Tisseau, 3 Silviu Florea, 2 Wayne Avei, 1 Laurent Delboulbes.
Replacements: 16 Hikairo Forbes, 17 Jefferson Poirot, 18 Cameron Treloar, 19 Hugh Chalmers, 20 Julien Seron, 21 Frederico Nicolas Sanchez, 22 Rafael Carballo, 23 Tamato Leupolu.
Agen: 15 Ben Seymour, 14 Saimoni Vaka, 13 Vincent Roux, 12 Nafitalai Tuitavake, 11 Jean Francois Coux, 10 Raphael Lagarde, 9 Alexi Bales, 8 Ueleni Fono, 7 Marc Giraud, 6 Jean Monribot, 5 Ross Skeate, 4 Lisiate Faaoso, 3 Gert Muller, 2 Jalil Narjissi, 1 Bernard Nomo.
Replacements: 16 Semisi Telefoni, 17 John Schwalger, 18 Esteban Lozada, 19 Remi Vaquin, 20 Mathieu Loree, 21 Benjamin Petre, 22 Conrad Barnard, 23 Jonathan Garcia.
Referee: Jérôme Garcès
---
Racing Métro 23-3 Grenoble
Stade Yves Du Manoir (Colombes)
Racing Métro were comfortable winners in their home fixture against Grenoble, thanks to a brace of tries from Argentinian international Juan Imhoff.
Imhoff struck in the 10th and 43rd minute - his second try coming after a fine break from Chavancy, to give the hosts a comfortable 23-0 lead.
Blair Stewart managed to get Grenoble some points on the board with a penalty in the 47th minute on an afternoon to forget for the visitors who remain in eighth place.
The victory for Racing secures their spot in sixth as they remain on 54 points with Montpellier, after their seventh consecutive victory.
The scorers:
For Racing Métro:
Tries: Imhoff 2
Cons: Wisniewski 2
Pens: Wisniewski 3
For Grenoble:
Pens: Stewart
Racing Metro: 15 Juan Martin Hernandez, 14 Sereli Bobo, 13 Henry Chavancy, 12 Fabrice Estebanez, 11 Juan Imhoff, 10 Jonathan Wisniewski, 9 Maxime Machenaud, 8 Masinivanua Matadigo, 7 Bernard Le Roux, 6 Antoine Battut, 5 Francois Van der Merwe, 4 Manuel Carizza, 3 Luc Ducalcon, 2 Dimitri Szarzewski, 1 Eddy Ben Arous.
Replacements: 16 Thomas Bianchin, 17 Julien Brugnaut, 18 Fabrice Metz, 19 Camille Gerondeau, 20 Mathieu Belie, 21 Olly Barkley, 22 Benjamin Fall, 23 Salemane Sa.
Grenoble: 15 Fabien Gengenbacher, 14 Viliame Waqaseduadua, 13 Aaron Bancroft, 12 Nigel Hunt, 11 Rudolf Coetzee, 10 Blair Stewart, 9 Jonathan Pelissie, 8 Florian Faure, 7 Roland Bernard, 6 Jonathan Best, 5 Andrew Farley, 4 Benjamin Hand, 3 Albertus Buckle, 2 Vincent Campo Castillo, 1 Romain David.
Replacements: 16 Kenan Mutapcic, 17 Anthony Hegarty, 18 Fabien Alexandre, 19 Henry Vanderglas, 20 Aloisio Butonidualevu, 21 Florian Ninard, 22 Clement Darbo, 23 Dayna Edwards.
Referee: Jean-Pierre Matheu
---
Castres 26-20 Montpellier
Stade Pierre AntoineCastres kept their fourth spot ahead of Montpellier in the Top 14 thanks to a 26-20 victory over their near rivals at the Stade Pierre Antoine.
Montpellier opened the scoring after Yoan Artru latched on to a kick from Francois Trinh-Duc after five minutes, before scrum-halves Benoit Paillaugue and Rory Kockott traded penalties to leave the score at 3-13 after 16 minutes.
The visitors then stretched their lead after a fine break from Artru created an opportunity for the Montpellier pack to drive their way - which after consultation with the TMO was ruled to be a try for hooker Augustin Creevy and giving the visitors a 6-20 lead.
Castres hit back thanks to a score from hooker Brice Mach, after good work from replacement winger Marc Andreu who came on for Romain Teulet. A further penalty from Kockott left the score at 16-20 by half-time.
A crucial penalty against Montpellier at the start of the second-half saw Hendrikus Hancke sent to the sin-bin, with Kockott taking a quick penalty underneath the posts and finding Andreu who put the hosts ahead, with Kockott converting.
Another penalty from Kockott stretched Castres' lead to 26-20 and so it stayed for the remainder of the match, the hosts securing an important win.
The scorers:
For Castres:
Tries: Mach, Andreu
Cons: Kockott 2
Pens: Kockott 4
For Montpellier:
Tries: Artru, Creevy
Cons: Paillaugue 2
Pens: Paillaugue 2
Yellow Card: Hancke
Castres Olympique: 15 Romain Teulet, 14 Romain Martial, 13 Romain Cabannes, 12 Seremaia Bai, 11 Marcel Garvey, 10 Remi Tales, 9 Rory Kockott, 8 Antonie Claassen, 7 Yannick Caballero, 6 Ibrahim Diarra, 5 Rodrigo Capo Ortega, 4 Christophe Samson, 3 Karena Wihongi, 2 Brice Mach, 1 Yannick Forestier.
Replacements: 16 Mathieu Bonello, 17 Mihaita Lazar, 18 Matthias Rolland, 19 Piula Faasalele, 20 Daniel Kirkpatrick, 21 Remi Lamerat, 22 Marc Andreu, 23 Anton Peikrishvili.
Montpellier: 15 Lucas Gonzales Amorosino, 14 Timoci Nagusa, 13 Thomas Combezou, 12 Matthew Carraro, 11 Yoan Artru, 10 Francois Trinh-Duc, 9 Benoit Paillaugue, 8 Alex Tulou, 7 Mamuka Gorgodze, 6 Alexandre Bias, 5 Alikisio Fakate, 4 Hendrikus Hancke, 3 Maximiliano Bustos, 2 Agustin Creevy, 1 Mikheil Nariashvili
Replacements: 16 Charles Geli, 17 Yvan Watremez, 18 Remy Martin, 19 Johnnie Beattie, 20 Julien Tomas, 21 Paul Bosch, 22 Martin Bustos Moyano, 23 Barry Faamausili
Referee: Sébastien Studded
---
Mont-de-Marsan 17-31 Perpignan
Stade Guy Boniface
Perpignan kept their play-off hopes alive after a gruelling victory over Top 14 basement side Mont-de-Marsan.
Bernard Arrayet and James Hook exchanged penalties early on before the visitors grabbed the first try of the match thanks to a calamitous error from winger Martin Jagr. His pass caught Arrayet unawares and Sione Piukala recovered the ball go under the posts.
Perpignan added a second try through the power of Romain Taofifeuna, who found himself out on the wing before a series of penalties from Arrayet and Hook left the score at 10-18 by half-time.
A yellow card for Henry Tuilagi in the 46th minute gave Mont-de-Marsan a man advantage, which they capitalised on through a try from Ximun Lucu. Perpignan though responded with a try from Sebastian Taofifeuna to open up a comfortable gap, before a further penalty from Hook in the 68th minute confirmed the win.
The scorers:
For Mont-de-Marsan:
Tries: Ricaud, Lucu
Cons: Arrayet, Vignau Tuquet
Pens: Arrayet
For Perpignan:
Tries: Piukala, R.Taofifenua, S.Taofifenua
Cons: Hook 2
Pens: Hook 3
Mont-de-Marsan: 15 Yohann Durquet, 14 Martin Jagr, 13 Jean Baptiste Dubie, 12 Baptiste Chedal, 11 Simon Lucu, 10 Bernard Arrayet, 9 Arnaud Pic, 8 Alexandre Ricaud, 7 Vassili Bost, 6 Julien Tastet, 5 Philipus Liebenberg, 4 Wame Lewaravu, 3 Sebastien Ormaechea, 2 Ephraim Taukafa, 1 Alexandre Menini
Replacements: 16 Pieter Grobler, 17 Julian Fiorini, 18 Sebastian De Chaves, 19 Haisini Taulanga, 20 Antoine Vignau Tuquet, 21 Daniele Baleinadogo, 22 Nicholas Price, 23 Tevita Mailau
Perpignan: 15 Gavin Hume, 14 Joffrey Michel, 13 Lifeimi Mafi, 12 Sione Piukala, 11 Armand Batlle, 10 James Hook, 9 Florian Cazenave, 8 Henry Tuilagi, 7 Bertrand Guiry, 6 Daniel Leo, 5 Romain Taofifenua, 4 Sebastien Vahaamahina, 3 Nicolas Mas, 2 Guilhem Guirado, 1 Sona Taumalolo,
Replacements: 16 Roman Land, 17 Sebastien Taofifenua, 18 William Vilaceca, 19 Alasdair Strokosch, 20 David Mele, 21 David Marty, 22 Luke Narraway, 23 Kisi Pulu
Referee: Cyril Lafon
---
Toulon 35-16 Toulouse
Stade Mayol
After dropping to second position for a matter of hours, Toulon reclaimed the summit spot in the Top 14 thanks to an assured victory over Toulouse at Felix-Mayol in the late game.
Jonny Wilkinson's two second-half drop-goals and a penalty followed by a last-minute Rudi Wulf try put the game beyond doubt in a tasty clash between these two title hopefuls.
Steffon Armitage scored Toulon's first try while Timoci Matanavou crossed for the visitors, with both five-pointers coming in a first period that ended 19-13 in favour of the home side.
But in the second-half Toulon turned the screw as Wilkinson built on the lead before wing Wulf crossed wide out on the left to spark huge celebrations in the league leaders' camp.
The scorers:
For Toulon:
Tries: S Armitage, Wulf
Con: Wilkinson 2
Pen: Wilkinson 5
Drop: Wilkinson 2
Yellow: Botha (47 mins)
For Toulouse:
Try: Matanavou
Con: Beauxis
Pen: Beauxis
Drop: Beauxis 2
Yellow: Johnston (47 mins)
Rugby Club Toulonnais: 15 Vincent Martin, 14 Rudi Wulf, 13 Mathieu Bastareaud, 12 Matt Giteau, 11 Alexis Palisson, 10 Jonny Wilkinson, 9 Sebastien Tillous-Borde, 8 Chris Masoe, 7 Steffon Armitage, 6 Pierrick Gunther, 5 Nick Kennedy , 4 Bakkies Botha, 3 Carl Hayman, 2 Sebastien Bruno, 1 Andrew Sheridan.
Replacements: 16 Jean Charles Orioli, 17 Xavier Chiocci, 18 Jocelino Suta, 19 Simon Shaw, 20 Maxime Mermoz, 21 Benjamin Lapeyre, 22 Frederic Michalak, 23 Levan Chilachava.
Toulouse: 15 Maxime Medard, 14 Timoci Matanavou, 13 Gael Fickou, 12 Florian Fritz, 11 Vincent Clerc, 10 Lionel Beauxis, 9 Luke Burgess, 8 Gillian Galan, 7 Yannick Nyanga, 6 Jean Bouilhou, 5 Patricio Albacete, 4 Romain Millo Chlusky, 3 Yohan Montes, 2 Jaba Bregvadze, 1 Vasil Kakovin
Replacements: 16 William Servat, 17 Gurthro Steenkamp, 18 Edwin Maka, 19 Karl Chateau, 20 Jean Marc Doussain, 21 Yoann Huget, 22 Clement Poitrenaud, 23 Census Johnston
Referee: Romain Poite