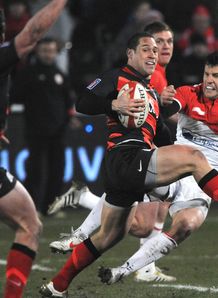 Related links
Also see
Toulouse and Biarritz will turn their attention to domestic action when they go head to head in the Top 14 on Friday.
Still smarting from their shock European Cup exit, Toulouse will now focus their attention on a third successive French title rather than pursue a consolation European Challenge bid and will want to gain maximum points before dealing with the disruptions that come with the Six Nations fixture clashes.
League leaders Toulon will expect a full house of points at home to stone-last Mont-de-Marsan while second-place Clermont have a much tougher assignment on the road to Perpignan.
In the capital, Stade Français and Grenoble face off for the fourth time this season.
Elsewhere, Montpellier will be looking to put their strong form in Europe into action while Racing Metro have a tricky trip to Bordeaux-Bègles.
Fixtures:
Thursday, January 24
Bayonne v Castres - Preview here
Friday, January 25
Agen v Montpellier
Bordeaux-Bègles v Racing Métro
Stade Français v Grenoble
Perpignan v Clermont
Toulon v Mont-de-Marsan
Toulouse v Biarritz
Standings:
1 Toulon 57
2 Clermont 53
3 Toulouse 50
4 Castres 44
5 Grenoble 42
6 Montpellier 41
7 Biarritz 36
8 Racing Metro Paris 34
9 Perpignan 34
10 Stade Français 32
11 Bayonne 26
12 Agen 18
13 Bordeaux-Begles 18
14 Mont-de-Marsan 8
---
Previews:
SU Agen v Montpellier Hérault Rugby
Stade Armandie, Agen
After thumping Toulon in Europe last weekend, Montpellier head west looking to consolidate their spot amongst the play-off contenders.
Montpellier were easy winners at home to Agen earlier in the season but came off second best in this fixture last season.
But the hosts are not enjoying the same kind of form as they teeter on the edge of the relegation zone. Indeed, eight consecutive losses have left Agen facing a return to the ProD2.
Agen: 15 Ben Seymour, 14 Saimoni Vaka, 13 Vincent Roux, 12 Senio junior Pelesasa, 11 Nafitalai henry Tuitavake, 10 Conrad Barnard, 9 Mathieu Loree, 8 Opeti Fonua, 7 Marc Giraud, 6 Ueleni Fono, 5 Ross Skeate, 4 Lisiate Faaoso, 3 Gert Muller, 2 Jalil Narjissi, 1 Bernard N nomo,
Replacements: 16 Semisi Telefoni, 17 John Schwalger, 18 Esteban Lozada, 19 Remi Vaquin, 20 Alexi Bales, 21 Jean francois Coux, 22 Silvere Tian, 23 Viliamu Afatia
Montpellier: 15 Martin Bustos Moyano, 14 Timoci Nagusa, 13 Thomas Combezou, 12 Shontayne Hape, 11 Yoan Audrin, 10 Francois Trinh-Duc, 9 Julien Tomas, 8 Alex Tulou, 7 Mamuka Gorgodze, 6 Alexandre Bias, 5 Thibaut Privat, 4 Mickael De marco, 3 Maximiliano Bustos, 2 Agustin Creevy, 1 Mikheil Nariashvili.
Replacements: 16 Erasmus Jansen van vuuren, 17 Yvan Watremez, 18 Alikisio Fakate, 19 John Beattie, 20 Benoit Paillaugue, 21 Paul Bosch, 22 Benjamin Thiery, 23 Barry Faamausili.
Previous result: Montpellier won 32-15
Prediction: Montpellier's current form makes them favourites. Montpellier by six points.
Kick-off: 19.00 (18.00 GMT)
Referee: Mathieu Raynal
---
Union Bordeaux-Bègles v Racing Métro 92
Stade André Moga, Bègles
Two teams in desperate need of points - for very different reasons - clash on the west coast. UBB have been stuck in the relegation zone for three rounds and need to start cashing in on their fixtures at home, where they haven't won since Round 5.
After a very poor autumn, Racing seem to have found some form as their shock win over Toulon in Round 15 was the first time they've scored consecutive wins since September.
Racing gave Saracens a real test in Europe before resting most of their first XV for last week's loss away to Munster, so the Parisians will arrive fresh.
Seven points off the pace in the play-offs race, a positive result is a non-negotiable for Racing.
Bordeaux-Bègles: 15 Bruce Reihana, 14 Metuisela Talebulamaijaina, 13 Julien Rey, 12 Andrew Mailei, 11 Felix Le bourhis, 10 Camille Lopez, 9 Heini Adams, 8 Justin Purll, 7 Matthew Clarkin, 6 Louis benoit Madaule, 5 Adam Jaulhac, 4 Cameron Treloar, 3 Silviu Florea, 2 Wayne Avei, 1 Laurent Delboulbes,
Replacements: 16 Hikairo Forbes, 17 Jefferson Poirot, 18 Francois Tisseau, 19 Gautier Gibouin, 20 Baptiste Serin, 21 Lachie Munro, 22 Rafael Carballo, 23 Albert Toetu
Racing Métro:15 Juan Martin Hernandez, 14 Benjamin Fall, 13 Guillaume Bousses, 12 Alexandre Dumoulin, 11 Juan Imhoff, 10 Jonathan Wisniewski, 9 Maxime Machenaud, 8 Jacques Cronje, 7 Bernard Le roux, 6 Camille Gerondeau, 5 Manuel Carizza, 4 Francois Van der Merwe, 3 Luc Ducalcon, 2 Benjamin Noirot, 1 Julien Brugnaut.
Replacements: 16 Thomas Bianchin, 17 Eddy Ben Arous, 18 Jone Qovu, 19 Alvaro Galindo, 20 Henry Chavancy, 21 Olly Barkley, 22 Fabrice Metz, 23 Juan pablo Orlandi.
Previous result: Racing won 18-7
Prediction: Last year UBB won this fixure 22-18 but Racing seem to be hitting some form. Racing by a whisker.
Kick-off: 19.00 (18.00 GMT)
Referee: Romain Poite
---
Stade Français Paris v FC Grenoble
Stade Charléty, Paris
These sides meet for the fourth time this season after clashing in the same Amlin Challenge Cup pool, which Stade Français won.
In the three previous games, the respective home side has always come out on top. Form suggests that trend should continue as Grenoble, although unbeaten at home, have not won on the road since Round 1 in Bordeaux.
Stade Français meanwhile have yet to fall at Stade Charléty this term and will be eyeing a place in the top half of the standings.
Stade Français: 15 Hugo Bonneval, 14 Paul Williams, 13 Geoffrey Doumayrou, 12 Morgan Turinui, 11 Jeremy Sinzelle, 10 Paul Warwick, 9 Julien Dupuy, 8 David Lyons, 7 Antoine Burban, 6 Olivier Missoup, 5 Pascal Pape, 4 Alexandre Flanquart, 3 David Attoub, 2 Laurent Sempere, 1 Aled De malmanche,
Replacements: 16 Remi Bonfils, 17 Rabah Slimani, 18 Anton Van zyl, 19 Sergio Parisse, 20 Jerome Fillol, 21 Francis Fainifo, 22 Jerome Porical, 23 Stanley Wright
Grenoble: 15 Joaquin Tuculet, 14 Matthieu Nicolas, 13 Rida Jaouher, 12 Rudolf Coetzee, 11 Viliame Waqaseduadua, 10 Nicolas Laharrague, 9 Jonathan Pelissie, 8 Richard Sowerby, 7 Henry Vanderglas, 6 Jonathan Best, 5 Naude Beukes, 4 Benjamin Hand, 3 Dayna Edwards, 2 Anthony Hegarty, 1 Kenan Mutapcic.
Replacements: 16 Gregory Fabro, 17 Albertus Buckle, 18 Andrew Farley, 19 Florian Faure, 20 Fabien Alexandre, 21 Aloisio Butonidualevu, 22 Clement Darbo, 23 Feliuaki Taukeiaho.
Previous result: Grenoble won 26-12
Prediction: The indicators point to a home home. Stade Français by seven points.
Kick-off: 19.00 (18.00 GMT)
Referee: Sébastien Clouté
---
USA Perpignan v ASM Clermont Auvergne
Stade Aimé Giral, Perpignan
Can anyone stop Clermont at the moment? Perpignan have qualified for the Challenge Cup quarter-finals by scoring a bucketload of tries but they might find that l'ASM are in a different class.
On their last visit to Perpignan, Clermont won 39-3.
But the Catalans have defended fortress Aimé Giral well this season - only Toulon have have there.
Clermont welcome back Thomas Domingo, Wesley Fofana and Sitiveni Sivivatu, who all missed last weekend's win over the Scarlets.
But French international scrum-half Morgan Parra is a doubt after injuring his thigh, while Portugal's Julien Bardy and Welsh back Lee Byrne are away at international training camps.
USAP have named Joffrey Michel at full-back ahead of Richard Haughton. A front row of Taumalolo, Guirado and Mas looks formidable!
Perpignan: 15 Joffrey Michel, 14 Farid Sid, 13 David Marty, 12 Lifeimi Mafi, 11 Adrien Plante, 10 Gavin Hume, 9 Florian Cazenave, 8 Luke Narraway, 7 Bertrand Guiry, 6 Alasdair Strokosch, 5 Romain Taofifenua, 4 Sebastien Vahaamahina, 3 Nicolas Mas, 2 Guilhem Guirado, 1 Sona Taumalolo,
Replacements: 16 Romain Terrain, 17 Sebastien Taofifenua, 18 Robins Tchale watchou, 19 Daniel Leo, 20 David Mele, 21 Sione Piukala, 22 Richard Haughton, 23 Kisi Pulu
Clermont: 15 Jean Marcellin Buttin, 14 Sitiveni Sivivatu, 13 Aurelien Rougerie, 12 Wesley Fofana, 11 Naipolioni Nalaga, 10 Brock James, 9 Morgan Parra, 8 Damien Chouly, 7 Alexandre Lapandry, 6 Gerhard Vosloo, 5 Loic Jacquet, 4 Julien Pierre, 3 Daniel Kotze, 2 Benjamin Kayser, 1 Vincent Debaty.
Replacements: 16 Benoit Cabello, 17 Thomas Domingo, 18 Nathan Hines, 19 Julien Bardy, 20 Ludovic Radosavljevic, 21 David Skrela, 22 Regan King, 23 Adrien Oleon.
Previous result: Clermont won 53-31
Prediction: It's hard to bet against Clermont but USAP have done well at home this term. Perpignan by less than five points.
Kick-off: 19.00 (18.00 GMT)
Referee: Cédric Marchat
---
Rugby Club Toulonnais v Stade Montois
Stade Felix Mayol, Toulon
Toulon, who comfortably reached the Heineken Cup quarter-finals, tackle rock-bottom Mont de Marsan, who have just one win all season.
Jonny Wilkinson starts before undergoing a minor operation to relieve inflammation round his groin area. The 33-year-old fly-half will have a week's rest after the operation.
His English colleague Simon Shaw is sidelined after injuring his little toe in last weekend's European Cup defeat to Montpellier.
Fellow lock, South African Bakkies Botha, scrum-half Sebastien Tillous-Borde and centre Geoffroy Messina are still unavailable.
Toulon: 15 Vincent Martin, 14 Rudolffe Wulf, 13 Mathieu Bastareaud, 12 Matt Giteau, 11 Alexis Palisson, 10 Jonny Wilkinson, 9 Frederic Michalak, 8 Chris Masoe, 7 Steffon Armitage, 6 Juan Martin Fernandez Lobbe, 5 Jocelino Suta, 4 Nicholas Kennedy, 3 Carl Hayman, 2 Jean Charles Orioli, 1 Gethin Jenkins,
Replacements: 16 Sebastien Bruno, 17 Andrew Sheridan, 18 Konstantine Mikautadze, 19 Pierrick Gunther, 20 Maxime Mermoz, 21 David Smith, 22 Nicolas Durand, 23 Levan Chilachava
Mont de Marsan: 15 Jean marc Mazzonetto, 14 Martin Jagr, 13 Jean baptiste Dubie, 12 Baptiste Chedal, 11 Julien Cabannes, 10 Bernard Arrayet, 9 Arnaud Pic, 8 Haisini Taulanga, 7 Vassili Bost, 6 Julien Tastet, 5 Berend Botha, 4 Wame Lewaravu, 3 Sebastien Ormaechea, 2 Ephraim Taukafa, 1 Alexandre Menini.
Replacements: 16 Joan Caudullo, 17 Pierre Correia, 18 Sebastian De chaves, 19 Philipus Liebenberg, 20 Simon Lucu, 21 Seru Rabeni, 22 Thibault Duvallet, 23 Tevita Mailau.
Previous result: Toulon won 29-15
Prediction: Not mystery here. Toulon to win with a bonus point.
Kick-off: 19.00 (18.00 GMT)
Referee: Salem Attalah
---
Stade Toulousain v Biarritz Olympique
Stade Ernest Wallon, Toulouse
Toulouse go into Friday's game with a season record of 11 wins and four losses to be seven points behind leaders Toulon. Last week's loss to Leicester means the les Toulousains will focus all their attention on defending their title.
Toulouse are unbeaten at home this season and Biarritz have not won in Ville Rose in over a decade.
The Basques, who have won four of their last five games in the Top 14, must however travel with ambitions of getting something out of the game to stay in touch with the race for the play-off berths as they trail six-placed Montpellier by five points.
Toulouse have retained the sqiad that lost in Leicester but Luke McAlister drops to the bench with Yannick Jauzion slotting in at inside centre.
Toulouse: 15 Clement Poitrenaud, 14 Vincent Clerc, 13 Florian Fritz, 12 Yannick Jauzion, 11 Yoann Huget, 10 Lionel Beauxis, 9 Jean marc Doussain, 8 Louis Picamoles, 7 Thierry Dusautoir, 6 Jean Bouilhou, 5 Romain Millo-Chlusky, 4 Yoann Maestri, 3 Census Johnston, 2 Christopher Tolofua, 1 Gurthro Steenkamp,
Replacements: 16 Gary Botha, 17 Cyril Baille, 18 Patricio Albacete, 19 Yannick Nyanga, 20 Luke Burgess, 21 Luke Mcalister, 22 Maxime Medard, 23 Yohan Montes.
Biarritz: 15 Marcelo Bosch, 14 Takudzwa Ngwenya, 13 Benoit Baby, 12 Seremaia Burotu, 11 Aled Brew, 10 Julien Peyrelongue, 9 Yann Lesgourgues, 8 Imanol Harinordoquy, 7 Wenceslas Lauret, 6 Magnus Lund, 5 Pelu ian Taele, 4 Erik Lund, 3 Benedict Broster, 2 Arnaud Heguy, 1 Fabien Barcella.
Replacements: 16 Jean philippe Genevois, 17 Thomas Synaeghel, 18 Thibault Dubarry, 19 Raphael Lakafia, 20 Dimitri Yachvili, 21 Jean pascal Barraque, 22 Charles Gimenez, 23 Eugene Van staden.
Previous result: Biarritz won 22-17
Prediction: We're never brave enough to bet against Toulouse at home. Toulouse by ten points.
Kick-off: 21.00 (20.00 GMT)
Referee: Laurent Cardona