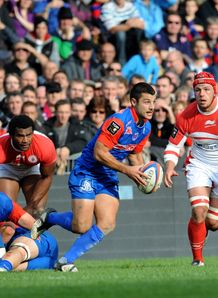 Related links
Also see
Toulon needed eight penalties from Jonny Wilkinson to scrape past Stade Français on Thursday and retain their lead in the Top 14.
Biarritz become the latest big team to taste defeat in Grenoble after going down 34-21 at Stade Lesdiguières.
Clermont and Montpellier kept the pressure on the leaders with comfortable wins over Agen and Mont-de-Marsan respectively.
Elsewhere, Bayonne were the big winners in the battle of the basement at home to Bordeaux-Bègles.
And in the final Round 10 match, former All Blacks playmaker Luke McAlister contributed 17 points towards Toulouse's 32-13 win over Racing Métro.
Results:
Grenoble 34-21 Biarritz Olympique
Agen 11-18 Clermont
Bayonne 22-11 Bordeaux-Bègles
Castres 38-36 Perpignan
Montpellier 32-16 Mont-de-Marsan
Toulon 24-19 Stade Français
Stade Toulouse 32-13 Racing Métro
---
FC Grenoble 34-21 Biarritz Olympique
Stade Lesdiguières, Grenoble
Grenoble maintained their unbeaten home record and a place in the top six with another impressive display against heavyweight opposition.
Grenoble led from start to finish as young fly-half Jonathan Pelissie punished the Basques' poor discipline from the kicking tee.
The result is Biarritz's sixth consecutive loss as they slip to ninth in the standings. Takudzwa Ngwenya's late try added some respectability to the scoreline, but it will be scant consoltaion for BO.
The scorers:
For Grenoble:
Try: Courrent
Con: Pelissie
Pens: Pelissie 8
Drop: Laharrague
For Biarritz:
Tries: Bosch, Ngwenya
Con:Bosch
Pens: Bosch, Peyrelongue
Drop: Traille
Yellow cards: Guyot (19th min - offside)
Grenoble: 15 Fabien Gengenbacher, 14 Lucas Dupont, 13 Nigel Hunt, 12 Aloisio Butonidualevu, 11 Viliamem Waqaseduadua, 10 Jonathan Pelissie, 9 Valentin Courrent , 8 Florian Faure, 7 Jonathan Best, 6 Henry Vanderglas, 5 Naude Beukes, 4 Benjamin Hand, 3 Dayna Edwards, 2 Anthony Hegarty, 1 Albertus Buckle.
Replacements: 16 Kenan Mutapcic, 17 Vincent Campo castillo, 18 Andrew Farley, 19 Fabien Alexandre, 20 Shaun Sowerby, 21 Joaquin Tuculet, 22 Nicolas Laharrague, 23 Feliuaki Taukeiaho
Biarritz: 15 Iain Balshaw, 14 Takudzwa Ngwenya , 13 Seremaia Burotu, 12 Marcelo Bosch, 11 Benoit Baby, 10 Damien Traille, 9 Julien Peyrelongue, 8 Raphael Lakafia, 7 Thibault Dubarry, 6 Benoit Guyot, 5 Pelu ian Taele, 4 Erik Lund , 3 Francisco Gomez Kodela, 2 Jean Philippe Genevois, 1 Wikus Blaauw.
Replacements: 16 Arnaud Heguy, 17 Fabien Barcella, 18 Jerome Thion, 19 Magnus Lund, 20 Yann Lesgourgues, 21 Jean pascal Barraque , 22 Aled Brew, 23 Thomas Synaeghel.
---
SU Agen 11-18 ASM Clermont Auvergne
Stade Armandie, Agen
Clermont led 3-0 at the end of a hard-fought first period before stepping on the gas in the second half.
Agen full-back Mathieu Lamoulie's late try earned his side a losing bonus point and denied Clermont an extra point.
Les Jaunards nevertheless remain in second place on the Top 14 table. Agen's seventh loss leaves them level with Bordeaux on the edge of the relegation zone.
The scorers:
For Agen:
Try: Lamoulie
Pens: Barnard 2
For Clermont:
Tries: Sivivatu, Buttin, Nalaga
Pen: James
Agen: 15 Mathieu Lamoulie, 14 Ilaitia lekaiwala Tagotago, 13 Benjamin Petre, 12 Senio junior Pelesasa, 11 Jean francois Coux, 10 Conrad Barnard, 9 Mathieu Loree , 8 Marc Giraud, 7 Ueleni Fono, 6 Jean Monribot, 5 Ross Skeate, 4 Esteban Lozada, 3 Jonathan Garcia, 2 Jalil Narjissi, 1 Laurent Cabarry.
Replacements: 16 Julien Janaudy, 17 John Schwalger, 18 William Demotte, 19 Remi Vaquin, 20 Sylvain Dupuy, 21 Vincent Roux, 22 Belisario Agulla, 23 Euan Murray.
Clermont:15 Jean Marcellin Buttin, 14 Sitiveni Sivivatu, 13 Aurelien Rougerie, 12 Wesley Fofana, 11 Naipolioni Nalaga, 10 Brock James, 9 Ludovic Radosavljevic, 8 Damien Chouly, 7 Julien Bardy, 6 Julien Bonnaire, 5 Julien Pierre, 4 Loic Jacquet, 3 Daniel Kotze, 2 Benjamin Kayser, 1 Thomas Domingo.
Replacements: 16 Ti'i Paulo, 17 Vincent Debaty, 18 Jamie Cudmore, 19 Viktor Kolelishvili, 20 Kevin Senio, 21 Benson Stanley, 22 Lee Byrne, 23 Adrien Oleon.
---
Aviron Bayonnais 22-11 Union Bordeaux-Bègles
Stade Jean Dauger, Bayonne
Wales scrum-half Mike Philips came off the bench to help Bayonne close out a 22-11 win at home to Bordeaux-Begles.
By the time he came on all the scoring had been done with South African full-back Scott Spedding scoring Bayonne's try and Fijian wing Metuisela Talebulamaijaina replying for their Atlantic coast rivals.
The scorers:
For Bayonne:
Try: Spedding
Con: Boyet
Pens: Boyet 5
For Bordeaux-Bègles:
Tries: Talebula
Pens: Sanchez
Drop: Sanchez
Yellow card: Jaulhac
Bayonne: 15 Scott Spedding, 14 Joe Rokocoko, 13 Thibault Lacroix, 12 Sam Gerber, 11 Marvin O connor, 10 Benjamin Boyet, 9 Cedric Garcia , 8 Julien Puricelli, 7 Dwayne Haare, 6 Jean joseph Marmouyet, 5 Mark Chisholm, 4 Dewald Senekal, 3 Nemiah Tialata, 2 David Roumieu, 1 Aretz Iguiniz.
Replacements: 16 Gregory Arganese, 17 Vitolio Manukula, 18Abdellatif Boutaty, 19 Marc Baget, 20 Mike Phillips, 21 Matthieu Ugalde, 22 Lionel Mazars, 23 Pierre Lafond.
Bordeaux-Bègles: 15 Bruce Reihana, 14 Metuisela Talebulamaijaina, 13 Julien Rey, 12 Andrew Mailei, 11 Blair Connor, 10 Nicolas Sanchez, 9 Heini Adams, 8 Matthew Clarkin, 7 Hugh Chalmers, 6 Louis benoit Madaule, 5 Adam Jaulhac, 4 Justin Purll , 3 Albert Toetu 2 Wayne Avei, 1 Laurent Delboulbes.
Replacements: 16 Fabien Rofes, 17 Franck Labbe, 18 Cameron Treloar, 19 Damien Larrieu, 20 Julien Seron, 21 Camille Lopez, 22 Felix Le bourhis, 23 Jefferson Poirot.
---
Castres Olympique 38-36 USA Perpignan
Stade Pierre Antoine, Castres
Castres needed a 79th-minute penalty from Rory Kockott to save the day.
CO led 23-16 at the break but fell behind after a score from David Marty on his comeback from injury, and Adrien Plante's second try gave the Catalan visitors the lead.
USAP must settle for a losing bonus point.
The scorers:
For Castres:
Tries: Andreu, Mach, Kockott
Cons: Kockott 2
Pens: Kockott 6
Drop: Bai
For Perpignan:
Tries: Plante 2, Marty
Cons: Hook 3
Pens: Hook 4
Drops: Mele
Yellow card: Guirado
Castres: 15 Brice Dulin, 14 Romain Martial, 13 Paul Bonnefond, 12 Romain Cabannes, 11 Marc Andreu, 10 Remi Tales, 9 Rory Kockott , 8 Pedrie Wannenburg, 7 Ibrahim Diarra, 6 Jan de bruin Bornman, 5 Rodrigo Capo ortega, 4 Christophe Samson, 3 Anton Peikrishvili, 2 Brice Mach, 1 Yannick Forestier.
Replacements: 16 Mathieu Bonello, 17 Saimone Taumoepeau, 18 Iosefa Tekori, 19 Matthias Rolland, 20 Piula Faasalele, 21 Seremaia Baikeinuku, 22 Romain Teulet, 23 Mihaita Lazar.
Perpignan: 15 Gavin Hume, 14 Richard Haughton, 13 David Marty, 12 Lifeimi Mafi, 11 Adrien Plante, 10 James Hook , 9 David Mele, 8 Henri Tuilagi, 7Daniel Leo, 6 Alasdair Strokosch, 5 Romain Taofifenua, 4 Luke Charteris, 3 Nicolas Mas, 2 Guilhem Guirado, 1 Jeremy Castex.
Replacements: 16 Romain Terrain, 17 Sona Taumalolo 18 Sebastien Vahaamahina, 19 Bertrand Guiry, 20 Florian Cazenave, 21 Sione Piukala, 22 Farid Sid, 23 Jerome Schuster.
---
Montpellier HR 32-16 Stade Montois
Stade Yves Du Manoir, Montpellier
An easy win for the hosts who claim a bonus point over a Mont-de-Marsan side that has yet to win in ten starts.
The visitors competed well in the opening 20 minutes but the wheels came off due to two yellow cards in the second quarter, allowing home wing Yohann Artru to score twice and give Montpellier a 19-8 lead at half-time.
The scorers:
For Montpellier:
Tries: Artu 2, Nagusa 2
Cons: Bustos Moyano 3
Pens: Bustos moyano 2
Yellow card: Nariashvili
For Mont-de-Marsan:
Try:Bost
Pens: Vignau Tuquet 3
Yellow card: Baleinadogo, Caudullo,
Montpellier: 15 Lucas Gonzales Amorosino, 14 Yohann Artru, 13 Timoci Nagusa, 12 Santiago Fernandez, 11 Martin Bustos moyano, 10 Francois Trinh-Duc, 9 Julien Tomas, 8 Johnnie Beattie, 7 Mamuka Gorgodze, 6 Remy Martin, 5 Mickael De marco, 4 Hendrikus Hancke, 3 Maximiliano Bustos, 2 Agustin Creevy, 1 Juan Figallo.
Replacements: 16 Michael Ladhuie, 17 Mikheil Nariashvili, 18 Alikisio Fakate, 19 Fulgence Ouedraogo, 20 Alex Tulou, 21 Benoit Paillaugue, 22 Thomas Combezou, 23 Yvan Watremez.
Mont-de-Marsan: 15 Yohann Durquet, 14 Jean Marc Mazzonetto, 13 Baptiste Chedal, 12 Daniele Baleinadogo, 11 Jean Baptiste Dubie, 10 Antoine Vignau Tuquet, 9 Laurent Magnaval, 8 Aldric Lescure, 7 Vassili Bost, 6 Julien Tastet, 5 Berend Botha, 4 Wame Lewaravu, 3 Sebastien Ormaechea, 2 Joan Caudullo, 1 Alexandre Menini.
Replacements: 16 Ephraim Taukafa, 17 Julian Fiorini, 18 Sebastian De Chaves, 19 Yann Brethous, 20 Bernard Arrayet, 21 Thibault Duvallet, 22 Jean Baptiste Claverie, 23 Tevita Mailau.
---
RC Toulonnais 24-19 Stade Français Paris
Stade Felix Mayol, Toulon
Jonny Wilkinson inspired Toulon to a 24-19 win at home over Stade Français. The former England international was responsible for all his club's points.
His eight penalties kept Toulon, who won the last of their three French titles back in 1993, at the Top 14 summit - five points clear of Clermont.
Stade made Toulon sweat, with the visitors producing the only try of the game, full-back Hugo Bonneval running the entire length of the pitch to put his side into a 19-18 lead on 72 minutes.
But Stade were undone by late indiscipline with Wilkinson converting his last two penalties to give Toulon the spoils.
Toulon, who were made to work considerably harder than in last weekend's 59-0 drubbing of Bayonne, reckoned they had got off to the best possible start when New Zealand wing Rudi Wulf touched down in the second minute only for his try to be disallowed by the TMO.
Wilkinson though was in trigger-happy mood, missing only one of his penalty attempts, with his last - a 50m effort - coming three minutes from time.
The scorers:
For Toulon:
Pens: Wilkinson 8
Yellow card: D. Armitage
For Stade Français:
Try: Bonneval
Con: Porical
Pens: Dupuy, Porical 2
Drop: Plisson
Yellow card: Bonneval
Toulon: 15 Benjamin Lapeyre, 14 Rudi Wulf, 13 Mathieu Bastareaud, 12 Matt Giteau, 11 David Smith, 10 Jonny Wilkinson, 9 Frederic Michalak, 8 Chris Masoe, 7 Pierrick Gunther, 6 Juan martin Fernandez lobbe, 5 Jocelino Suta, 4 Bakkies Botha, 3 Carl Hayman, 2 Jean Charles Orioli, 1 Andrew Sheridan.
Replacements: 16 Sebastien Bruno, 17 Gethin Jenkins, 18 Simon Shaw, 19 Steffon Armitage, 20 Joe Van Niekerk, 21 Delon Armitage, 22 Sebastien Tillous Borde, 23 Davit Kubriashvili.
Stade Français: 15 Hugo Bonneval, 14 Paul Sackey, 13 Waisea Vuidravuwalu, 12 Felipe Contepomi, 11 Francis Fainifo, 10 Jules Plisson, 9 Julien Dupuy, 8 Sergio Parisse, 7 Leiataua Tomiki, 6 Antoine Burban, 5 Pascal Pape, 4 Scott Lavalla, 3 David Attoub, 2 Laurent Sempere, 1 Stan Wright.
Replacements: 16 Remi Bonfils, 17 Rabah Slimani , 18 Anton Van zyl, 19 Pierre Rabadan , 20 Nicolas Bezy, 21 Jonathan Danty, 22 Jerome Porical, 23 Aled de Malmanche.
---
Stade Toulousain 32-13 Racing Métro 92
Stade Ernest Wallon, Toulouse
Toulouse beat Racing Metro 32-13 courtesy of 17 points supplied by former All Blacks playmaker Luke McAlister.
The win sees the defending champs maintain third spot on the standings and draw a line under last weekend's third defeat of the season.
McAlister and Yoann Huget scored two tries in the space of three minutes in the first half after Racing led briefly thanks to a touchdown by Racing lock Francois Van der Merwe.
The hosts went into the break 15-10 up, but wrapped the game up comfortably in the second half.
The scorers:
For Toulouse:
Tries: McAlister, Huget, Fickou, Clerc
Cons: McAlister 3
Pens: McAlister 2
For Racing Métro:
Try: Van der Merwe
Con: Germain
Pens: Germain 2
Yellow card: Jacques Cronje (63 mins, Racing Metro)
Toulouse: 15 Clement Poitrenaud, 14 Vincent Clerc, 13 Florian, 12 Gael Fickou, 11 Yoann Huget 10 Luke McAlister, 9 Luke Burgess, 8 Gillian Galan, 7 Louise Picamoles, 6 Yannick Nyanga, 5 Patricio Albacete, 4 Yoann Maestri, 3 Census Johnston, 2 William Servat, 1 Vasil Kakovin
Replacements: 16 Virgile Lacombe 17 Gurthro Steenkamp, 18 Romain Millo chlusky, 19 Jean Bouilhou, 20 Jean marc Doussain, 21 Yann David, 22 Timoci Matanavou, 23 Yohan Montes
Racing Métro:15 Gaetan Germain, 14 Juan Imhoff, 13 Henry Chavancy, 12 Olly Barkley, 11 Julien Saubade, 10 Juan Martin Hernandez, 9 Maxime Machenaud, 8 Masinivanua Matadigo, 7 Jacques Cronje, 6 Antoine Battut, 5 Francois Van der merwe, 4 Fabrice Metz, 3 Luc Ducalcon, 2 Dimitri Szarzewski , 1 Julien Brugnaut.
Replacements: 16 Thomas Bianchin 17 Eddy Ben arous 18 Alvaro Galindo 19 Camille Gerondeau 20 Sebastien Descons 21 Fabrice Estebanez 22 Benjamin Fall 23 Salemane Sa