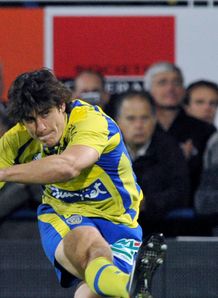 Related links
Also see
Veteran fly-half David Skrela kicked 14 points as Clermont defeated Biarritz 19-12 to maintain their undefeated home record which stretches back to November 2009.
However, they were unable to clinch the bonus point which would have taken them above Toulon at the top of the Top 14 table.
Clermont went into this game on a high after beating Scarlets and Exeter in two highly impressive Heineken Cup outings that earned them two bonus points - the only club to do so.
But it was a far more restrained performance which got them past Biarritz on Friday.
Clermont were in front after just two minutes when Nao Seru Nakaitaci charged over for what proved to be the only try of the game with Skrela adding the conversion.
Skrela added three penalties while Biarritz got on the board thanks to penalties from Benoit Baby and Jean-Pascal Barraque, but the home side were in charge 13-6 at half-time.
Clermont were quickly 16-6 to the good early in the second period thanks to two more successful kicks from Skrela, before a dogged Biarritz stayed in touch at 16-12 when Baby and Julien Peyrelongue fired over a penalty apiece.
Skrela then calmed Clermont's nerves with another penalty late in the game.
The scorers:
For Clermont:
Try: Nakaitaci
Con: Skrela
Pens: Skrela 4
For Biarritz:
Pens: Baby 2, Barraque, Peyrelongue
Clermont: 15 Lee Byrne, 14 Aurelien Rougerie (capt), 13 Regan King, 12 Benson Stanley, 11 Noa seru Nakaitaci, 10 David Skrela, 9 Ludovic Radosavljevic, 8 Elvis Vermeulen, 7 Julien Bardy, 6 Alexandre Lapandry, 5 Julien Pierre, 4 Loic Jacquet, 3 Daniel Kotze Kotze, 2 Benoit Cabello, 1 Vincent Debaty.
Replacements: 16 Ti'i Paulo, 17 Raphael Chaume, 18 Jamie Cudmore, 19 Damien Chouly, 20 Morgan Parra, 21 Brock James, 22 Wesley Fofana, 23 Davit Zirakashvili.
Biarritz Olympique: 15 Iain Balshaw, 14 Taku Ngwenya, 13 Seremaïa Burotu, 12 Damien Traille, 11 Benoît Baby, 10 Jean-Pascal Barraque, 9 Yann Lesgourgues, 8 Raphael Lakafia, 7 Wenceslas Lauret, 6 Magnus Lund, 5 Pelu Taele, 4 Erik Lund, 3 Francisco Gomez Kodela, 2 Arnaud Heguy, 1 Fabien Barcella.
Replacements: 16 Benoit August , 17 Thomas Synaeghel, 18 Eugene van Staden, 19 Thibault Dubarry, 20 Benoit Guyot, 21 Julien Peyrelongue, 22 Marcelo Bosch, 23 Aled Brew.
Referee: Cyril Lafon