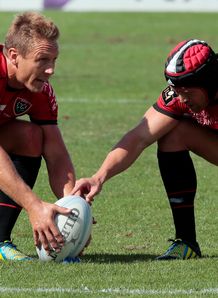 Toulon president Mourad Boudjellal has played down the fact they will put out a second XV against defending champions Toulouse on Saturday.
Current league pace-setters Toulon are expected to give the day off to several of their star players as they prepare to open their Heineken Cup season, which begins on October 14, against Montpellier.
"If people think we are going to throw away this match, they are going to be surprised," 52-year-old businessman Boudjellal assured AFP.
"We have to use our squad for the whole season and with the European Cup approaching and this match not being a final, there is no reason not to give playing time to other squad members.
"Bernard (Laporte) has been talking about this for a while now and we are all in agreement.
"The season is long and there is no point being top of the league for 26 matches and then to lose a semi-final."
Boudjellal has not yet decided whether he will even attend Saturday's Top 14 clash.
"I love Toulouse and I love the Municipal Stadium but I don't think I'll be going," he said.
"You never know, it's not so far from Toulon and if on Saturday morning I feel like taking the car, I'll go as a spectator. Saying that, each time I've been to Toulouse, we've won and as I'm superstitious ...."
Meanwhile, coach Laporte revealed their recent 33-12 victory over Castres came at a cost.
"We won't get ahead of ourselves even if we are happy to have 27 points after six games," said the former France coach, who is bidding to guide the club to only their fourth title.
"There was a deal struck that the players would get a week of holidays if they won these six games. When I agreed the deal with the players I didn't imagine it would come about.
"Those with whom the deal was agreed won't train this week and therefore will not play against Toulouse. However, we will not select a joke team because we respect those who we play against."