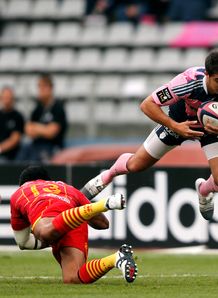 Stade Français claimed a morale-boosting win over Perpignan on Saturday while Clermont ran five tries past Grenoble.
Racing Métro jumped to fourth in the standings thanks to a one-point win over early-season leaders Biarritz.
Mont-de-Marsan are still yet to claim a single point this season after going down to Agen.
Montpellier climbed into the top half of the standings with a solid win on the road to Bordeaux-Bègles.
Earlier in the day, Toulon cemented top spot for another week with a bonus-point win over Castres.
Results:
Bayonne v Toulouse - Match report here
Toulon v Castre- Match report here
Bordeaux-Bègles 15-23 Montpellier
Clermont 44-20 Grenoble
Mont-de-Marsan 16-28 Agen
Stade Français 34-24 Perpignan
Racing Métro 13-12 Biarritz
---
Stade Français 34-24 USA Perpignan
Stade Charléty, Paris
Former USAP full-back Jerome Porical bailed his new team out from the kicking tee as Stade Français bagged just their second win of the year and moved three points clear of the relegation zone.
Stade Français led 12-11 at half time thanks to four penalties from Porical but the visitors had grabbed the only try via English recruit Richard Haughton.
Parisian fly-half Jules Plisson landed two drop goals in the space of as many minutes to put the hosts 18-11 up but James Hook kept the score board ticking for Perpignan before USAP replacement Sebastien Vahaamahina crashed over to level the scores at 24-24 going into the final 15 minutes.
But Porical landed his eighth kick out of nine before Lei Tomiki scored the winning try for Stade.
The scorers:
For Stade Français:
Try: Tomiki,
Cons: Porical
Pens: Porical 7
Drops: Plisson 2
For Perpignan:
Tries: Haughton, Vahaamahina
Con: Mélé
Pens: Hook 4
Yellow cards: Williams ( Stade Français - 8th min - tackle without the ball); Daniel Leo (USAP - 54th min - pulling line-out thumper down); (Pape - 76th min- punch) Charteris (USAP - 76th min - punch)
Stade Français: 15 Jerome Porical, 14 Paul Sackey, 13 Paul Williams, 12 Morgan Turinui, 11 Hugo Bonneval, 10 Jules Plisson, 9 Jerome Fillol, 8 Sergio Parisse, 7 Scott Lavalla, 6 David Lyons, 5 Pascal Pape, 4 Alexandre Flanquart, 3 David Attoub, 2 Laurent Sempere, 1 Aled de Malmanche,
Replacements: 16 Remi Bonfils, 17 Rabah Slimani, 18 Anton Van zyl, 19 Lei Tomiki, 20 Nicolas Bezy, 21 Geoffrey Doumayrou, 22 Waisea Vuidravuwalu, 23 Stanley Wright
Perpignan:15 Gavin Hume, 14 Richard Haughton, 13 Lifeimi Mafi, 12 Sione Piukala, 11 Adrien Plante, 10 James Hook, 9 Florian Cazenave, 8 Luke Narraway, 7 Bertrand Guiry, 6 Alasdair Strokosch, 5 Romain Taofifenua, 4 Luke Charteris, 3 Jeremy Castex, 2 Guilhem Guirado, 1 Sona Taumalolo.
Replacements: 16 Romain Terrain, 17 Jerome Schuster, 18 Sebastien Vahaamahina, 19 Daniel Leo, 20 David Mélé, 21 David Marty, 22 Armand Batlle, 23 Pascal Cotet,
---
Stade Montois 16-28 SU Agen
Stade Guy Boniface, Mont-de-Marsan
Six games, six losses - relegation beckons already for Mont-de-Marsan.
Agen led 18-13 at half time as fly-half Conrad Barnard punished the hosts' indiscipline with no less than seven penalties.
Romain Edmond Samuel's try on the hour mark ensure that Mont-de-Marsan ended empty handed.
The scorers:
For Mont-de-Marsan:
Try: Chedal
Con: Claverie
Pens: Claverie 3
For Agen:
Try: Edmond Samuel
Con: Barnard
Pens: Barnard 7
Yellow cards: Rabeni (Mont-de-Marsan - 24th min - late tackle)
Mont-de-Marsan:15 Yohann Durquet, 14 Martin Jagr, 13 Baptiste Chedal, 12 Seru Rabeni, 11 Jean baptiste Dubie, 10 Jean Baptiste Claverie, 9 Arnaud Pic, 8 Alexandre Ricaud, 7 Sebastian De chaves, 6 Julien Tastet 5 Berend Botha, 4 Scott Murray, 3 Sebastien Ormaechea, 2 Joan Caudullo, 1 Alexandre Menini,
Replacements: 16 Pieter Grobler, 17 Pierre Correia, 18 Philipus Liebenberg, 19 Haisini Taulanga, 20 Julien Cabannes, 21 Bernard Arrayet, 22 Daniele Baleinadogo, 23 Tevita Mailau
Agen:15 Gregory Goosen, 14 Saimoni Vaka, 13 Vincent Roux, 12 Senio junior Pelesasa, 11 Jean francois Coux, 10 Conrad Barnard, 9 Mathieu Loree, 8 Opeti Fonua, 7 Ueleni Fono, 6 Marc Giraud, 5 Ross Skeate, 4 Esteban Lozada, 3 Jonathan Garcia, 2 Jalil Narjissi, 1 Laurent Cabarry,
Replacements: 16 Semisi Telefoni, 17 John Schwalger, 18 Damien Lagrange, 19 Remi Vaquin, 20 Sylvain Dupuy, 21 Miguel Avramovic, 22 Romain Edmond Samuel, 23 Johnson Falefa,
---
ASM Clermont Auvergne 44-20 FC Grenoble
Parc des Sports Marcel Michelin, Clermont Ferrand
Clermont return to second place in the standings, four points behind Toulon, thanks to the bonus-point win everyone expected.
Grenoble fought gamefully for the first 35 minutes but two tries - from centre Aurelien Rougerie and loose forward Damien Chouly - just before the interval gave Clermont a 23-6 lead at half time.
Naipolioni Nalaga extended the lead shortly after the break but Grenoble kept fighting and were rewarded with a try for full-back Fabien Gengenbacher.
French international Wesley Fofana came off the bench to score two tries and secure the bonus point for Clermont despite a late touchdown by Grenoble replacement hooker Albertus Buckle.
The scorers:
For Clermont:
Tries: Rougerie, Chouly, Nalaga, Fofana 2
Cons: Parra 4
Pens: Parra 3
For Grenoble:
Tries: Gengenbacher , Buckle
Cons: Pelissie 2
Pens: Darbo 2
Drops:
Clermont:15 Anthony Floch, 14 Sitiveni waica Sivivatu, 13 Aurelien Rougerie, 12 Benson Stanley, 11 Naipolioni Nalaga, 10 Brock James, 9 Morgan Parra, 8 Damien Chouly, 7 Julien Bardy, 6 Julien Bonnaire, 5 Loic Jacquet, 4 Jamie Cudmore, 3 Daniel Kotze, 2 Ti'i Paulo, 1 Raphael Chaume,
Replacements: 16 Benjamin Kayser, 17 Vincent Debaty, 18 Nathan Hines, 19 Elvis Vermeulen, 20 Ludovic Radosavljevic, 21 David Skrela, 22 Wesley Fofana, 23 Thomas Domingo.
Grenoble:15 Fabien Gengenbacher, 14 Viliame Waqaseduadua, 13 Ronald Cooke, 12 Aloisio Butonidualevu, 11 Florian Ninard, 10 Nicolas Laharrague, 9 Clement Darbo, 8 Florian Faure, 7 Henry Vanderglas, 6 Florent Fourcade, 5 Andrew Farley, 4 Cyril Veyret, 3 Karim Kouider, 2 Laurent Bouchet, 1 Romain David,
Replacements: 16 Albertus Buckle, 17 Vincent Campo castillo, 18 Benjamin Hand, 19 Geoffrey Nouhaillaguet, 20 Joaquin Tuculet, 21 Matthieu Nicolas, 22 Jonathan Pelissie, 23 Erwan Iapteff.
---
Union Bordeaux-Bègles 15-23 Montpellier HR
Stade André Moga, Bègles
A rare win on the road for Montpellier sends Bordeaux tumbling down to 12th place.
Montpellier led 12-9 at half time thanks to early tries from South African hooker Erasmus Jansen van Vuuren and skipper Fulgence Ouedraogo.
Home fly-half Camille Lopez levelled the scores just before the hour mark but Eric Escande put Montpol back in front before Benjamin Thiery fluffed a what would have been a wonderful try by knocking on after break by Francois Trinh-Duc.
Thiery redeemed himself however by scoring the visitors' third try in the corner in the final quarter.
UBB replacement Emmanuel Saubusse landed a penalty from 50m to keep the hosts in touch but a late Escande penalty denied the home team a losing bonus point.
The scorers:
For Bordeaux-Bègles:
Pens: Lopez 4, Saubusse
For Montpellier:
Tries: Jansen van Vuuren, Ouedraogo, Thiery
Cons: Escande
Pens: Escande 2
Bordeaux-Bègles:15 Bruce Reihana, 14 Metuisela Talebulamaijaina, 13 Felix Le bourhis, 12 Julien Rey, 11 Blair Connor, 10 Camille Lopez, 9 Heini Adams, 8 Matthew Clarkin, 7 Justin Purll, 6 Gautier Gibouin, 5 Adam Jaulhac, 4 Cameron Treloar, 3 Albert Toetu, 2 Fabien Rofes, 1 Laurent Delboulbes,
Replacements: 16 Wayne Avei, 17 Hikairo Forbes, 18 Francois Tisseau, 19 Louis benoit Madaule, 20 Hugh Chalmers, 21 Emmanuel Saubusse, 22 Darly Domvo, 23 Jefferson Poirot
Montpellier:15 Benjamin Thiery, 14 Timoci Nagusa, 13 Thomas Combezou, 12 Shontayne Hape, 11 Pierre Berard, 10 Francois Trinh-Duc, 9 Eric Escande, 8 Alex Tulou, 7 Alexandre Bias, 6 Fulgence Ouedraogo, 5 Thibaut Privat, 4 Hendrikus Hancke, 3 Barry Faamausili, 2 Erasmus Jansen van vuuren, 1 Mikheil Nariashvili,
Replacements: 16 Michael Ladhuie, 17 Nahuel Lobo, 18 Alikisio Fakate, 19 Mamuka Gorgodze, 20 Julien Tomas , 21 Ilian Perraux, 22 Matthew Carraro, 23 Vincent Pelo.
---
Racing-Métro 13-12 Biarritz Olympique
Stade Yves Du Manoir - Colombes (Paris)
Racing were the big winners of the weekend as they leapfrogged over their visitors into fourth place in the standings while Biarritz concede their second consecutive loss.
Racing led 13-9 at the break thanks to an early try on the counter attack from wing Julien Saubade.
Biarritz plied the pressure in the second but their only reward was Julien Peyrelongue's fourth penalty, meaning the Basques had to settle for a losing bonus point.
The scorers:
For Racing-Métro:
Try: Saubade
Con: Germain
Pens: Germain 2
For Biarritz:

Pens: Peyrelongue 4
Racing-Métro:15 Gaetan Germain, 14 Sereli Bobo, 13 Guillaume Bousses, 12 Fabrice Estebanez, 11 Julien Saubade, 10 Mathieu Belie, 9 Maxime Machenaud, 8 Jacques Cronje, 7 Bernard Le roux, 6 Antoine Battut, 5 Francois Van der merwe, 4 Karim Ghezal, 3 Luc Ducalcon, 2 Dimitri Szarzewski, 1 Julien Brugnaut,
Replacements: 16 Thomas Bianchin, 17 Andrea Lo cicero, 18 Fabrice Metz, 19 Jone Qovu, 20 Mirco Bergamasco, 21 Henry Chavancy, 22 Camille Gerondeau, 23 Salemane Sa
Biarritz:15 Dane Haylett Petty, 14 Benoit Baby, 13 Charles Gimenez, 12 Seremaia Burotu, 11 Aled Brew, 10 Julien Peyrelongue, 9 Yann Lesgourgues, 8 Raphael Lakafia, 7 Benoit Guyot, 6 Magnus Lund, 5 Pelu ian Taele, 4 Erik Lund, 3 Benedict Broster, 2 Arnaud Heguy, 1 Wikus Blaauw,
Replacements: 16 Jean Philippe Genevois, 17 Fabien Barcella, 18 Thibault Dubarry, 19 Wenceslas Lauret, 20 Damien Traille, 21 Takudzwa Ngwenya, 22 Iain Balshaw, 23 Francisco Gomez Kodela.