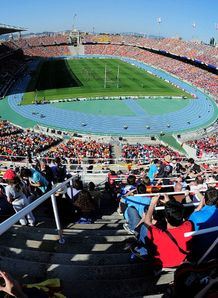 Related links
Also see
Perpignan host Toulouse at Barcelona's Olympic Stadium this weekend while leaders Toulon and Biarritz will test their perfect records on the road.
Toulon and Montpellier kick the action off on Friday before Biarritz travel to Castres, who are near-unbeatable at home.
Racing Metro face a tough trip to the Basque country to meet Bayonne while Mont-de-Marsan's winless streak is likely to continue against Clermont's big guns.
Grenoble have been the surprise package of the opening weeks and have a chance to continue their strong start to the season in Agen.
Saturday's late fixture sees Stade Français attempt to remedy their poor form outside of the capital when they visit Bordeaux.
Fixtures:
Friday, September 14
Montpellier v Toulon
Saturday, September 15
Perpignan v Toulouse
Agen v Grenoble
Bayonne v Racing Métro
Castres v Biarritz
Mont-de-Marsan v Clermont
Bordeaux-Bègles v Stade Français
Standings:
1 Toulon 18
2 Biarritz 17
3 Toulouse 15
4 Clermont 14
5 Grenoble 13
6 Castres 11
7 Racing Metro 10
8 Montpellier 9
9 Stade Français 6
10 Bayonne 6
11 Perpignan 6
12 Bordeaux-Begles 5
13 Agen 2
14 Mont-de Marsan 0
Previews:
Montpellier Hérault Rugby v Rugby Club Toulonnais
Stade Yves Du Manoir, Montpellier
The weekend kicks off with Round Five's biggest clash as the championship leaders - with Fred Michalak starting at 10 for the first time - head along the Mediterranean coast in search of their fourth win on the road this season.
Such is the depth of the RCT squad that they have the luxury of leaving world-class players such as Gethin Jenkins and Maxime Mermoz on the bench while Jonny Wilkinson is given a rest after hurting his neck last week.
It's a tough assignment then for Montpellier, but les Héraultais have a very strong home record, especially against France's big clubs. The absence of six Pumas is still a concern however.
The battle between Michalak and Francois Trinh-Duc is being billed as the showdown for the France 10 jersey, with Montpellier more likely to play with an open style.
RCT are chasing their first success in Montpellier in seven visits.
Montpellier: 15 Benjamin Thiery, 14 Timoci Nagusa, 13 Thomas Combezou, 12 Shontayne Hape, 11 Yohann Artru, 10 Francois Trinh-Duc, 9 Benoit Paillaugue, 8 Alex Tulou, 7 Mamuka Gorgodze, 6 Fulgence Ouedraogo, 5 Thibaut Privat, 4 Hendrikus Hancke, 3 Vincent Pelo, 2 Erasmus Jansen van Vuuren, 1 Mikheil Nariashvili.
Replacements: 16 Fabien Dorey, 17 Yvan Watremez, 18 Alikisio Fakate, 19 Alexandre Bias, 20 Eric Escande, 21 Pierre Berard, 22 Matthew Carraro, 23 Giorge Jgenti.
Toulon: 15 Alexis Palisson, 14 Vincent Martin, 13 Mathieu Bastareaud, 12 Matt Giteau, 11 David Smith, 10 Frederic Michalak, 9 Sebastien Tillous-Borde, 8 Chris Masoe, 7 Steffon Armitage, 6 Pierrick Gunther, 5 Jocelino Suta, 4 Bakkies Botha, 3 Carl Hayman, 2 Mickael Ivaldi, 1 Andrew Sheridan.
Replacements: 16 Jean Charles Orioli, 17 Gethin Jenkins, 18 Simon Shaw, 19 Nick Kennedy, 20 Maxime Mermoz, 21 Joe van Niekerk, 22 Benjamin Lapeyre, 23 Xavier Chiocci.
Results last season: Montpellier won 18-6 at home; Toulon won 18-6 at home.
Prediction: Montpellier's home record should not be taken lightly but Bernard Laporte's army look unstoppable at the moment. Toulon by a whisker.
Kick-off: 20.50 (18.50 GMT)
---
USA Perpignan v Stade Toulousain
Estadi Olímpic de Montjuïc (Barcelona)
The defending champions travel to Spain for an extra-long road trip that manager Guy Novès says they could have done without.
Nevertheless Perpignan are pushing forward with their plan to spread the rugby word to their Catalan neighbours south of the border at the 55,000-seater Olympic Stadium in Barcelona, although USAP president Paul Goze is only expecting a crowd of between 25-30,000.
"The conditions are not the same as in 2010," Goze said of the 52,000-strong crowd that witnessed Biarritz's Heineken Cup quarter-final against Toulon in April of that year.
"It's not a knock-out match, it's less easy to attract people, the economic crisis is there and yet more in Spain."
Toulouse will, however, take comfort in the fact that they won't be visiting Stade Aimé-Giral, where they have won just twice in 17 games.
The added pressure of a gala game at a new venue probably isn't what Perpignan need right now as they languish in the bottom quarter of the standings.
While Toulouse have the best attacking stats in France at the moment, USAP have just one victory to their name, an unconvincing success over Bayonne last week.
Young Toulouse prop, Antoine Guillamon, won't make the trip because of a back injury but centre Florain Fritz should make his return.
Former Wasps wing Richard Haughton has been included in the USAP squad.
Results last season: Perpignan won 25-10 at home; Toulouse won 21-17 at home.
Prediction: Current form points to a win for the champs, especially considering Perpignan's front row injuries. Toulouse by six points.
Kick-off: 15.00 (13.00 GMT)
---
SU Agen v FC Grenoble
Stade Armandie, Agen
Agen are in spot of bother. Still without a win after four rounds, another defeat this weekend would be cause for panic.
After getting a spanking in Toulouse last week, the hosts must lift themselves for a battle with a Grenoble side that is defying the predictions by lying fifth in the standings thanks to big wins over Mont-de-Marsan last week and Stade Français the week before.
Agen have won four of their last five home games against Grenoble, but are they in the kind of form needed this weekend?
Previous results:Agen won 22-16 at home (ProD2, 2009); 12-12 draw in Grenoble (ProD2, 2009).
Prediction: Agen are a better side than their results so far suggest. Agen by six points.
Kick-off: 18.30 (16.30 GMT)
---
Aviron Bayonnais v Racing-Métro 92
Stade Jean Dauger, Bayonne
Two sides that came close to victory on the road last week but had to settle for losing bonus-points face off in what is set to a be an intriguing battle.
Racing came agonisingly close to ending Clermont's three-year winning streak at home and looked very impressive. The Parisians are facing a crisis at fly-half, however, with both Jonathan Wisniewski and Benjamin Dambielle ruled out with long-term injuries while Juan Martin Hernandez is away on international duty with the Pumas.
Centre Fabrice Estebanez and scrum-half Mathieu Bélie are potential solutions in the interim.
Bayonne pushed Perpignan hard but came up short last week, leaving them with just one win this season, which seems harsh considering their excellent defensive record.
Bayonne have made nine changes to their starting team, including a return at scrum-half for Mike Phillips and two alterations to the front-row. Neemia Tialata is given a rest meaning Renaud Boyoud starts.
Results last season: Bayonne won 27-13 at home; Racing won 22-21 at home.
Prediction: Racing have lost on their last three visits to Jean Dauger. Bayonne by three points.
Kick-off: 18.30 (16.30 GMT)
---
Stade Montois v ASM Clermont Auvergne
Stade Guy Boniface, Mont-de-Marsan
Stone last without a single point, Mont-de-Marsan's terrible start to the season is set to continue as they face another David-and-Goliath clash.
Les Montois have been handed an incredibly tough draw with matches against nearly all the heavyweights lined up at the start of the season.
Clermont were given a big scare last week and will want to restore their confidence with a big win. Coach Vern Cotter actually publicly thanked Racing for giving his side a wake-up call.
David Skrela and Aurélien Rougerie are both set to return for les Jaunards this week.
Previous result: Mont-de-Marsan won 12-11 at home (2008); Clermont won 66-3 at home (2009).
Prediction: It's tough to bet against the visitors' star-studded team. Clermont by fifteen points.
Kick-off: 18.30 (16.30 GMT)
---
Castres Olympique v Biarritz Olympique
Stade Pierre Antoine, Castres
Biarritz, in second spot a point adrift of Toulon in the table, travel to Stade Pierre Antoine on the back of four wins from their opening four outings but face arguably their toughest test this week.
Fresh from dominating Montpellier 27-8, Biarritz have refound a cutting edge that deserted them last season, which was spent flirting with relegation.
The Basques' track record in Castres is not great though, having won just five times in 21 visits.
Benoît Baby makes his fist start of the season at fly-half while loosehead prop Fabien Barcella will also start for the first time this campaign.
Veteran Castres lock Matthias Rolland has been ruled out for three weeks with a calf injury.
Results last season: Castres won bath games: 29-13 at home and 23-18 in Biarritz.
Prediction: Castres are very solid at home. Castres to grind out a narrow win.
Kick-off: 18.30 (16.30 GMT)
---
Union Bordeaux-Bègles v Stade Français Paris
Stade Jacques Chaban-Delmas, Bordeaux
Stade Chaban-Delmas is sold-out for the arrival of a Stade Français team that has made a false start to the season. As was the case last year, the Parisians' form on the road has been woeful. Visiting a team that beat them 39-6 last season should provide plenty of motivation for the men in pink though.
Les Bordelos-Béglais were thumped in Toulon last week, but will field a much stronger side on Saturday as they too search for just their second win this season.
Raphaël Ibanez has recalled Bruce Reihana, Blair Connor, Julien Rey, Camille Lopez, Heini Adams, Justin Purll, Matthew Clarkin and Hikairo Forbes after resting them all a week ago.
Stade fly-half Paul Warwick has been ruled out for three weeks but Fijian Waisea Vuidravuwalu is set to return.
Results last season: UBB won 39-6 at home; Stade Français won 41-20 at home.
Prediction: Last season's result tells a tale. Bordeaux-Bègles by eight points.
Kick-off: 20.40 (18.40 GMT)