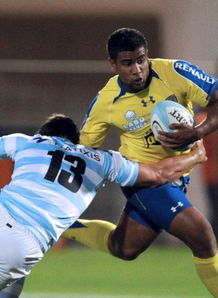 Related links
Also see
Biarritz and Toulon are the only unbeaten teams left in France and both will expect to continue their winning ways with home fixtures this weekend.
The headlines this week have been dominated by a war of words between Serge Simon, the president of the Provale (France's players association), and referees boss Didier Mené. Simon reckons the refs are ruining the game with their mismanagement of the scrum. Mené reckons the former French international prop is bored and should shut his trap. We're usually the first to defend match officials, but we think Simon has a point.
Back to this weekend's action. The biggest clash of Round Four is on Sunday when Racing Métro have the unenviable task of visiting Clermont Ferrand, where the hosts have not lost in three years.
Leaders Biarritz shouldn't count their chickens just yet as their game against Montpellier promises to be a tough one.
Newly-promoted Grenoble and Mont-de-Marsan go head-to-head with the losers set to take a giant step towards relegation.
Elsewhere, Perpignan are desperate for their first win at home to Bayonne while Toulouse will expect victory over Agen.
Fixtures:
Saturday, September 8
Biarritz v Montpellier
Grenoble v Mont-de-Marsan
Stade Français v Castres
Perpignan v Bayonne
Toulouse v Agen
Toulon v Bordeaux-Bègles
Sunday, September 9
Clermont v Racing Métro
Standings:
1 Biarritz 13
2 Toulon 13
3 Clermont 10
4 Toulouse 10
5 Castres 9
6 Racing-Metro 9
7 Montpellier 9
8 Grenoble 8
9 Bordeaux-Begles 5
10 Bayonne 5
11 Stade Français 4
12 Agen 2
13 Perpignan 2
14 Mont-de-Marsan 0
Previews:
Biarritz Olympique v Montpellier Hérault Rugby
Parc des Sports d'Aguilera, Biarritz
Three games, three wins, including success last week over the defending champions - Biarritz could not have asked for a better start to their campaign.
It's a welcome state of affairs in the Basque country, where fans have had to endure some tough times recently.
The league leaders are at home again this week but face a Montpol side that beat them twice last season. Despite their missing Pumas les Héraultais beat Clermont and thumped Agen in the last fortnight, suggesting they are a decent bet to make the playoffs again.
20-year-old Biarritz fly-half Jean Pascal Barraque is the flavour of the month in France at the moment thanks with his strong performances, especially from the kicking tee.
Argentine prop Nahuel Lobo, who has been recruited as a medical joker, will make his Montpellier debut.
For Biarritz, Dimitri Yachvili is set to be out until December but BO hope to have Imanol Harinordoquy back in time for the Basque derby with Bayonne in San Sebastian at the end of the month.
Promising Montpellier loose forward Alex Tulou has extended his contract until 2015.
Results last season: Montpellier won 30-23 in Biarritz and 21-16 at home
Prediction: Biarritz aren't playing flashy rugby but they're getting the results. Biarritz by six points
Kick-off: 15.00 (13.00 GMT)
Referee: Cédric Marchat
---
FC Grenoble v Stade Montois
Stade Lesdiguières, Grenoble
Grenoble would have circled this clash in a big red marker on the day the draw was announced as the match they absolutely have to win if they are stay up.
The battle of the newcomers is the ideal opportunity for Fabrice Landreau's team to build on last week's win over Stade Français, which has left them lying in midtable.
Likewise, this is a massive clash for Mont-de-Marsan who are still without points after three games and are the outstanding favourites for the drop. Another loss will leave them up the proverbial creek without a paddle. Les Montois have also been dealt a heavy blow in the form of an injury to scrum-half Beñat Arrayet, who is out for two weeks.
Results last season: Grenoble won 22-16 at home and 16-12 in Mont-de-Marsan (ProD2)
Prediction: Grenoble have won 10 of their last 12 games at home. Grenoble by ten.
Kick-off: 18.30 (16.30 GMT)
Referee: Sébastien Minery
---
Stade Français Paris v Castres Olympique
Stade Charléty, Paris
Stade Français's dismal form of the road was in the spotlight gain last week but they're back in Paris on Saturday so will expect to win against a Castres side that have not enjoyed their trips to the capital in recent years.
Indeed, CO have tasted success just once in 13 trips to Paris. But Saturday's visitors are in great form. Having narrowly lost in Toulouse, they broke the 30-point barrier in wins over Grenoble and Bayonne.
With an average score of 36-20 in clashes between these sides, we're set for an entertaining game.
Stade Français manager Richard Pool-Jones slammed his players' performance in Grenoble and has made it clear he expects more, whether at home or away.
Loose forward Antoine Burban makes his return from injury for the hosts but Stanley Wright (calf), Gérhard Mostert (shoulder) and Pierre Rabadan (calf) are still absent.
Castres welcome back prop Yannick Forestier.
Results last season: Stade Français won 38-21 at home; Castres won 35-10 at home
Prediction: The Parisians' record at home is solid enough. Stade Français by eight points
Kick-off: 18.30 (16.30 GMT)
Referee: Pascal Gauzere
---
USA Perpignan v Aviron Bayonnais
Stade Aimé Giral, Perpignan
Still without a win, Perpignan facing a tricky challenge against the most disciplined team in the league.
Bayonne are conceding an average of just 9,7 penalties per game and with USAP struggling to come to grips with Marc Delpoux's new gameplan, it could be a tense afternoon for the Aimé Giral faithful.
Four tries against Clermont is an indication that on the attacking front USAP are making progress, but the seven conceded will be a worry.
The Catalans have also been hit by ruptured knee ligaments to Sofiane Guitoune and Jean-Pierre Perez, as well as a broken arm for tighthead prop Kisi Pulu and a torn groin muscle for skipper Nicolas Mas.
Bayonne look a much better team than the rabble that flirted with relegation last year, but a visit to Catalogne is never easy. The Basques have been bolstered by the return of Guillaume Bernad, Dewald Senekal, Manu Ahotaeiloa and Sam Gerber.
Results last season: Perpignan won 47-9 at home; Bayonne won 18-16 at home
Prediction: It's about time USAP clicked. Perpignan by nine points
Kick-off: 18.30 (16.30 GMT)
Referee: Jean-Pierre Matheu
---
Stade Toulousain v SU Agen
Stade Ernest Wallon, Toulouse
For many pundits Toulouse were the better team in Biarritz last week, but Lionel Beauxis missed a few shots a goal, costing the champions victory.
Toulouse have had a shaky start to the season by their standards and there have been a lot of comments from players and coaches alike about the need to step it up a gear.
This week should be a formality as Agen - who have not won in the Ville Rose since 1997 - are sending a much-changed team to face their neighbours.
For Toulouse, playmaker Luke McAlister and Georgian prop Valil Kakovin have recovered from injury and trained normally with the team on Wednesday. Both could start.
Results last season: Toulouse won 21-10 at home and 24-23 in Agen
Prediction: A repeat of last year's result seem likely. Toulouse by twelve points
Kick-off: 18.30 (16.30 GMT)
Referee: Sébastien Cloute
---
Rugby Club Toulonnais v Union Bordeaux-Bègles
Stade Felix Mayol, Toulon
Co-leaders Toulon play their first game at home with Fred Michalak set to get his first taste of the atmosphere at Stade Felix Mayol (his only game against Toulon during his days with Toulouse was in Marsaille).
The odds are that Toulon will make it four wins from four and even bag a bonus point to take the outright lead because Bordeaux-Bègles are sending a weakened team.
While UBB look to be choosing their battles, Toulon have the squad depth to keep the pedal to the metal all season.
Chris Masoe is back with patched-up ear. David Smith and Sébastien Tillous-Bordes are also back in the mix.
Results last season: Toulon won 44-7 at home and 27-16 in Bordeaux
Prediction: It's a mismatch. Toulon to win with a bonus point
Kick-off: 20.35 (18.35 GMT)
Referee: Christophe Berdos
---
ASM Clermont Auvergne v Racing-Métro 92
Parc des Sports Marcel Michelin, Clermont Ferrand
Racing-Métro have never won in Clermont. In fact, since their return to the top division, Racing have won just two games out of sevens against les Jaunards.
But les Franciliens have genuine title ambitions this season so will want to take something back to the capital.
Clermont have not last at home in 44 games and after running seven tries past Perpignan last week, it would be unwise to bet against the hosts.
Racing welcome back Italian prop Andrea Lo Cicero but will be without South African lock Fracois van der Merwe.
Clermont wing Sitiveni Sivivatu has a torn thigh muscle while Alexandre Lapandry is out with shoulder injury. Aurélien Rougerie, David Skrela, Julien Malzieu and Benjamin Kayser are doubful starters. However, Julien Bardy and Jean-Marcellin Buttin, are fit again.
Results last season: Clermont won 31-13 at home and 22-11 in Paris
Prediction: Clermont at home? Clermont to win by ten points
Kick-off: 21.00 (19.00 GMT)
Referee: Jean-Luc Rebollal