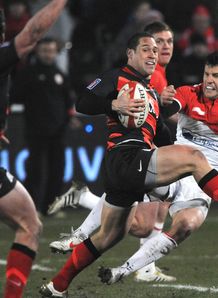 Related links
Also see
Early season leaders Biarritz host defending champions Toulouse this weekend while struggling Perpignan must travel to Clermont.
Toulon were handed a fixture draw that started with three away games but Bernard Laporte's army will expect to make it three-from-three in Mont-de-Marsan.
The action kicks off on Friday when Stade Français's dismal record on the road will be under the spotlight against against newcomers Grenoble.
In the capital, Racing Métro should be too strong for Bordeaux-Bègles.
Elsewhere, Castres will be favourites against Bayonne while Agen will be chasing their first win in Montpellier.
Fixtures:
Friday, August 31
Grenoble v Stade Français
Saturday, September 1
Biarritz v Toulouse
Castres v Bayonne
Clermont v Perpignan
Montpellier v Agen
Racing Métro v Bordeaux-Bègles
Mont-de-Marsan v Toulon
Previews:
FC Grenoble v Stade Français Paris
Stade Lesdiguières, Grenoble
These teams have met four times in the last decade and Stade Français have won every time. In fact, going even further back, the Parisians have not lost in their last five visits to Grenoble.
But considering Stade Français's form away from the capital in recent years, Grenoble - under the guidance of former Stade stalwart Fabrice Landreau - will fancy their chances in their first top division home game in seven years.
Both clubs have a victory and a defeat under their belts this season but Stade Français have won just one of their last 20 games on the road!
Grenoble sharpshooter Valentin Courrent starts at scrum-half while Shaun Sowerby, who started his career in France with Stade, is at number eight.
Felipe Contepomi is at ten for the visitors in the absence of the injured Jules Plisson.
Grenoble: 15 Fabien Gengenbacher, 14 Lucas Dupont, 13 Rida Jaouher, 12 Nigel Hunt, 11 Joaquin Tuculet , 10 Blair Stewart , 9 Valentin Courrent , 8 Shaun Sowerby, 7 Roland Bernard, 6 Jonathan Best, 5 Naude Beukes, 4 Benjamin Hand, 3 Dayna Edwards, 2 Vincent Campo castillo, 1 Gregory Fabro:
Replacements:16 Kenan Mutapcic, 17 Laurent Bouchet, 18 Cyril Veyret, 19 Henry Vanderglas, 20 Viliame Waqaseduadua, 21 Aloisio Butonidualevu, 22 Jonathan Pelissie, 23 Karim Kouider.
Stade Français: 15 Jerome Porical, 14 Waisea Vuidravuwalu, 13 Morgan Turinui, 12Paul Williams, 11 Paul Sackey, 10 Felipe Contepomi, 9 Jerome Fillol, 8 Sergio Parisse, 7 Olivier Missoup, 6 Scott Lavalla, 5 Pascal Pape, 4 Anton van Zyl, 3 David Attoub, 2 Laurent Sempere, 1 Romain Frou.
Replacements: 16 Remi Bonfils, 17 Rabah Slimani, 18 Alexandre Flanquart, 19 David Lyons, 20 Julien Dupuy, 21 Paul Warwick, 22 Hugo Bonneval, 23 Zurabi Zhvania.
Previous result Stade Français won 28-8 in 2005.
Prediction: Grenoble have made a decent start and will be up for it at home. Grenoble by a whisker
Kick-off: 20.50 (18.50 GMT)
Referee: Jean-Luc Rebollal
---
Biarritz Olympique v Stade Toulousain
Parc des Sports d'Aguilera, Biarritz
The co-leaders face off in the Basque country where Biarritz seem to have rediscovered some form. It's been four years since BO started the season with back-to-back wins. Counting their Amlin Challenge Cup title of last season, the Basques are on a winning streak not seen for ages.
Toulouse have won the last eight games between these sides in all competitions and six of the last eight games in Biarritz. But the defending champions struggled in their opening games, needing late surges from their bench to win at home against Castres and Mont-de-Marsan.
Toulouse have been uncharacteristically indisciplined and will need to tighten up to maintain their unbeaten record.
Former Crusaders and Leinster fly-half Matt Berquist has recovered from a hamstring tear and will play for the Biarritz youth team this weekend in the hope of breaking into the senior side in the coming weeks.
Toulouse will wait until late on Friday to make a decision regarding Luke McAlister, who injured a calf muscle last week.
Results last season: Toulouse won 24-0 at home and 20-15 in Biarritz
Prediction: Toulouse seem to still be in 'pre-season mode'. Biarritz by three points
Kick-off: 15.00 (13.00 GMT)
Referee: Mathieu Raynal
---
Castres Olympique v Aviron Bayonnais
Stade Pierre Antoine, Castres
Castres play their second consecutive game at home, where they have lost just once in two years.
It's been a frustrating start to the season for CO, who lost in Toulouse in the dying minutes and threw away a winning bonus point against Grenoble last week by conceding a late try while playing with 14 men.
Bayonne have impressed on defence so far having given up just two tries and three penalties in two games. Last week's home win over Stade Français, thanks to the accurate kicking of Jacques-Louis Potgeiter, would have reassured the Basques after the fly-half failed dismally against Clermont on the opening weekend.
However, Bayonne have yet to score a try and considering Castres' defensive record they might go a third week without a five pointer.
Benjamin Boyet makes his return to the extended Bayonne squad from injury this week while former Hurricanes fly-half Daniel Kirkpatrick could make his debut for Castres.
Results last season: Castres won 31-19 at home; 16-16 draw in Bayonne
Prediction: Castres have won their last three home games against Bayonne. Castres by nine points
Kick-off: 18.30 (16.30 GMT)
Referee: Laurent Cardona
---
ASM Clermont Auvergne v USA Perpignan
Parc des Sports Marcel Michelin, Clermont Ferrand
The 2010 champions host the 2009 champions. But the comparisons end there as Perpignan have had a miserable time over the past two years and, so far, not much has gone right this season.
Win-less in two games and yet to cross the whitewash, the Catalans are already in trouble. Fortress Marcel Michelin, where Clermont have not lost since 2009, is not the place to expect to get their season back on track, especially since Clermont have the best defence in the league this term.
Title favourites Clermont play their first game at home having claimed victory in Bayonne and a losing bonus point in Montpellier last week.
The hosts have a sizeable injury list though with Julien Bardy, Lee Byrne and Julien Bonnaire all ruled out while Aurélien Rougerie and David Skrela are doubtful.
Results last season: Clermont won 29-23 at home and 39-3 in Perpignan
Prediction: USAP have lost 15 out of 17 games in Clermont since 1948. Clermont by ten points
Kick-off: 18.30 (16.30 GMT)
Referee: Christophe Berdos
---
Montpellier Hérault Rugby v SU Agen
Stade Yves Du Manoir, Montpellier
Second last in the standings, Agen have had a terrible start to the season having lost both their opening games at home to Racing-Métro (20-24) and Biarritz (19-25).
The record books suggest that Philippe Sella's team are unlikely to get their first win this weekend since they have not tasted victory in Montpellier since 1997.
Montpellier got their first points of the season last week with a solid home win over Clermont, which would have come as a massive boost after a poor pre-season and a big defeat in Paris.
With tough fixtures on the horizon against Biarritz and Toulon, Montpol need to put a few points in the bank.
Argentina U20 prop Nahuel Lobo will undergo tests on Friday with a view of signing a short-term contract with Montpellier as a medical joker to cover for the absence of Na'ama Leleimalefaga, who broke his arm against Stade Français.
Results last season: Montpellier won 44-18 at home; Agen won 18-12 at home
Prediction: Agen have lost on their last six visits to Stade Yves Du Manoir. Montpellier by ten points
Kick-off: 18.30 (16.30 GMT)
Referee: Stéphane Pomarède
---
Racing-Métro 92 v Union Bordeaux-Bègles
Stade Yves Du Manoir - Colombes (Paris)
Racing-Métro have had a mixed start to the season: Victory on the road to Agen, despite an unimpressive display, was followed by defeat at home to Toulon in a thrilling game that went down to the wire.
At home again this week, victory is a non-negotiable for Gonzalo Quesada's men if they are to maintain contact with the other title contenders.
Bordeaux-Bègles bounced back from a surprise loss to Grenoble to battle their way past Perpignan last week. Tenacious but uninspiring in the opening weeks, UBB are in for a long evening in the capital unless they can raise their game.
Racing-Métro captain Jacques Cronje has been ruled out with a neck injury. He joins Mikaele Tuugahala, Albert Vulivuli , Benjamin Fall and Johnny Leo'o in the nurse's office. Sireli Bobo, Andrea Lo Cicero, Sébastien Descons and Jone Qovu have returned to training but are not yet match fit.
Results last season: Racing won 22-13 at home; UBB won 22-18 at home
Prediction: If Racing can repeat last week's form, they should win easily. Racing by 15 points
Kick-off: 18.30 (16.30 GMT)
Referee: Cyril Lafon
---
Stade Montois v RC Toulon
Stade Guy Boniface, Mont-de-Marsan
Toulon have never won in Mont-de-Marsan, but they've never arrived with a team like this one! RCT hit the road for the third time in as many weeks but a bonus point win could taken them to the top of the standings.
After grinding past Perpignan on the opening weekend, Bernard Laporte's team showed they can play ball by running two excellent tries past Racing last week.
For Mont-de-Marsan, the tough start to the season is set to continue as they must face another heavyweight club after going down to Toulouse and Biarritz.
But don't expect it to be one-way traffic. Les Montois held the lead at the hour mark in Toulouse last week, an illustration of their ability to trouble the big guns. The last-quarter meltdown was, however, an example of their lack of depth as they couldn't match the rise in tempo provided by the Toulouse bench.
Toulon's travelling army has seen Frédéric Michalak included in the extended squad for the first time this season.
"The number 10 shirt is a difficult one to manage - very strategic," said Laporte.
"Fred has been with us for just three weeks and we do not want to ask too much of him too early. He has signed up with us for three years so we will give him the time to properly adapt."
Previous result: Toulon won 38-22 at home in 2009
Prediction: Mont-de-Marsan will have to wait a bit longer for their first positive result. Toulon by ten points
Kick-off: 20.40 (18.40 GMT)
Referee: Cédric Marchat