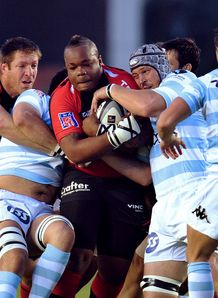 Related links
Also see
Temperatures in France were topping the 40 degree mark this week, meaning the action in Round Two is set to be hot in more ways than one.
The big clash of the weekend is in Paris where Racing Metro host Toulon as both big-spending clubs look to build on their victories on the road last week.
Champions Toulouse have an easy fixture at home to newly-promoted Mont-de-Marsan but Clermont have a much tougher assigment away to Montpellier.
Stade Français set the standard on the opening weekend but should expect a real fight in Bayonne.
Elsewhere, leaders Biarritz hit the road with a tough visit to Agen after Perpignan kick the weekend off in Bordeaux.
Fixtures:
Friday, August 24
Bordeaux-Bègles v Perpignan
Saturday, August 25
Racing Métro v Toulon
Bayonne v Stade Français
Castres v Grenoble
Montpellier v Clermont
Toulouse v Mont-de-Marsan
Agen v Biarritz
Previews:
Union Bordeaux-Bègles v USA Perpignan
Stade Jacques Chaban-Delmas, Bordeaux
Former UBB manager Marc Delpoux returns to Bordeaux for a clash against his old club under a hint of pressure.
In fact, both teams are feeling the heat after losing at home in Round One. New UBB boss Raphaël Ibanez would have been bitterly disappointed to see his side lose to relegation candidates Grenoble and another defeat at home would certainly signal a very long season ahead.
Perpignan were out-kicked by Toulon last week but will take heart from the fact that they did show more invention than last season.
Sona Taumalolo makes his first start for USAP while South African centre Gavin Hume must fill in at full-back due to the injury to Sofiane Guitoune.
Bordeaux Begles: 15 Bruce Reihana, 14 Thierry Brana, 13 Julien Rey, 12 Andrew Mailei, 11 Blair Connor, 10 Camille Lopez, 9 Heini Adams, 8 Matthew Clarkin, 7 Hugh Chalmers, 6 Gautier Gibouin, 5 Adam Jaulhac, 4 Justin Purll, 3 Albert Toetu, 2 Wayne Avei, 1 Hikairo Forbes.
Replacements: 16 Fabien Rofes, 17 Laurent Delboulbes, 18 Francois Tisseau, 19 Rohan Kitshoff, 20 Emmanuel Saubusse, 21 Felix Le bourhis, 22 Lachie Munro, 23 Silviu Florea.
Perpignan: 15 Gavin Hume, 14 Farid Sid, 13 David Marty, 12 Lifeimi Mafi, 11 Armand Batlle, 10 James Hook, 9 David Mele, 8 Henri Tuilagi, 7 Bertrand Guiry, 6 Alasdair Strokosch, 5 Robins Tchale Watchou, 4 Luke Charteris 3 Nicolas Mas, 2 Romain Terrain, 1 Sona Taumalolo.
Replacements: 16 Guilhem Guirado, 17 Kisi Pulu, 18 Daniel Leo, 19 Luke Narraway, 20 Florian Cazenave, 21 Gilles Bosch, 22 Adrian Plante, 23 Jeremy Castex.
Result last season Bordeaux won 37-29.
Prediction: It'll be close but USAP are bringing a very strong team. Perpignan by five.
Kick-off: 20.50 (18.50 GMT)
Referee: Laurent Cardona
---
Racing-Métro 92 v Rugby Club Toulonnais
Stade Yves Du Manoir - Colombes (Paris)
Two clubs brimming with confidence after victories on the road in Round One face off in the biggest clash of the weekend.
Racing impressed with their first win in Agen and the new coaching staff look to have a very tight group working well together.
The Toulon army weren't pretty last week but they got the job done in Perpignan and thus travel to the capital without pressure. RCT's resources boggle the mind (names like Bastareaud, Durand and Jenkins were on the bench last week) and the title is their only goal. A second away win will set them up nicely.
All the big names are available this week and the squad has been bolstered by the return of Jean-Charles Orioli and Benjamin Lapeyre.
Italy wing Mirco Bergamasco has joined seven other Racing players in the nurse's office, including Benjamin Fall, Andrea Lo Cicero, Sireli Bobo and Jone Qovu. They do welcome back Henry Chavancy to midfield however.
Results last season Toulon won 16-9 in Paris and 17-13 at home.
Prediction: Racing's home record is very good but considering that injury list, they might have to settle for a losing bonus point. Toulon by a whisker.
Kick-off: 15.00 (13.00 GMT)
Referee: Mathieu Raynal
---
Aviron Bayonnais v Stade Français Paris
Stade Jean Dauger, Bayonne
Stade Français were the big winners of the opening round with a resounding home win over Montpellier. But the Parisians' Achilles heel last year was their dismal form of the road and it will be interesting to note how they get on away from the capital under their new coaching staff.
Despite plenty of positive intentions, Bayonne got their season off to a losing start at home to Clermont due mainly to Jacques-Louis Potgieter's five missed penalties.
They get another bite at the cherry this week and the Jean Dauger crowd will expect a win or the ghosts of last season's nightmare campaign will come creeping back.
Fijian centre Gabiriele Lovobalavu is set to make his Bayonne debut but Benjamin Boyet and Marvin O'Connor are still missing.
Not happy after being left on the bench last week, Stade Français skipper Sergio Parisse is set to make his return to the starting XV.
Results last season Stade Français won 33-18 at home; Bayonne won 26-20 at home.
Prediction: Bayonne were better value than last week's scoreline suggested. Bayonne by seven points.
Kick-off: 18.30 (16.30 GMT)
Referee: Cédric Marchat
---
Castres Olympique v FC Grenoble
Stade Pierre Antoine, Castres
Grenoble provided the upset of the first round by winning away to Bordeaux-Begles, proving the PRO D2 champions can be competitive in the top division.
But the new boys are unlikely to repeat the feat at fortress Pierre Antoine where CO are near unbeatable having lost just once there in two years.
Castres came within minutes of causing an even bigger upset in Toulouse but were denied by a late, controversial try. They should get four points this week though.
Prediction: Should be a clear result. Castres by fifteen points.
Kick-off: 18.30 (16.30 GMT)
Referee: Cyril Lafon
---
Montpellier Hérault Rugby v ASM Clermont Auvergne
Stade Yves Du Manoir, Montpellier
Things are not going well in Montpellier. Counting the end of last season, their pre-season friendlies and last week's defeat in Paris, Montpol have now lost five in a row.
Without six Argentina internationals until mid-October, the outlook will be somewhat gloomy if they lose again this week.
Clermont by contrast are looking for a second win on the road after doing the job in Bayonne last time out. Vern Cotter's team were a pale reflection of the side that set fields alight last season but they were able to grind out a positive result.
They will need to step it up a notch if they are to claim their first win in Montpellier in four years.
Results last season Montpellier won 29-23 at home; Clermont won 22-9 at home.
Prediction: Clermont failed to impress last week and Montpellier have a settled team. Montpellier by four points.
Kick-off: 18.30 (16.30 GMT)
Referee: Pascal Gaüzere
---
Stade Toulousain v Stade Montois
Stade Ernest Wallon, Toulouse
The favourites for the title host the Top 14's smallest club.
Only the clinically insane would bet against the defending champions, who have not lost at home in over two and a half years.
Mont-de-Marsan showed some positive signs in Biarritz last week but nevertheless conceded a bonus point try at the death.Maxime Médard has returned to training with Toulouse after a long lay-off following knee surgery but will not be ready for match action for quite some time.
Previous results: Toulouse won 27-6 and 60-8 in 2009.
Prediction: No mystery here. Bonus-point win for Toulouse.
Kick-off: 18.30 (16.30 GMT)
Referee: Patrick Pechambert
---
SU Agen v Biarritz Olympique
Stade Armandie, Agen
Beaten at home last week, Agen are already under pressure. Earmarked as outsiders in the play-off race at the start of the season, a second home loss would leave them behind the eight ball.
Leaders after giving Mont-de-Marsan a hiding in their opening game, Biarritz must deal with the absence of Dimitri Yachvili, who is set for three months on the sidelines after slipping a disk in his back.
Stade Armandie has not been a happy hunting ground for the Basques, who have won there just twice in the post-war era.
Results last season Biarritz won 15-6 in Agen; 9-9 draw in Biarritz.
Prediction: Biarritz don't always travel well. Agen by three points.
Kick-off: 20.40 (18.40 GMT)
Referee: Romain Poite