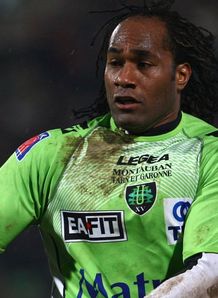 Clermont missed the chance to move top of the Top 14 standings on Friday after they fell 20-15 to Montauban at Stade Sapiac.
Vern Cotter's side were looking to kick on from last week's 30-point drubbing of Bourgoin but they struggled for any penetration against their hosts.
Former Auvergne wing Vilimoni Delasau brought Clermont's worst nightmare true when he went over for a score on 33 minutes and thanks to the boot of former Valke fly-half Len Olivier, Montauban were always an arms length away.
Clermont meanwhile could only call upon the boot of scrum-half Morgan Parra, who kicked a total of four penalties, as they remain behind league leaders Castres who travel to Stade Pierre Rajon on Saturday.
The scorers:
For Montauban:
Tries: Delasau, Viard
Con: Olivier
Pen: Olivier, Rosalen
For Clermont:
Pen: Parra 5
Montauban: 15 Julien Laharrague, 14 Shannon Paku, 13 Jean Phillipe Viard, 12 Rida Jaouher, 11 Vilimoni Delasau, 10 Len Olivier, 9 Mathieu Belie, 8 Matthew Clarkin, 7 Alejandro Campos, 6 Emmanuel Etien, 5 Karim Ghezal, 4 Scott Murray, 3 Benjamin Sa, 2 Brice Mach, 1 Bogdan Balan.
Replacements: 16 Julien Audy, 17 Johan Dalla Riva, 18 Silviu Florea, 19 Goderzic Shvelidze, 20 Cédric Rosalen, 21 Gregory Arganese, 22 Abdellatif Boutaty, 23 Joel Koffi.
Clermont: 15 Anthony Floch, 14 Benoit Baby, 13 Aurélien Rougerie, 12 Gonzalo Canale, 11 Julien Malzieu, 10 Tasesa Lavea, 9 Morgan Parra, 8 Elvis Vermeulen, 7 Lapandry, 6 Jamie Cudmore, 5 Lional Privat, 4 Julien Pierre, 3 Davit Zirakashvili, 2 Willie Wepener, 1 Lionel Faure.
Replacements: 16 Christophe Samson, 17 Vincent Debaty, 18 Brock James, 19 Alexandre Audebert, 20 Mario Ledesma, 21 Gavin Williams, 22 Ludovic Radosavljevic, 23 Clément Ric.
Referee: Pascal Gauzere
Assistant referees: Frédéric Gourgues, Bruno Fiche
Television match official: Daniel Gillet