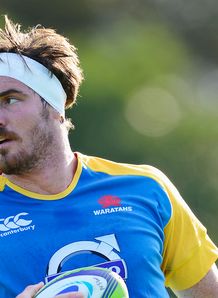 Related links
Teams
Also see
Departing Waratahs lock Kane Douglas has praised the Australian Rugby Union's tough policy on Wallaby eligibility despite it denying him the chance to play at the World Cup.
Last month, ARU chief executive Bill Pulver dismissed the idea of introducing sabbaticals which would allow first-choice Wallabies to have stints overseas and still play at Test level.
Douglas is leaving the Waratahs to further his career with PRO12 champions Leinster at the end of the year. He has no regrets about his impending move even though it means he will no longer be able to represent his country.
"They've got to be strong on their stance and encourage boys to stay and play in Australia and for Australia," Douglas told AAP.
"So I'm happy with my future."
Douglas, who has played in 14 Tests for Australia, admits that he would love to have played at the 2015 World Cup, but knew he had given up that opportunity when he decided to move to Leinster.
"I've come to grips with that," he added.
"I'm pretty content."
Last week, Wallabies and Western Force wing Nick Cummins also announced that he would be furthering his career with Coca Cola West Red Sparks in Japan from next season which also makes him ineligible for the 2015 World Cup.
Douglas said Cummins' decision is not just about money and he commended his former Test team-mate.
"I'm pretty good mates with Nick ... and Nick wants to provide for his family and he's got that chance to do that," added Douglas.
"It's not just the money side of it. He'll get more time off - I think they have a break for three or four months - so he'll be able to spend a heap more time with his family.
"Hats off to him. He's a really good guy and looking after his family."