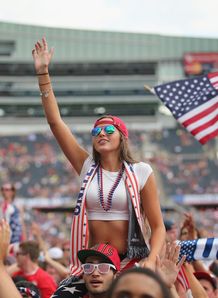 Related links
Teams
Nearly 40,000 tickets have already been sold for this year's Test match at Soldier Field in Chicago between the USA and New Zealand.
NZRU chief Steve Tew told Radio New Zealand that sales are well on track to fill the 61,000 seater home of the Chicago Bears.
So far tickets have only been released to American rugby fans from outside of Chicago, with the rest likely to be snapped up in due course.
The first match between the two nations in America since the 1980s will take place on November 1.
Should the fixture sell out as expected, there will be record crowd for a rugby match held in the United States.