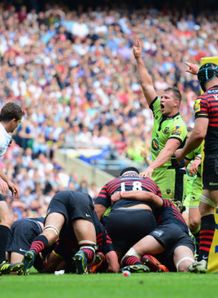 After a season of TMO controversy, technology company Hawkeye say they are in talks with the IRB to offer an alternative.
It was perhaps fitting that the 2013/14 Premiership title was decided by a contentious TMO call, as Alex Waller's extra-time try handed Northampton Saints victory over Saracens on Saturday after consultation with the video referee.
Hawkeye is most famous for its work in professional tennis and domestic football, but could be operational ahead of the 2015 World Cup in international rugby.
The company founder, Paul Hawkins said: "We are in conversation with Premiership Rugby and the IRB."
The game's governing body has not confirmed Hawkins' claims, but a spokesman told the BBC: "The TMO is under a process of continual evaluation to promote clear, consistent and accurate decision-making while keeping game-time impact minimal."
Hawkins argued his technology offered a swifter and more definitive method of assessing footage, removing the subjectivity of human evaluation.
"Our system is a much cleverer way of looking at incidents. In Aussie rules, we have halved the average time for decisions to be made," said Hawkins.
"Premiership Rugby and the IRB are aware of our products. We hope of course they will be there for next season and it would be great if we were there for the World Cup."