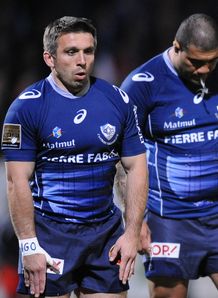 Related links
Also see
The French Rugby Federation has announced that Castres full-back Romain Teulet will join the national team as a specialist kicking coach.
Head coach Philippe Saint-André revealed in January his intention to appoint a team of specialists in key areas to join les Bleus and 36-year-old Teulet, who recently announced his retirement as a player at the end of the season, is the first such appointment.
Nicknamed "Robocop" for his unusual kicking action and incredible accuracy, Teulet holds the world record for points scored in top-level professional club rugby.
Teulet will accompany France during their tour of Australia in June for a trial period to establish a working protocol on the kicking game and penalties.
After the tour, an assessment will be made by the management of the XV de France to endorse his integration into the 'group of experts' with the aim of preparing for the 2015 World Cup .
"Throughout his career, Romain Teulet showed incredible consistency in goal-kicking and has always worked hard to evolve his kicking game and be the best in this domain," said Saint-André
"Today we want him to work with the French players. We are pleased that he has accepted and will bring his expertise to the XV de France.
"Like Aksventi Giorgadze, who works with our line-out throwers and helps them progress with their technique, we believe that Romain's contribution to the kickers will be similar."
Teulet said he was surprised to be approached.
"When Philippe Saint-André contacted me to tell me about this role, I did not expect it," said Teulet.
"It was a surprise because I had just announced my retirement from the sport with Castres Olympique at the end of the season and I am very proud to be called to work with the kickers of French national team.
"Playing rugby is a joy and be goal-kicker has always been my passion.
"Working with experienced players is above all about creating a relationship of trust, observing their routines and interacting with their regular coaches.
"This is to help them make their technique even smoother, more accurate and as efficient as possible."