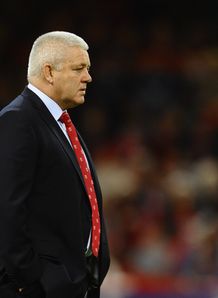 Wales head coach Warren Gatland is hoping to arrange a 'Probables' v 'Possibles' match for his squad before travelling to South Africa.
Welsh particpation in the knockout stages of the Pro12 seems unlikely, with only the Ospreys currently in a strong position to make the top four.
That would leave several of the national squad undercooked before travelling to take on the Springboks on June 14, with the last game of the regular Pro12 season coming on May 10.
"We are going to do ourselves a disservice if we go to South Africa cold," Gatland told WalesOnline.
"We have got to give ourselves the best possible opportunity we can against South Africa because there's a possibility May 10 could be the last time our regions play this season.
"So we are looking at the possibility of holding a meaningful trial, a Probable versus Possibles on Friday May 30.
"I have already spoken to WRU chief executive Roger Lewis and it would have to be discussed with the regions but it's what we would like to do if we can get agreement on it.
"Of course, if any region(s) was to make the Pro12 play-offs we would reassess the situation."
Gatland also dispelled claims that Wales should rest their Lions star for the tour with the Rugby World Cup taking place next year.
Star player Leigh Halfpenny and captain Sam Warburton are both out due to dislocated shoulders.
"Absolutely, we will be fully-loaded. If we rest three or four players, go there and get beaten, it's not good for us," added Gatland.
"We have got players coming back, like Ian Evans from suspension and Bradley Davies from injury, and Jake Ball has been a great find for us."