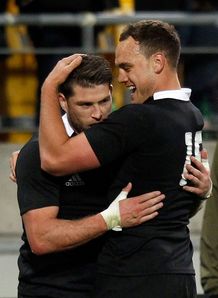 Related links
Also see
Two All Blacks abused prescription sleeping pills during the 2011 World Cup, admitted New Zealand rugby bosses on Thursday.
Israel Dagg and Cory Jane, high-profile members of the Kiwi squad, took pills on a night out in Auckland ahead of the Blacks' quarter-final clash with Argentina.
NZRU chief Steve Tew denied that the incident had been covered up initially, claiming the duo had been dealt with internally, but conceded Dagg and Jane had "let themselves down".
Tew also eschewed media claims that the practice of mixing sleeping pills with alcohol to achieve an amphetamine-like "high" was commonplace in Super Rugby.
The outside backs were said to been sighted at a bar in the city disorientated, off-balance and slurring their speech.
"The incident that occurred that night was at a level that was dealt with internally by the team, we weren't covering anything up," Tew told reporters.
"Our guys live in a very tight environment for a long period of time.
"While we don't know about everything that happens in a team environment, it is hard to keep too many secrets.
"It would be a big call to take sleeping pills out of our tool kit for teams travelling through multiple time zones constantly many times a year when you are expected to perform the next day in a very physically demanding game."