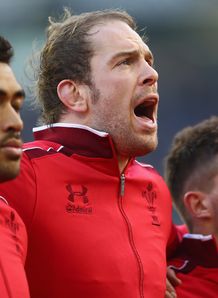 Wales second-row Alun-Wyn Jones refuses to blame fatigue or burnout for his side's poor form in this year's Six Nations.
Warren Gatland's men have failed to notch a third successive Championship after Sunday's disappointing 29-18 defeat to England.
It's been a tournament of inconsistencies for the Welsh: beginning their title defence with a laboured win over Italy in Cardiff, the deposed holders were well-beaten in Dublin, but bounced back to claim a resounding 26-3 home win over France before their Twickenham woes.
While the off-field dramas and tribulations currently blighting domestic Welsh rugby must take some toll on the national team, blame for the poor displays has also been apportioned to the British and Irish Lions tour over six months ago.
A hefty Welsh contingent travelled to Australia under Gatland, with Jones himself captaining the tourists for the third and decisive Test. But the second-row refused to point to the tour and its physical toll as reason for the European losses.
"I am not sure that had anything to do with the defeat," Jones told the Irish Times.
"When you do not have the ball, it makes it much harder and we had to defend a lot.
"I do not know if fatigue is an issue after a long year. Many of us were on the Lions tour, but each individual is different and you would have to ask the opinion of every player.
"It could be an excuse. Although it is a relevant question, I do not think I can answer it.
"It was always going to be a big load this season, but there are potentially bigger things to worry about. You cannot expect teams to be up for a final every Saturday, but you have to in the Six Nations and that is the difficulty we have.
"We are all very disappointed about Sunday. We were in the game more than we were in Ireland and certain aspects were better, but there were areas we were not happy with.
"Two losses at this stage is not what we were looking for. We are lucky we have another game (against Scotland on Saturday) coming up quickly.
"You can take nothing away from England and credit to them: they starved us of ball but when we did have it 50 per cent of our turnovers were unforced errors and we put pressure on ourselves."