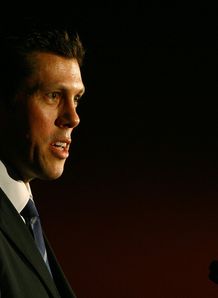 The Australian Rugby Union have appointed former Brumbies CEO Andrew Fagan to the position of General Manager - national teams and competitions.
The purpose of the role will be to maximise the commercial opportunities of Australian Rugby's existing assets including the Wallabies, Wallaroos, Men's and Women's Sevens teams and to drive opportunities for the new National Rugby Championship.
Australian Rugby Union CEO Bill Pulver said Mr Fagan's experience will be a great asset to Australian Rugby.
"Andrew Fagan has extensive experience in sports administration, including 12 years leading the Brumbies and will bring a strong commercial focus to ensure our national teams, Sevens programs and national competitions are successful," Pulver told the Australian Rugby Union's official website.
"He will be responsible for identifying additional commercial opportunities for the terrific assets we have in Australian Rugby including the Qantas Wallabies and Sevens.
"He will also be accountable for further expanding Sevens domestically and developing the new National Rugby Championship as a competitive and profitable development competition for Australian Rugby.
"This appointment recognises that we need to throw more effort behind our Sevens program to ensure we can maximise on opportunities through the inclusion of Rugby Sevens at this year's Commonwealth Games for men and at the 2016 Olympic Games for men and women."
Fagan will start in his new role on Monday 10 March 2014 and will report to Pulver.
"I'm really excited at the prospect of helping Sevens become a truly iconic Summer sport and to work with Australian Rugby's commercial and non-commercial partners including Government agencies to maximise the opportunities for Rugby and enhance the success of our national teams, including the highly-regarded Wallabies brand," said Fagan.
"The National Rugby Championship is an important way of creating a better pathway for players to move from club competitions to Super Rugby and I'm looking forward to ensuring this new competition flourishes through commercial opportunities."