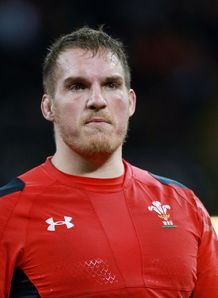 Wales loosehead Gethin Jenkins claims a win against England on Sunday comes before any thoughts of racking up a big scoreline.
With the Six Nations Championship poised delicately heading into Round Four, points difference come the final weekend could prove crucial in determining the destination of the famous trophy.
But Jenkins is adamant that while Wales - level on points with England, Ireland and France after three games - must overcome a 36-point gap to match the Irish points difference total, his side must secure a win first and foremost.
This week is all about the win," Cardiff Blues prop Jenkins told the BBC.
"You can't go into a game thinking about points difference.
"Even last year when we beat England at the Millennium Stadium the points difference wasn't on our mind, it was just winning the game and obviously that happened.
"But if you go into any game thinking that then you're going to come unstuck."
England are bereft of much-vaunted Leicester Tigers tighthead Dan Cole, who, like many of the game's established number threes, has struggled to get to grips with the changes to the scrum engagement this season.
His likely replacement, Bath's David Wilson, is a less-feared name on the Test circuit, but the stocky prop is rightly regarded as one of Europe's best exponents of the new set-piece protocols.
"He's [Cole] been a big player for them, he's coming towards 50 caps but Wilson is very experienced, he's been around the block quite a few times, he's doing very well at Bath," added Jenkins.
"They've got some good scrummagers in England and some good front-five forwards coming through as well.
"Usually there's not much of a margin between us. They're quite a young, fit team - similar to us really.
"So it's going to be a very physical game and we really have to be up to speed to make sure we can try and get that victory."