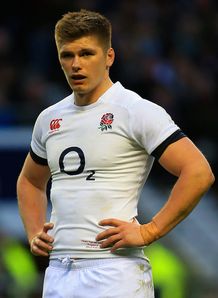 Related links
Also see
England fly-half Owen Farrell claims last year's Welsh humbling in Cardiff is spurring the side on ahead of Sunday's clash.
Contesting the Six Nations title, England were hammered 30-3 by a rampant Wales outfit in 2013, and the pivot admits the painful Millenium Stadium memories are driving the squad on with the pair due to meet again next weekend.
"Once the pain faded a bit after a few days, I realised it was actually a chance to improve," Farrell told the Mirror.
"You watch every champion team, and they have to go through things like that to get to where they want. That's what you've got to realise, and get on with it.
"I think that experience will help us become what we want to be, but you never want to get beaten like that again.
"You need to make sure that you use it to get better, then see where you are the next game, then use that to get better and see where you're at the next time...
"If you look at our games since that Grand Slam loss, I think that's what we've done. But you never forget how you came away feeling that gutted."
Farrell also believes Wales are a known quantity to England, but accepts they remain a tough prospect for Stuart Lancaster's men.
"We didn't need to see their British and Irish Lions in action last year to know what to expect from Wales. Everybody has their way of playing, so it is not exactly too complicated to figure out what's in store," added Farrell.
"The problem is stopping what you know is coming.
"Given their quality, however, Wales could turn up with a few new tricks up their sleeves.
"But we will be ready. Their physicality is always a threat - they are a big side - so it's about stopping them in the first few phases - and then really going for them."