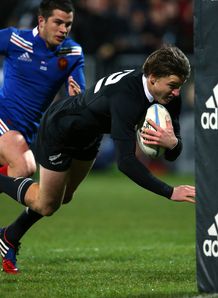 Beauden Barrett's try against France has been named as the International Rugby Players' Association's Try of the Year 2013.
The talented back, who came on as a replacement in that match in June, becomes the first New Zealander to win the award after two South Africans, an Australian and a player each from England and Ireland have previously been named as winners. The announcement was made on this week's IRB Total Rugby TV show.
New Zealander Andrew Mehrtens, England's Tony Diprose, Paul Wallace of Ireland and Springbok hero Thinus Delport formed the panel of judges who opted for Barrett's effort ahead of the four others on the shortlist, which included Barrett's own team mate Ben Smith, Scotland's Stuart Hogg and two South Africans, Jean de Villiers and Zane Kirchner.
Barrett's sensational try resulted from a turnover deep in New Zealand's own 22 as France attacked. The move, which included slick passing from several members of the All Blacks' backline and a clever chip ahead, was eventually finished off by Barrett under the French posts.
"It was a great feeling to deliver this try for the team," said Barrett.
"Like all tries, the ground work is done on the training field and by your team mates, and the buzz when any of the guys manages to dot down is why we play for each other. I am glad that others enjoyed watching it all unfold."
"With so many great international tries during 2013, involving both individual brilliance and collective effort, it is never an easy process to settle on one try," said Mehrtens.
"However, when it came down to it, Barrett's try stood out for the judges due to the high level of skills involved by different players, and, most importantly, the teamwork required to make it happen."