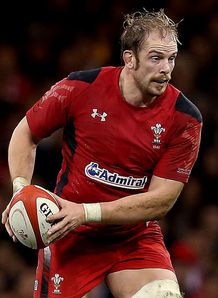 Alun Wyn Jones is adamant Wales' pack will not be overwhelmed by their French counterparts when the pair meet in Cardiff on Friday.
The Welshmen were splintered on several occasions up front as Ireland stormed their way to a 26-3 victory in Dublin a fortnight ago.
But the British and Irish Lions second-row was hesitant to describe Friday's showdown as a "must-win" clash.
"We've got an opportunity to put it right and that's what we are going to do," Wyn Jones told WalesOnline.
"From a pack's point of view, we're bitterly disappointed with how the game (with Ireland) went.
"I think the driving maul and the lineout itself is in vogue and more of an attacking weapon for the likes of Ireland. They did pretty well against us.
"And Italy, in the first game, tried to use that. If you like, the maul has become the third set-piece, after the lineout and scrum.
"If you speak to the boys who play in the French League, everybody likes to use it as a weapon and we have got to improve aspects of our performance from where it was against Ireland."
Welsh regions can often fall foul of opponents' driving mauls, but Wyn Jones was unconvinced it was a national issue.
"I don't know if it's a problem per se, whether it's technical, tactical or attitude," added Wyn Jones.
"We do train and use it through the working week but sometimes we aren't where we should be.
"It's difficult to defend against because, once that ball is at the back of the maul and it's moving, you can't get to it, pull it down, tackle it or sack it.
"That's why it's such a weapon. Stopping it at source was the goal against Ireland but we didn't do that. It's obviously going to be at the fore-front, to stop it at source against France.
"Any team that has coded us, taken a good look at us is going to point to it as an opportunity. Had we gone well against Ireland they would have done the same anyway.
"It's in the armoury of almost every team in the French League and that's not going to change on Friday night.
"We are up against it but, don't get me wrong, there are very few opportunities in your career you get to turn around and put your hand up and say: 'Look, we're still here, we're still fighting'.
"That's what we are going to try and do at the weekend.
"I can't promise you we're going to do it but we're definitely going to make a good fist of it."