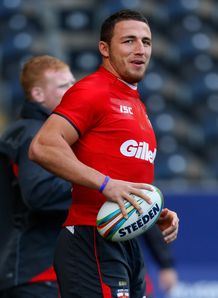 The Rugby Football Union have denied making a move to sign rugby league star Sam Burgess ahead of the 2015 World Cup in England.
This after reports in the Australian media claimed that Burgess, whose contract with NRL club South Sydney Rabbitohs runs to 2016, was approached by England's defence coach Andy Farrell about a potential switch while playing for England during the rugby league World Cup late last year.
The reports also suggested that the 25-year-old forward has had discussions with Bath. Any move would involve a transfer fee of aroud £500,000.
The RFU, however, denied that they approached Burgess and insisted any switch would be a decision for him alone.
It is understood that the RFU would also not consider paying any compensation fee to assist his early release.
"We have been made aware of the rumours about Sam Burgess' potential interest in playing rugby union," an RFU spokesman told the Telegraph.
"But we understand that he is under contract with the Rabbitohs and there has been no approach from the RFU to Sam. If it is true, it's a decision for Sam and others."
England head coach Stuart Lancaster said: "I can't comment on it, other than the fact that I haven't, or no one from the RFU, has approached the Rabbitohs. We'll have to wait and see, it's not for me to decide.
"He's under contract at the Rabbitohs as far as I'm aware."
The Rabbitohs have reportedly moved to sign Cronulla Sharks and Kangaroo prop Andrew Fifita as a replacement should Burgess opt to leave the club.
Shane Richardson, the Rabbitohs chief executive, however, said the RFU had not contacted them with regard to Burgess, who is one of four brothers who plays for the club.
"There's been no approach from the English rugby union, Sam Burgess, his management or any English rugby union clubs about a release," Richardson told Telegraph Sport in Sydney.
"He's contracted with South Sydney for another three seasons."