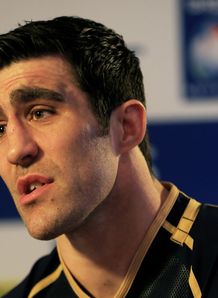 Scotland skipper Kelly Brown admits his side have a tricky Six Nations start, travelling to take on Ireland in Dublin on Sunday.
The Scots traditionally struggle on opening weekend, and have won only once on Irish soil since 1998; a 23-20 triumph at Croke Park during 2013.
"Any away game in the Six Nations will be hostile so we are expecting that but at the end of the day it is down to 15 against 15," Brown told the BBC.
"We have not won our first game for a number of years so if we can start well then we can build some momentum."
Brown acknowledged Scott Johnson's men were not underestimating the scale of their task.
"It's an incredibly tough start," admitted Brown.
"Their last match was against the All Blacks and they probably should have beaten them.
"We finished third last year, which was our highest finish in quite a number of years, as a squad we need to keep working hard.
"On top of that, it's about making sure we're more consistent because in the past we've maybe raised ourselves for one-off games but we have to make sure we do that time and again."