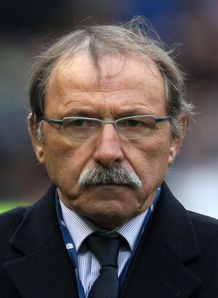 Despite the burden of a number of injured players, Italy head coach Jacques Brunel has remained buoyant ahead of the Six Nations.
His bullish claims of winning next year's World Cup have not diminished despite losing ten players to injury.
"I am always convinced that the World Cup is a realistic objective," said Brunel.
"I maintain my ambitions. In fact, those are also the ambitions of the squad.
"I believe 2015 will be the year to give an assessment, we still have the Six Nations and then the World Cup to play.
"My enthusiasm has not diminished at all. I spend each hour of my day thinking about the squad, finding men and solutions.
"We have a lot of injured players but we will try to resolve this issue.
"We have always tried to find a balance that can give competitiveness to the team, mixing experienced players who for years have been on the international stage with youngsters that want to prove their worth.
"In terms of the forwards, I have confirmed the majority of players that we used in the November Tests."
Brunel feels defence is the key to reaching the heights of last year's tournament, where his side toppled Ireland and France.
"We will work hard on defence in order to return to the level that we showed at last year's tournament," added Brunel.
"In June and in November we did badly.
"The fault? It was our defence.
"In last year's Six Nations we conceded few points, then something broke.
"Simone Favaro and Francesco Minto are two formidable tacklers - men hunters - and their injuries have been half of our problem. The other problems were our individual mistakes."