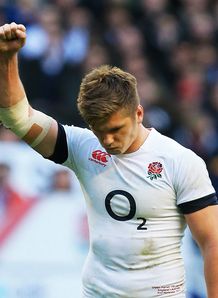 Related links
Also see
England fly-half Owen Farrell feels keeping a clear head and staying cool under pressure is crucial to success at elite level.
The 22-year-old is referred to as the "Ice Man" for his steely nerve and unwavering focus when the chips are down.
"Keeping it together is something I learned pretty early on - when I started playing," said Farrell.
"Why should you let it affect you? You've got to move on. There's too much to focus on in terms of your next job.
"If you're focusing on what has just happened then you're not going to have a grip on the game and that's what a fly-half's job is.
"Irrespective of how a kick went, you've got to back yourself and go again.
"You've got to have a clear head and think about what went wrong, but then you've got to put it behind you and move on. I just get on with it."
It's something head coach Stuart Lancaster is keen to stress as well, knowing his fly-half can cope with the expectation.
"It's his temperament that carries him through," said Lancaster.
"Ian McGeechan talks about Test match animals and the ability to absorb the pressure of playing under the spotlight. He seems to be able to do that."
Farrell feels he learned a lot from the British and Irish Lions tour to Australia last year; despite his Test appearances being limited by the presence of Irish pivot Jonny Sexton.
"The key lesson I took from it was in preparation," added Farrell.
"Some good, good players would do a lot on the field and then stay around for hours after and do all sorts of extra practising - that's why they're good players.
"Then you see what players who have been at the top of their game for a long time do off the field and what they do to the players around them, showing them video and things like that.
"They make sure other people know their jobs so that they can do their jobs too.
"I do work hard, but it opened my eyes a bit as to how they drag other people along, watching sessions and making sure everyone knows their job."