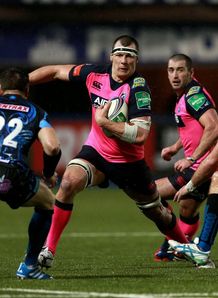 New Ireland squad member Robin Copeland's path to international rugby isn't exactly a familiar route trodden by many.
Copeland has caught the eye this season with his excellent performances for Cardiff Blues in the Heineken Cup.
Named at number eight for the Irish Wolfhounds against the England Saxons at Kingsholm this weekend, Copeland is in with a chance of winning a Test cap next month should his good form continue.
The 26-year-old also recently announced that he would be returning to Ireland with Munster next season, bringing to an end a journey that has taken him from the Leinster academy to Plymouth, Rotherham, via Wales, back home.
"I moved to the UK four years ago with a dream of getting into a situation like this. I always looked at stepping stones," Copeland told the Irish Times.
"When I first moved to Plymouth (Albion), I was living in a tiny, s****y apartment attached to the club that had mushrooms growing in the bathroom. It was freezing cold, damp, horrible.
"My contract was so bad I got a job behind the bar in the golf club as well to try and pay for it.
"Like, I was skint. But I was playing rugby and I was happy enough. I had been a student for the last four years and I was still living a student life, nothing really had changed.
"I'm not really one to complain anyway, but yeah looking back that was the lowest point."
When the news came that Ireland head coach Joe Schmidt had been impressed by his performances, Copeland made the decision to move back.
"It was a big deciding factor in me going to Munster. It was a chance to be at home, move up the ladder," added Copeland.
"I'd rang and talked to Joe about that. He gave me advice and said: 'if you want to play for Ireland the best place for you to be is in Ireland'.
"Being here, this week, has really shown me what he was talking about. The systems they run have filtered down into club level. I had a bit more homework to do than a lot of the guys who had played for the clubs."