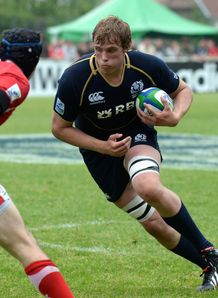 Scotland head coach Scott Johnson has heaped praise upon the sizeable shoulders of young Glasgow Warriors second-row, Jonny Gray.
The 20-year-old lock won his first cap in November, and the Australian lauded his talents while stating that a strong performance for Scotland A on January 31st could easily see Gray force his way back into the Test reckoning.
"Jonny played Test footy in the autumn. He's had significant ankle trouble and is on his way back," Johnson told the Dundee Courier.
"He's a wonderful player, a special player. You'll be talking about him in years to come.
"So he's part of the growth and development of this Scottish nation.
"Anyone who plays well in that match, they will have a chance, so it's important for us."
Though it appears Johnson has a clear idea of his starting Test XV, he is keen to stress the importance of building a wider player base for the 2015 World Cup.
"Everyone can see we have a limited player base," added Johnson.
"We can see that as a negative or we can try to draw positives out of it.
"We've had to expand the base, and we're doing that.
"Unlike some of the other teams, we've been at the mercy of injury at times.
"But I want to draw on the strengths that we're close and it keeps us together.
"We've probably capped into the high teens of new players in the past year."
He continued: "Hopefully, by the time we get to the World Cup we'll have a big base of players to pick from.
"Yes that puts pressure on players, but that's not a bad thing. We're a team and a squad developing. We know where we are and where we sit.
"You've got to be honest with players: we've got things to work hard on in order to get better. We've got to build consistency because it's the only way we'll get better.
"I want us to do the things we do well, better, and concentrate on performance; and if that happens, results will come off the back of it."