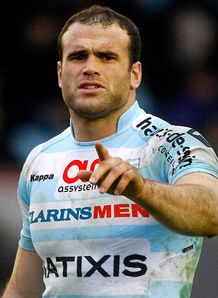 Wales centre Jamie Roberts defends his choice to move to Racing Metro, but concedes his time at the club so far has been frustrating.
The 27-year-old British and Irish Lions star has suffered two spells sidelined through injury this season; forced to look on as his team-mates misfired in the Top 14 and Heineken Cup.
"I'm happy I made the decision. I'm learning," Roberts told Wales Online.
"It's been frustrating with injuries but I'm having a great time.
"Things are always easier in hindsight but I made my decision last year and I stick by it."
Roberts does have sympathy for his Welsh team-mates trapped at the centre of a so-called "civil war" in the Welsh game between the four regions and the Welsh Rugby Union.
He does, however, believe the row can galvanise the national team, driving them on to more Six Nations success.
"It's different looking in from the outside. I feel for a lot of the boys whose contracts are up at the end of this season and I feel for the fans," added Roberts.
"But as players it's all above our heads.
"We can only control what we can control. Winning games for Wales is the black and white of it.
"It will rally everyone.
"Everyone is frustrated but the support the regions have had in the Heineken Cup recently shows the fans are still turning up."
On his own campaign, Roberts admits he faces a battle for selection with in-form Scarlets midfielder Scott Williams, and the returning Jonathan Davies, who has been out since November.
"Three doesn't go into two and we are all well aware of that," acknowledged Roberts.
"I think the competition is going to bring the best out in all of us. I have always said competition is healthy. Ultimately it drives us all forward.
"Scott has been in red-hot form this season and Jon is a quality player and I've struggled with injuries.
"Fingers crossed, Jon will be back sooner rather than later.
"Then they will keep my on my toes and I will keep them on theirs."