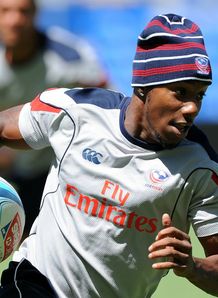 Related links
Teams
USA speedster Carlin Isles may be in line for a switch from rugby to the NFL, with the Detroit Lions interested in securing his services.
The franchise's hopes of reaching the play-offs are dashed, and they are looking to expand their squad with a view to success in 2014.
Lions coach Jim Schwartz confirmed on Wednesday that Isles had trained with his side on Monday, and believed ex-sprinter Isles could transfer his skills to American Football.
"Indianapolis has a rugby guy as a pass rusher (Daniel Adongo), and I know San Fran brought a guy in (Lawrence Okoye) that was a shot-putter or a discus guy," Schwartz told the Detroit Free Press.
"I mean, you're looking for athletes. It hasn't been unusual to see basketball players transition to the NFL. That's not just recently, that goes way back. Even track guys like Bob Hayes and Renaldo Nehemiah, things like that.
"An athlete's an athlete. There's skills that you can develop, and if you see something you like then you can work with him."