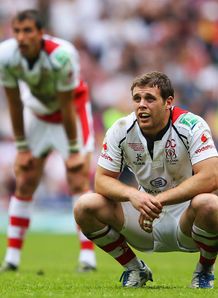 Related links
Teams
Frustrated Ulster centre Darren Cave is worried his face doesn't fit as far as international honours with Ireland are concerned.
26-year-old Cave is approaching his 120th appearance with the Northern province, but has just five Irish caps to his name since his debut some four years ago.
"Unfortunately for me, internationally, the last few years haven't gone that well and sometimes you wonder does the face not fit," Cave told the Belfast Telegraph.
"I've read that I'm not established for Ulster or inexperienced at international level, or for some reason not good enough to be an international rugby player.
"I don't know how these people see that, as I've never really had a good crack at doing it.
"I suppose it's all motivation (for me) but at the end of the day I still wonder sometimes does the face not fit."
And Cave claims he is not the only talent to be snubbed by his country.
"If you don't know what I mean by that I suppose you should ask Roger Wilson how he has one cap for Ireland and Jamie Heaslip has 60 and two Lions tours behind him," added Cave.
The midfielder was initially left out of new Ireland boss Joe Schmidt's November Test squad, but was later called up to provide cover for injury.
While pleased to be involved with the training camp, Cave was disappointed to find himself behind the likes of Connacht youngster Robbie Henshaw in the race to fill Brian O'Driscoll's soon-to-be vacant number 13 jersey.
"It was frustrating for me at times," revealed Cave.
"I'm actually a big fan of Joe (Schmidt) even though I don't know if he's a big fan of me.
"He's an incredibly likeable person and he really knows his rugby which means that my non-selection is a bit harder.
"But he's given me a couple of things to work on and I think I've shown that it's not just the last two games it's (my form) in the Heineken rounds one and two and I've shown I can cause problems for defences as part of this Ulster team."
Cave watched on as Schmidt singled Henshaw out for mentoring from O'Driscoll throughout the November Test series.
"One of the things Joe said to me was that Brian was going to be his (Henshaw's) guide for November and I was left out initially because he thought Robbie could learn a lot more off him during the November series," explained Cave.
"That's probably fair enough but at the end of the day I've played over 100 games for Ulster and I don't need my hand held through it.
"Though I didn't get that close to be involved in November I would argue that I don't think any of the Irish qualified centres played better than me in the Heineken rounds one and two.
"If that's the way Joe wants to take things it's disappointing for me but it doesn't mean I'm not going to get picked for Ulster and try and win games for Ulster and ... I'll try and make it hard for him (Schmidt) anyway."