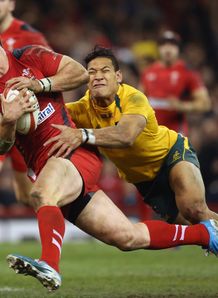 Related links
Also see
Wales will face the world's top three sides as part of the 2014 November Test Series next year at the Millennium Stadium in Cardiff.
The IRB's top three ranked sides - New Zealand, South Africa and Australia - will visit the Millennium Stadium along with Pacific Island nation Fiji.
The schedule will see two of this year's opponents, the Springboks and the Wallabies, return to Cardiff next year as part of Wales' preparation for the 2015 Rugby World Cup.
The matches against New Zealand, Australia and Fiji will be part of the IRB window with South Africa confirmed as the fourth game of the series.
The fixtures are subject to final International Rugby Board (IRB) approval and dates and kick off times will be confirmed at a later date.
"We have consistently said, if you want to be the best, you have to play the best and the 2014 November schedule reconfirms that commitment," said WRU Group Chief Executive Roger Lewis.
"We have just witnessed another exhilarating, tough November series and next year will be ideal preparation for the squad ahead of the 2015 Rugby World Cup.
"We will only have 12 matches in total in the run-up to our opening game at the tournament, so we must secure every opportunity to test ourselves at the highest level."